Experience. Hard Work. Personal Attention. With nearly two centuries of combined experience, our award-winning Omaha attorneys have handled every type of personal injury litigation. Call us today for a free strategy session on your case.
If you have been involved in an accident and injured due to no fault of your own, our experienced personal injury lawyers can help you get your life back on track. At Hauptman, O'Brien, Wolf & Lathrop, P.C., we have handled every type of personal injury litigation. Based on the circumstances of your accident, you may be entitled to compensation for the damages you accrue. Opposing insurance companies will likely offer you settlements that are much less than your case deserves. With the help of our personal injury lawyers in Omaha and Sarpy County, we will protect you from the insurance companies and ensure you are treated fairly.
Do You Need an Attorney?
Experienced Attorneys Fighting to Maximize Compensation for Injured Nebraskans
Personal injury is the area of law that determines your rights after suffering an injury caused by someone else's careless behavior.
In Nebraska, those rights include the right to monetary compensation for the pain, distress, and financial losses you have suffered as a result of your injury.
The individuals or businesses that caused your accident are liable for your damages. If they have insurance — as is often the case —the insurance company may be responsible for covering your financial compensation.
Unfortunately, insurance companies don't always offer the full and fair compensation that victims deserve. At Hauptman, O'Brien, Wolf & Lathrop, we fight for the rights of unfairly injured people in Nebraska.
As Omaha personal injury lawyers, we understand that personal injury is just that — personal. A single accident can affect every area of your life. Your financial recovery should reflect that. You are entitled to a full and fair recovery under the law, and we are here to fight for exactly that.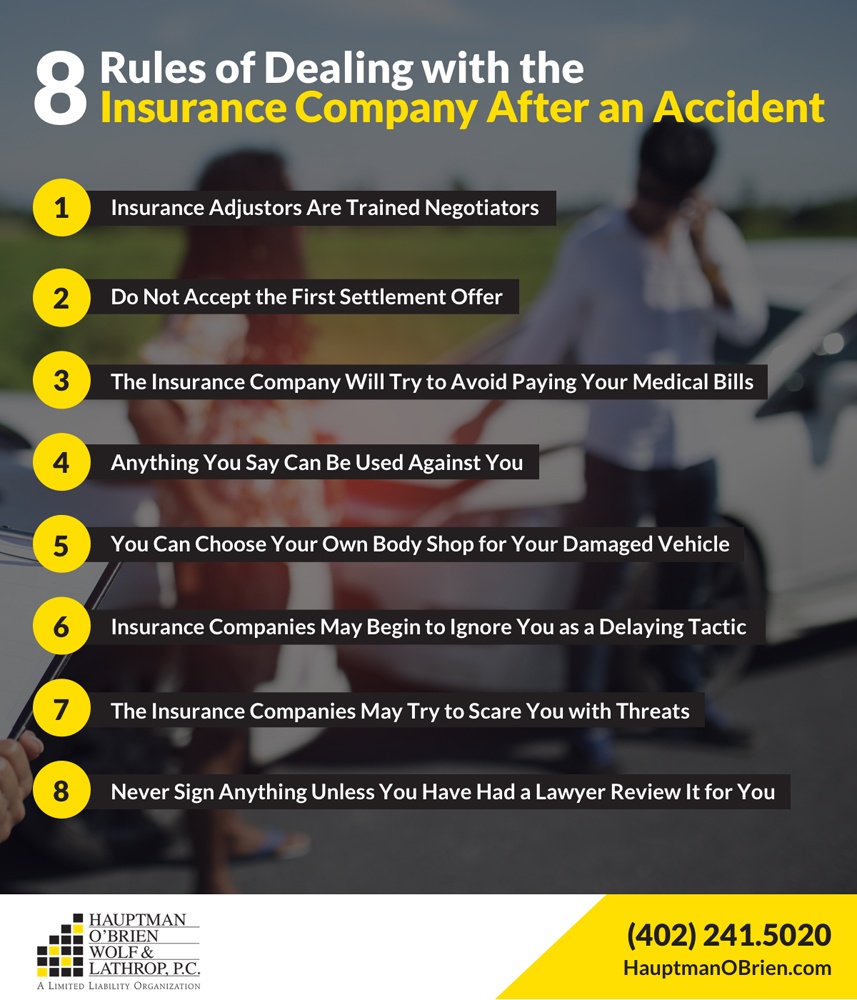 What is a Personal Injury Lawyer?
A personal injury lawyer is an experienced legal professional who looks out for you, represents your best interests, and handles every single aspect of your injury claim.
When you hire the Omaha personal injury lawyers at Hauptman, O'Brien, Wolf & Lathrop, you get the benefit of an entire team of attorneys who work together, combining their resources and cumulative years of experience to protect your interests at every turn.
Here are some of the things we do for our clients:
Investigate your accident
Consult with accident reconstruction specialists & other experts
Review your medical records to fully understand the scope of your injuries
Negotiate with the insurance company's adjusters and attorneys
Research Nebraska legal precedent to find persuasive authority that strengthens your claim
Deal with creditors, collectors, adjusters, and all the paperwork and phone calls associated with a personal injury claim (so that you don't have to)
Give you honest, practical, real-world advice about your legal rights and the best strategies for getting the outcome you deserve
Represent you in court, in the event that your claim goes to trial
Our Omaha personal injury attorneys have a long track record of challenging even the biggest insurance companies and corporate defendants. We have been successful in achieving a favorable settlement in the majority of our cases, and we also have a robust record of success at trial.
How Much Does a Personal Injury Lawyer Cost?
At Hauptman, O'Brien, Wolf & Lathrop, we represent personal injury clients on a contingency fee basis. Here's what that means:
You hire us without paying anything upfront.
If we aren't able to recover financial compensation for you, you don't have to pay us anything. Period. We take that risk so you don't have to.
If we do succeed in recovering financial compensation for you, our fee will only be a percentage of your total recovery. You never have to pay anything out of pocket.
We will also advance the costs of pursuing your claim (e.g. paying for consultants, expert witnesses, court costs, filing fees, etc.).
We believe that working on a contingency fee basis gives us an incentive to work really hard to get you the best possible result. Why? Our fee is based on how much you recover. And if you don't get paid, we don't get paid.
In this way, we work as partners in your success. It also means that there is truly nothing for you to lose. You can hire us without having to put a single penny on the table, and there is no risk to you if we don't succeed.
When Do I Need a Personal Injury Lawyer?
While some very minor accidents may not benefit from an attorney's involvement (more on that below), there are other situations where it is extremely important that you consult with a personal injury lawyer before making any decisions or entering into an agreement with the insurance company.
Signs that you should talk with an Omaha personal injury lawyer include:
You suffered a physical injury as a result of your accident.
Your injuries required a hospital stay or significant medical expenses.
Your accident required you to miss a significant amount of work.
The insurance company unfairly denied your claim.
The insurance company is creating unreasonable delay.
It isn't clear who is at fault for your accident.
Your accident involved multiple parties.
The insurance company is urging you to accept a settlement offer for less money than you expected.
If any of these statements is true in your situation, or if you believe your case could benefit from hiring a personal injury lawyer for any other reason, we encourage you to contact our office and request a free consultation.
Studies have shown that people who hire a personal injury lawyer tend to recover larger sums of financial compensation than those who don't.
Insurance companies do not always handle claims fairly, but once you have an aggressive team of attorneys on your side, the insurance company's strategy may change. We believe that hiring the right lawyers can make a world of difference in the outcome of a claim.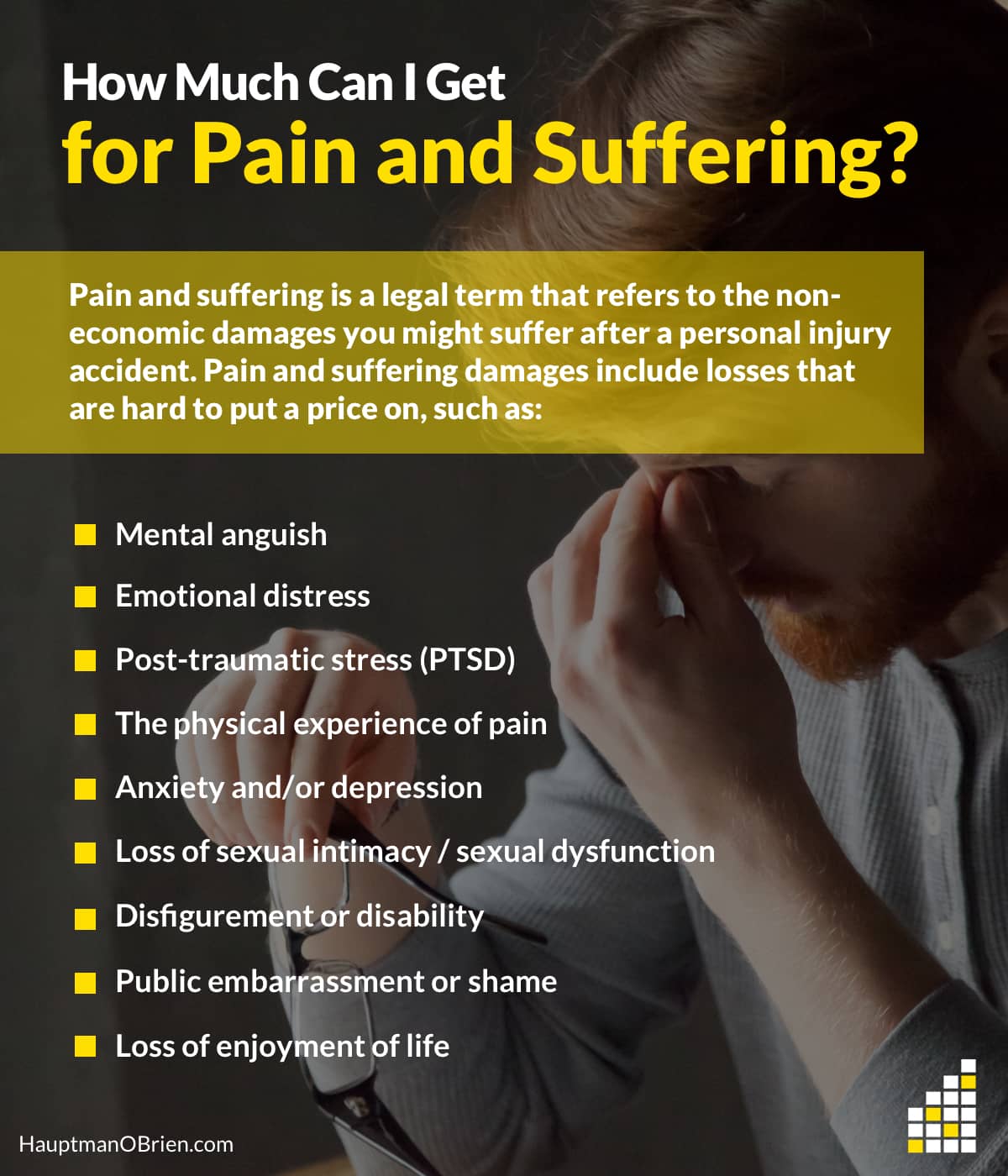 Do I Need a Personal Injury Lawyer for a Minor Accident?
Some accidents are so minor that there isn't much an attorney can do to help with them. For example, if you were in a fender bender with minimal property damage and no physical injuries whatsoever, your claim might not benefit from an attorney's involvement.
In more moderate accidents, however, it might make sense to talk with an experienced Omaha personal injury lawyer. You may be entitled to more than you realized.
After any accident or injury, the most important thing you can do is seek medical attention right away. Sometimes, an accident appears to be minor at first, but symptoms develop slowly, or complications set in over time. Even in those cases, it will be important to have a documented medical examination soon after the accident.
For this reason — and to make sure that you are getting the care that you need — even the most minor accident should prompt an appointment with your doctor's office.
What Is Pain and Suffering?
"Pain and suffering" is a legal term that refers to the non-economic damages you might suffer after a personal injury accident.
Pain and suffering damages include losses that are hard to put a price on, such as:
Mental anguish
Emotional distress
Post-traumatic stress (PTSD)
The physical experience of pain
Anxiety and/or depression
Loss of sexual intimacy / sexual dysfunction
Disfigurement or disability
Public embarrassment or shame
Loss of enjoyment of life
Nebraska personal injury law recognizes that pain and suffering damages are very real. They deserve to be taken seriously. Personal injury victims in Nebraska are entitled to make a claim for financial compensation for pain and suffering. However, calculating an appropriate monetary value for these damages can be challenging.
Unfortunately, insurance companies are notorious for attempting to downplay or deny pain and suffering damages. An experienced Omaha personal injury lawyer can advocate zealously for a full and fair pain and suffering award.
In many cases, these damages represent a significant part of the accident victim's recovery, so it is important to work with lawyers who have experience in making persuasive demands for pain and suffering compensation in Nebraska.
Personal Injury Practice Areas
Car accidents are responsible for a high number of injuries and deaths each year in Nebraska. According to the Department of Transportation, in 2016, there were nearly 35,000 motor vehicle accidents and 218 fatalities in Nebraska. If you or someone you know has been involved in a car accident in the greater Omaha area due to negligence, contact our experienced car accident lawyers right away so we can discuss providing legal representation.
Many people across the state of Nebraska enjoy boating with friends and family. Unfortunately, boating accidents occasionally happen due to the negligence of other people on the water. Boating accidents often involve one vessel slamming into another. These accidents can cause serious injuries to all involved. If you or a family member has been involved in a boating accident due to the negligence of another party, contact our experienced boat accident lawyers immediately so we can discuss providing you with legal representation.
Crashes involving commercial trucks traveling at high speeds on the highway can cause tremendous damage to the cars and motorcycles around them. A truck accident case in Nebraska can be complicated. Trucks have extensive insurance policies and many potentially liable parties. If you or a loved one has been injured in a commercial trucking accident in Nebraska, contact our experienced truck accident lawyers so we can help you recover compensation.
Motorcyclists are without question the least protected motorists on the road. No matter how state-of-the-art their equipment may be, very little will protect them against a larger vehicle, high speeds, and hard asphalt. Due to this, motorcycle accidents in Nebraska can often have catastrophic consequences for their victims. Considering that the majority of motorcycle accidents across the United States occur due to no fault of the cyclist, many of these cases require the experience of a motorcycle accident lawyer. If you or a loved one has been involved in a motorcycle accident near Omaha, contact us today for a free initial case evaluation.
Any animal, even the ones who are most familiar, can be unpredictable. Dog bites can cause severe lacerations, infection, loss of limbs, and sometimes death. If you, a child, or someone else you know has been bitten by a dog, contact our animal bite lawyers at Hauptman, O'Brien, Wolf & Lathrop, P.C. right away so we can provide you with aggressive legal representation.
Property owners have a duty of care to keep their property safe and free of hazards. When ice and snow, or cracked and broken pavement lead to your injuries, you may be entitled to compensation. If you or a loved one has hurt themselves in an accident caused by a property owner's negligence, call our personal injury lawyers right away for a free first case evaluation.
When you have prescribed medication or buy your child a toy, you should be able to trust that they are safe to use. Unfortunately, faulty products and dangerous drugs injure and kill thousands of Americans every year. At Hauptman, O'Brien, Wolf, & Lathrop, P.C., we know how faulty product cases work and will do our best to make sure that you are compensated for your injuries.
A misdiagnosed or mistreated medical condition can cause lifelong trauma and harm. If you have been the victim of a medical misdiagnosis, surgical error, wrongful prescription, etc., contact us right away. Many scenarios can bring about a medical malpractice claim, so find out if you have a case before it is too late.
Have you been hit by a motor vehicle while crossing the road or walking on a sidewalk and seriously injured? As a pedestrian, you have a rights to safe passage on walkways. If your injury was caused by a negligent motorist then you deserve proper compensation. Pedestrians can be injured due to a number of causes. Contact our personal injury lawyers to get answers and legal advice.
Construction and road work are some of the most dangerous industries in the United States. Workers compensation is meant to help employees who have been hurt on the job site. Unfortunately, many employees who are hurt have to scratch and claw for the benefits they deserve. If you have been hurt while on the job and feel as if you are not being treated fairly, contact us right away. We will work to ensure that you get the compensation that the law provides.
Burn injuries often occur in car, truck, motorcycle, chemical and gas accidents. Healing a burn can take a tremendous amount of time, money and often, they will never fully heal. Our burn injury attorneys at Hauptman, O'Brien, Wolf & Lathrop know how debilitating a burn injury can be and will work tirelessly to make sure you are taken care of properly.
All too often, insurance companies will look out for themselves instead of the person they are supposed to be helping. If you've been injured and are left with a long-term disability, we can help you fight for your right to use the full benefits of your long-term disability protection.
Brain injuries can alter a person's life forever. Traumatic brain injuries can cause one to permanently lose memory, the ability to think for oneself, and can require lifelong care. All of these can cause tremendous emotional and financial stress on the victim's family. If you or loved one has suffered a traumatic brain injury, contact our experienced brain injury lawyers right away so we can get started on your case.
Spinal cord injuries are often life-altering and tend to cause their victims to be left partially or completely paralyzed. Victims of spinal cord injuries could be entitled to significant compensation for their injuries with the help of a spinal cord injury lawyer. The costs associated with a spinal cord injury are often too much for many to bear. With the help of our lawyers, you can feel comfortable knowing that these expenses could be paid.
Any accident can result in life-altering, catastrophic injuries. Whether it was a car accident, a slip and fall, or a defective product, you don't deserve to suffer financially because of another person's negligence.
No amount of compensation can make up for the loss of a loved one, but it can help a family deal with the financial aftermath. If a loved one has died as a result of an accident, contact the wrongful death lawyers at Hauptman, O'Brien, Wolf & Lathrop, P.C. so we can help your family obtain the compensation it needs to move forward.
Schedule a Free Case Review with Our Omaha Personal Injury Lawyers
At Hauptman, O'Brien, Wolf & Lathrop, P.C., when we step into a case, our goal is to guide our clients toward the best possible outcome, fighting passionately to achieve the largest amount of financial compensation for your recovery.
We offer confidential, cost-free, no-obligation case reviews to people who have suffered a personal injury.
And if you hire us, we will not charge a fee unless we are able to recover compensation for you.
Consultations are available in person or over the phone. To get started, simply contact Hauptman, O'Brien, Wolf & Lathrop, P.C today.