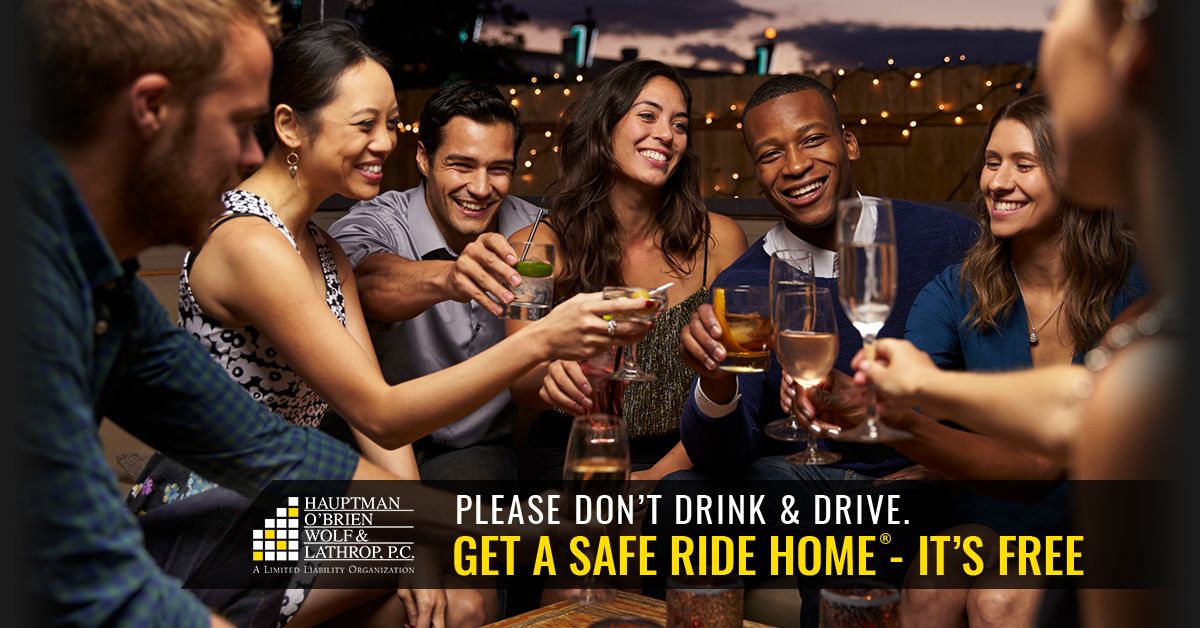 Rides are only available during designated dates
No Smartphone? Call Instead…
Call 402-292-2222.
Advise the call center that you would like the "Hauptman O'Brien SAFE RIDE HOME®" on account number "SAFE5." If you don't do this, your ride won't be free.
Schedule your cab ride home.
Get home safe.
Don't forget to tip your driver!
How It Works
Cab rides can only start and end within DOUGLAS and SARPY counties – You cannot get a free cab ride to or from Iowa or Lincoln.
You will only be taken HOME or to a HOTEL, not to another event location or bar.
You must use the Promo code "SAFE" in the app or tell the dispatcher you want the "Hauptman O'Brien SAFE RIDE HOME®" or your ride won't be free. When you are picked up, be sure to tell the driver you are taking a FREE Hauptman O'Brien SAFE RIDE HOME®.
Please be patient. The demand for cabs is high during the SAFE RIDE HOME® program, so although we'll have more than 120 cabs on the road, there's a chance they may not be available upon the time of request.

SAFE RIDE HOME® Events
History
Founded in 1990, SAFE RIDE HOME® began with a single mission – help Nebraskans avoid drinking and driving by paying for their cab fares, so they can safely get home to their friends and loved ones.
In the 27 years since, the SAFE RIDE HOME® program has provided more than 65,000 free cab rides and has saved countless lives. The success of the program has led us to expand it to offer Safe Rides Home over St. Patrick's Day and for victims of Domestic Violence all year long. Help us keep our roads and communities safe from drunk and impaired drivers by being responsible this holiday season, and take a free cab ride home on us.
What is SAFE RIDE HOME®?
Each year, the holidays bring a spike in the number of injuries and deaths caused by drunk driving. According to the National Institute on Alcohol Abuse and Alcoholism (NIAAA), 40% of traffic deaths during the holiday season are alcohol-related.
Mothers Against Drunk Driving found that 720 people are injured and 27 people die each day in drunk driving accidents. That's one injury every 2 minutes and one death every 53 minutes. These figures can double or triple at the end of the year, averaging 2160 injuries and 81 people killed every day during the holiday season.
We are involved in our community and we care about the well-being of everyone in it. We want our friends and family to be happy, safe, and healthy for a long time. That's why every holiday season, we offer our SAFE RIDE HOME® program.
SAFE RIDE HOME® makes it simple for those who have had too much to drink to arrive home safely, without putting themselves or others at risk. Consider it our holiday gift to the residents of Douglas and Sarpy counties. All it takes is one phone call and you'll get a free cab ride courtesy of Hauptman, O'Brien, Wolf & Lathrop P.C.
Thank You
We are thankful to the many people who have utilized our SAFE RIDE HOME® service, and to the community who has continued to support this program for over 27 years. Together, we can continue to help Omaha residents achieve safe celebrations."
Sincerely, Tim O'Brien, Melany O'Brien, and Steven Lathrop
For media inquiries please contact Jessica Goldoni at (402) 390-9000 or [email protected]