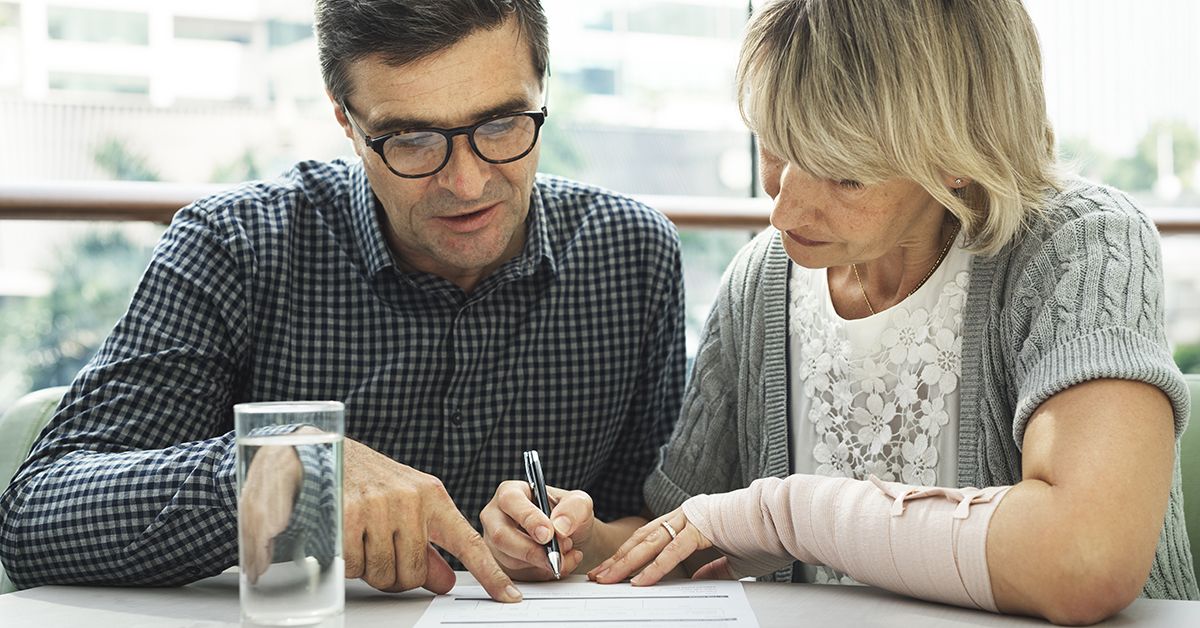 It goes without saying, of course, that this isn't always possible in the literal sense. Courts can't work miracles, and no legal action can take away physical pain or emotional distress.
What the legal process can do, however, is award financial recoveries to victims as compensation for their losses.
The legal term for an injured person's losses is damages. Damages may be purely economic in nature, or they may represent emotional injuries or other types of losses that aren't as easily expressed in monetary terms.
Over the years, Nebraska personal injury law has evolved to recognize a wide range of damages in personal injury cases.
While the specific damages available in your case would depend on the facts and circumstances surrounding your accident, this article provides a general overview of the damages you can be compensated for in a personal injury claim in Nebraska.
Ambulance Fees
Ambulance transport may be the most important fifteen-minute car ride of your life, but it's also one of the most expensive. Unfortunately, people who require emergency medical transport are often surprised by an enormous bill a few weeks or months after the fact. If you required ambulance transportation after an accident that someone else caused, you are entitled to reimbursement of those fees.
Emergency Room Fees
In addition to the ambulance fees, the Emergency Department at your hospital will charge its own fees for providing emergency care. (Ambulances are often operated by third-party companies.) In most situations, Emergency Room fees are assessed regardless of whether you are ultimately admitted to the hospital. In addition to hospital charges, some emergency room physicians can bill for their services. Patients are often shocked to learn how much a couple of hours in the ER can cost. Emergency Room fees are typically included as part of personal injury compensation.
Hospital Stays
If you are admitted to the hospital, you will be charged a nightly occupancy fee (which can be very high), with additional fees for each of the ongoing treatments you receive there — every doctor you see, every medication you receive, every vial of blood drawn, every bag of fluids attached to your IV, and so on. Even very short hospital stays will typically result in a bill for thousands of dollars. You can generally be compensated for these damages as well.
Travel Expenses
Treating your injuries may require you to travel to a hospital or medical specialist far away from where you live. If you require ongoing care, even relatively short distances to and from the doctor can add up. You may be able to recover these costs as part of a personal injury settlement or verdict.
Surgical Costs
Surgeons are highly trained medical specialists who are supported by a team of trained professionals. They use high-end, high-tech, high-cost equipment. Even minor surgeries can cost thousands of dollars, and they often require follow-up care (which carries additional expenses). These, too, are compensable as part of a personal injury claim in Nebraska.
Other Medical Expenses
In addition to the medical damages we've discussed so far, you may also be entitled to recover compensation for any other medical costs you incur as a result of the injury. This includes the cost of:
Medication
Physical therapy & rehabilitation
Medical devices
Medical imaging (e.g. X-ray, CT Scan, MRI, etc.)
Any other medical damages caused by the accident
Lost Income and Reduced Earning Capacity
If your accident causes you to miss work, you are entitled to recover the income you lose as a result. (Note that special rules may apply in certain types of cases, including workers' compensation claims.)
In the event that you are never able to return to your job or career because of the accident (such as in the case of long-term disability) — or if you can return but are likely to experience a reduction in your earning capacity — you are entitled to recover the future wages or income you would likely have earned but for the accident. In some cases, you may also be entitled to coverage for vocational training and/or career placement services.
Property Damage
Talk to your attorney about negotiating compensation for your property damage. Depending on the nature of your accident, this might include vehicle damage (e.g. loss in vehicle value), personal property loss or damage, or damage to your real property (land, home, buildings, and other structures).
Pain and Suffering
All of the Nebraska personal injury damages we've discussed so far fall into a category called economic damages — that is, losses that are purely or primarily financial in nature.
But Nebraska also allows personal injury victims to be compensated for non-economic damages — losses that aren't necessarily financial in nature but which are nevertheless significant and real. Non-economic damages are often referred to in general terms as "pain and suffering."
When people ask, "What damages can I be compensated for in a personal injury claim?" what they often mean is, "Can I be compensated for emotional injuries in Nebraska?" The answer to that (generally speaking) is yes.
Depending on the circumstances, pain and suffering compensation may be available for these and other non-economic damages:
Emotional distress, anxiety, and depression
Mental anguish
Post-traumatic stress disorder (PTSD)
The emotional experience of suffering through physical pain
Loss of companionship
Loss of sexual function
Embarrassment / humiliation
Disability
Disfigurement
Wrongful Death
If your loved one has been fatally injured in a personal injury accident, you and your family members may be entitled to compensation under Nebraska wrongful death law.
Wrongful death claims are complex. There is a lot your family will need to understand about who is eligible to recover which kinds of compensation. As a general matter, the following types of damages might be available after a wrongful death:
Burial and funeral costs
Loss of love and affection
Loss of financial support
Loss of household services
The deceased person's personal injury damages caused by the accident as of the time of death
Other losses reasonably related to the death, depending on the circumstances
Punitive Damages
In addition to the economic damages and non-economic damages we have discussed so far, there is one more category of personal injury damages in Nebraska: punitive damages.
These damages are awarded to the plaintiff (i.e. the injured person who files the claim), but not as compensation. Rather, punitive damages are intended to punish the defendant.
Punitive damages are not available in most personal injury claims in Nebraska. They are reserved for cases where the defendant's conduct is especially outrageous or egregious. An Omaha personal injury lawyer at Hauptman, O'Brien, Wolf & Lathrop, P.C. can help you understand if you might have a case for punitive damages in your situation.
Other Damages
The information presented so far is intended as a general answer to one of the questions we hear most often: "What damages can I be compensated for in a personal injury claim?" It is not, however, a comprehensive list of all the damages that might be available, nor is it a guarantee that you will be able to recover any of the particular damages described in this article.
Every case is different. Your damages might not look like anyone else's. To best understand how much (and which types) of compensation might be available for your claim, discuss the matter one-on-one with an experienced Omaha personal injury lawyer.
Schedule a Free Case Review with an Omaha Personal Injury Lawyer
At Hauptman, O'Brien, Wolf & Lathrop, P.C., our goal is to guide our clients toward the best possible outcome in every case, fighting passionately to achieve the largest amount of financial compensation available.
We offer confidential, cost-free, no-obligation case reviews to people who have suffered a personal injury accident in Omaha or elsewhere in Nebraska.
If you hire us, we will not charge a fee unless we are able to recover compensation for you.
Consultations are available in person or over the phone. To talk with an Omaha personal injury lawyer about your legal options, contact Hauptman, O'Brien, Wolf & Lathrop, P.C. Time limits do apply to personal injury claims in Nebraska, so please don't delay.