Experienced Bicycle Injury Attorneys Fighting to Maximize Your Compensation
Riding a bicycle isn't just a type of exercise or leisure. It's also a perfectly legitimate form of transportation, with numerous benefits to both the environment and your personal health.
Unfortunately, motorists don't always show cyclists the respect they deserve, despite the fact that people on bicycles generally have the same rights and responsibilities as people in automobiles.
Indeed, most of the bicycle accidents in Nebraska happen because of someone's careless driving.
If you have been injured while riding a bicycle and someone's careless driving is to blame, you may be entitled to significant financial compensation under Nebraska personal injury law.
But claims for bicycle accidents aren't quite like other auto accident claims. Special rules apply to the operation of a bicycle in Nebraska. And because the injuries in these cases are often severe, the insurance companies on the other side tend to be aggressive in their defense against these claims.
It's important that you work with a lawyer who has specific experience in handling Nebraska bicycle accident claims. The Omaha bike accident lawyers at Hauptman, O'Brien, Wolf & Lathrop, P.C. are ready to fight for your interests against even the country's biggest insurance companies.
We would like to stand by your side throughout the claims process, helping you understand your rights, your options, and your strategic best next steps in order to fight for the full and fair compensation you deserve.
What Is a Bicycle Accident?
A bicycle accident is any traffic accident or collision in which at least one party is operating a bicycle at the time of the accident.
The most common bicycle accidents are those in which a cyclist is struck by a moving motor vehicle, such as a car, motorcycle, commercial truck, or city bus.
However, some bicycle accidents involve a collision between two cyclists, or between a cyclist and a pedestrian.
While bicycle accidents frequently involve very serious injuries, even a minor accident with only moderate injuries may still be enough to support an insurance claim.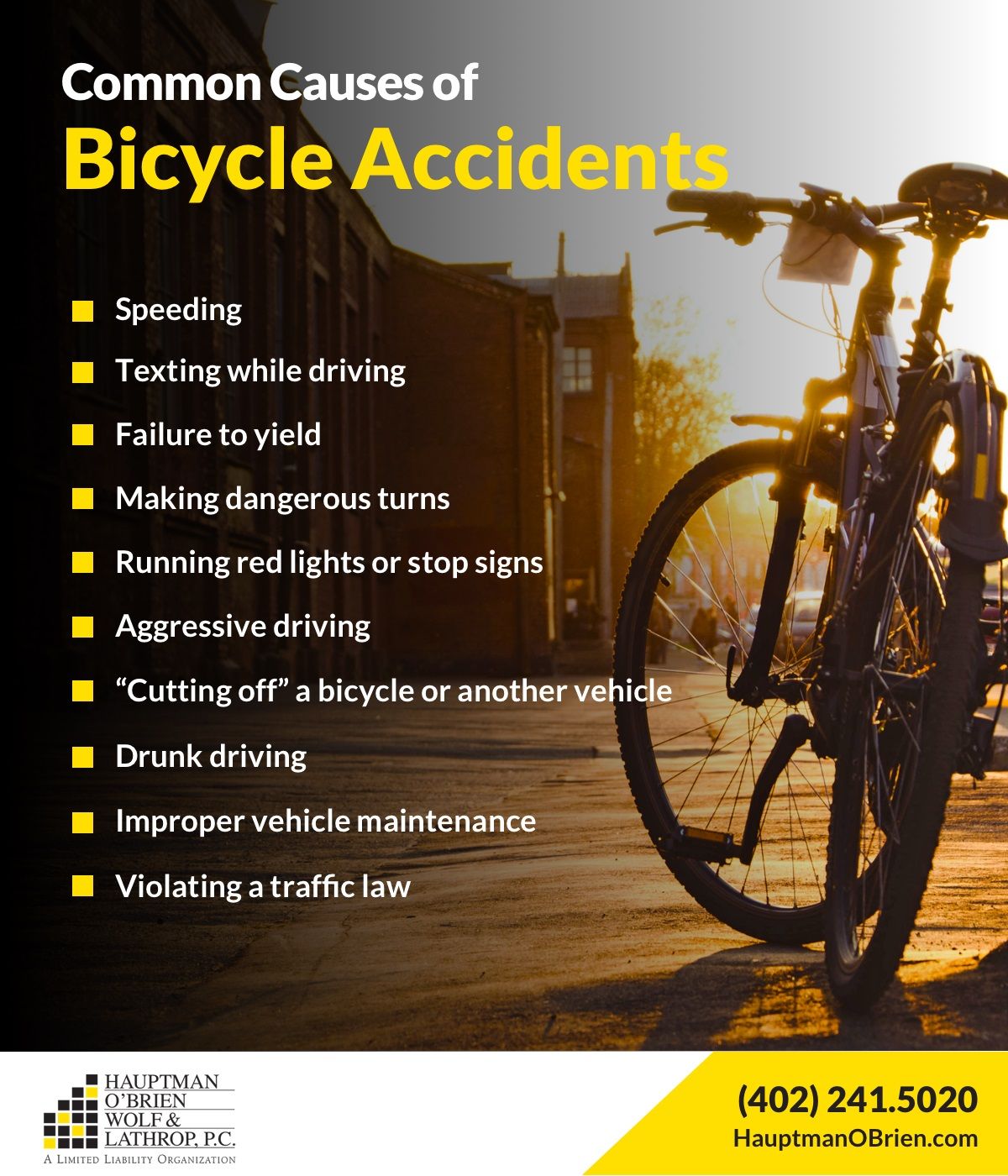 Who Is Responsible for a Bicycle Accident?
As with most other auto accidents, the question of liability in a bicycle accident hinges on the issue of negligence.
Under Nebraska personal injury law, a person is negligent when he or she behaves carelessly, recklessly, or unreasonably.
A negligent person is legally liable for the damages caused by their careless actions (or failure to act).
Examples of negligence that may cause a bicycle accident include:
Speeding
Texting while driving
Failure to yield
Making dangerous turns
Running red lights or stop signs
Aggressive driving
"Cutting off" a bicycle or another vehicle
Drunk driving
Improper vehicle maintenance
Violating a traffic law
In the majority of bicycle accidents, it is the motorist — not the cyclist — who is at fault for the crash. However, it is possible for a cyclist to cause a bicycle-car collision.
Sometimes, both parties in a bicycle accident are negligent (for example, an accident involving both a speeding driver and a cyclist who is violating Nebraska bike law). In these cases, a special rule called "comparative negligence" applies, allowing a victim to recover at least some of their damages as long as the victim isn't more than 50% at fault for the crash.
The law on liability for a Nebraska bicycle accident is complex. The Omaha bike accidents lawyers at Hauptman, O'Brien, Wolf & Lathrop, P.C. can help you understand who might be held responsible for your bicycle accident.
Common Injuries in a Bicycle Accident
Whereas people riding inside cars and trucks have a physical barrier of protection, people on bicycles are exposed to the full force of collision without anything around them to absorb the impact. Accordingly, bicycle accident injuries tend to be serious.
Common injuries in a bicycle accident include:
Soft tissue injuries, including whiplash
Broken or fractured bones, including arms, legs, ribs, and collar bones
Head injuries, including traumatic brain injuries (TBIs)
Back injuries, including spinal cord injuries
Internal organ damage, including internal bleeding
Joint damage, including the knees, shoulders, ankles, and wrists
Serious burns, scrapes, cuts, and bruises
More serious accidents may cause hearing or visual impairment, bodily paralysis, or even death.
Do I Need a Personal Injury Lawyer for a Bicycle Accident Claim?
The claims process is complex. Navigating it on your own can be a challenge.
This is especially true in light of the fact that the people on the other side probably have a lot more experience in sophisticated legal matters than you do.
Most bicycle accidents ultimately involve a claim against an insurance company. Insurance companies operate with a clear goal in mind: making money and holding onto that money. In other words, they will look for any possible way to diminish or deny your injury claim.
Getting a fair shake from the insurance company can be difficult, even if your claim is valid and your injuries are real. Insurance companies do not tend to hand over money unless they believe they are likely to lose even more money in the long run.
Because going to court can potentially become very costly for the insurance companies, they tend to negotiate more reasonably once they believe there is a good chance the claim could go to trial.
By hiring an experienced attorney, you send a clear message to the insurance company: your claim is serious, and you are serious about pursuing it.
Just as importantly, your lawyer can take the burden of the claims process off your shoulders. The right attorney will handle everything for you. They will also help you understand the process and avoid the easy-to-make mistakes that could compromise your claim.
Studies have shown that accident victims who hire a personal injury lawyer tend to recover more money than those who do not.
As Omaha bike accident lawyers, we fight to maximize the amount of compensation our clients receive. In every case, our goal is to make a meaningful difference in our client's outcome.
What Can I Be Compensated for in a Bicycle Accident Claim?
Bike accident victims are entitled to full and fair compensation under Nebraska personal injury law, including compensation for their medical bills and pain and suffering.
The amount of money available to you will depend on the specific circumstances surrounding your accident, as well as the available insurance policy limits and other factors.
Generally speaking, the compensation available to bicycle accident victims in Nebraska can include:
Medical expenses
Hospital bills
Lost wages
Future loss of income
Property damage
Pain and suffering
Emotional distress
Out-of-pocket costs
If you'd like to learn more about how much money might be available in your particular legal matter, we encourage you to schedule a consultation with our Omaha bike accident lawyers.
While we can't promise a specific outcome, we can help you understand how the law might apply to the facts surrounding your claim.
We can also give you a sense of how much money injured cyclists in similar circumstances have previously recovered in Nebraska.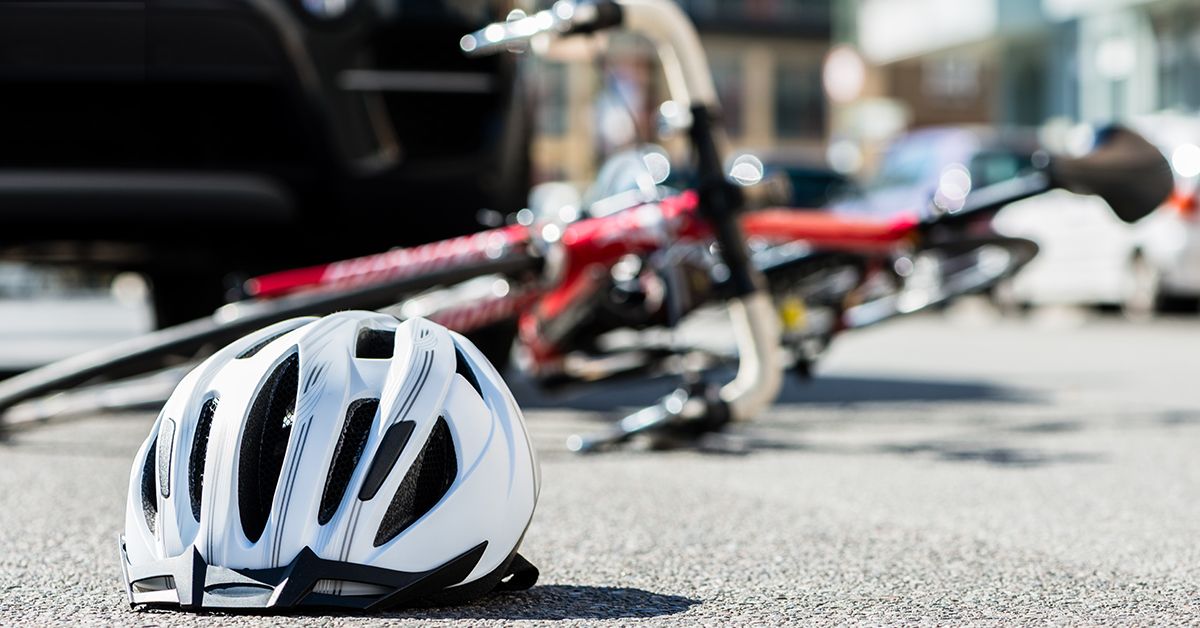 How Long Does a Bicycle Accident Injury Claim Take?
Different accident claims require different amounts of time. Some claims resolve in just a couple of months; others may last for many months or even over a year. There simply isn't a single timeframe that applies to all bicycle accident claims in Nebraska.
How long your bicycle accident injury claim takes to resolve may depend on a number of factors, including:
The severity of your injuries
How long it takes you to recover
The nature of any surgeries or treatments you require
The number of parties involved
The coverage limits on the at-fault party's insurance policy
Any "delay tactics" that the insurance company might try to utilize
The statute of limitations
Whether your claim goes to trial (and, if so, the court's calendar)
Unforeseen circumstances
As Omaha bike accident lawyers, we understand that no one wants to spend months on end embroiled in intensive negotiations or litigation. That's why we work hard to resolve our clients' claims as efficiently as possible. However, we also understand that the quickest settlement isn't necessarily the one you deserve.
At Hauptman, O'Brien, Wolf & Lathrop, P.C., we are committed to pursuing your best possible outcome under the circumstances — and to keeping you informed and in control all along the way.
While we have been successful in resolving the majority of claims through settlement agreements, we nevertheless prepare each claim for the possibility of trial.
We can and do try cases in court, and we are willing to take your claim to court if that's what justice demands.
Free Consultation with the Omaha Bike Accident Lawyers at Hauptman, O'Brien, Wolf & Lathrop
Hauptman, O'Brien, Wolf & Lathrop, P.C. is a Nebraska personal injury law firm with many years of experience and a long record of success. We are committed to giving our clients the time, attention, passion, and communication they deserve.
We are proud to offer confidential, cost-free, no-obligation case reviews for injured cyclists in Omaha, Sarpy County, and throughout Nebraska.
We handle bike accident claims on a contingency fee basis, which means if you hire us, we will not charge you a fee unless and until we recover compensation for you.
To talk with our Sarpy County & Omaha bike accident lawyers about your legal options, contact Hauptman, O'Brien, Wolf & Lathrop, P.C. today.