On This Page (Quick Links):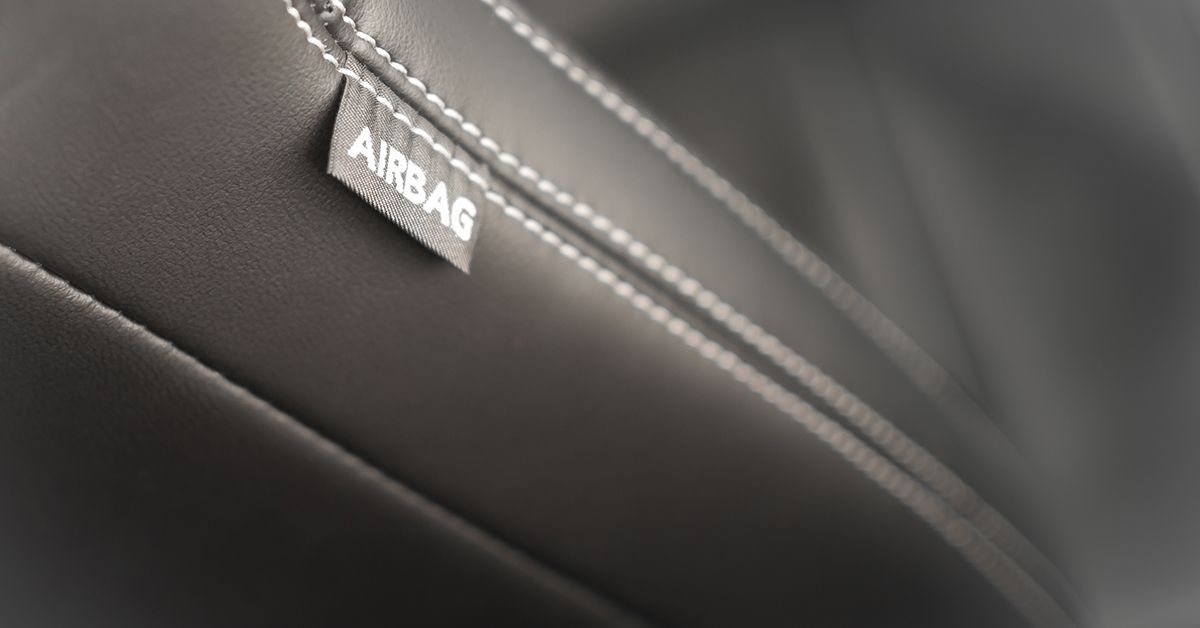 From power tools to forklifts, tainted food to kitchen appliances, faulty products encompass a wide variety of manufactured goods. As attorneys handling faulty product cases, we must prove that the company who made the product, designed it poorly. We must also prove that the use of the product was dangerous to the person who used it and caused injury.
Many people who are injured by a product believe it to be their fault. Often, this is not the case, and it is worth a call to our office for a free consultation.
Manufacturers have a legal responsibility to ensure that their products – when used properly – do not harm consumers. This responsibility extends to designers, wholesalers, retailers and anyone else involved in the chain of commerce. If you or a family member has been injured by a faulty product, contact our experienced and caring product liability attorneys today. Your initial case evaluation with us is free and of no obligation to you.
Types of Defects That Cause Injuries
If you are injured by a defective product, you may have grounds to file a product liability claim against the product's manufacturer, wholesaler, or distributor. There are two main categories of product defects under federal law: design defects and manufacturing defects. We will explain what these are below.
Design Defects
A design defect is described as a flaw that is in the original design of a product which causes it to be unreasonably dangerous or hazardous. Questions that our lawyers will look to answer in this type of claim include:
Was the product's design dangerous before it was produced?
Was it known that the product was unreasonably dangerous and could harm a user?
Could the product be altered during the production process so that it would not have been unreasonably dangerous for the user?
If our lawyers can find answers to any one of these three questions, there are reasonable grounds to bring a product liability claim.
Manufacturing Defects
These defects are caused by errors in the assembly process. These defects are typically found in small percentages of a company's products. Manufacturers are liable for any manufacturing defects that occur in their products regardless of whether they followed proper procedures or not. Our lawyers will attempt to prove that the defect allegedly responsible for your injury was present at the time of which the good left the manufacturing facility.
Failure to Warn
In addition to design and manufacturing defects, product liability claims can also be brought due to manufacturers failing to warn customers of potential risks. Parties that are in the chain of distribution can all be held responsible if warnings aren't provided. Warning labels are maintained and regulated by The American National Standards Institute (ANSI). In 2002, they amended their guidelines regarding warning labels. These revised guidelines became easier to read, more detailed and provide pictures of safety risks.
According to the ANSI, warning labels should include:
Warnings about existing hazards
Warnings to the consumer about the risk involved with using the product
Warnings about the effects of the hazards
Information about how to avoid the hazard
The ANSI suggests that warnings should be visible and positioned close to the hazard. Labels are also required to be color-coded (Red, Orange, Yellow) with keywords to let the consumer know about the severity of the hazard.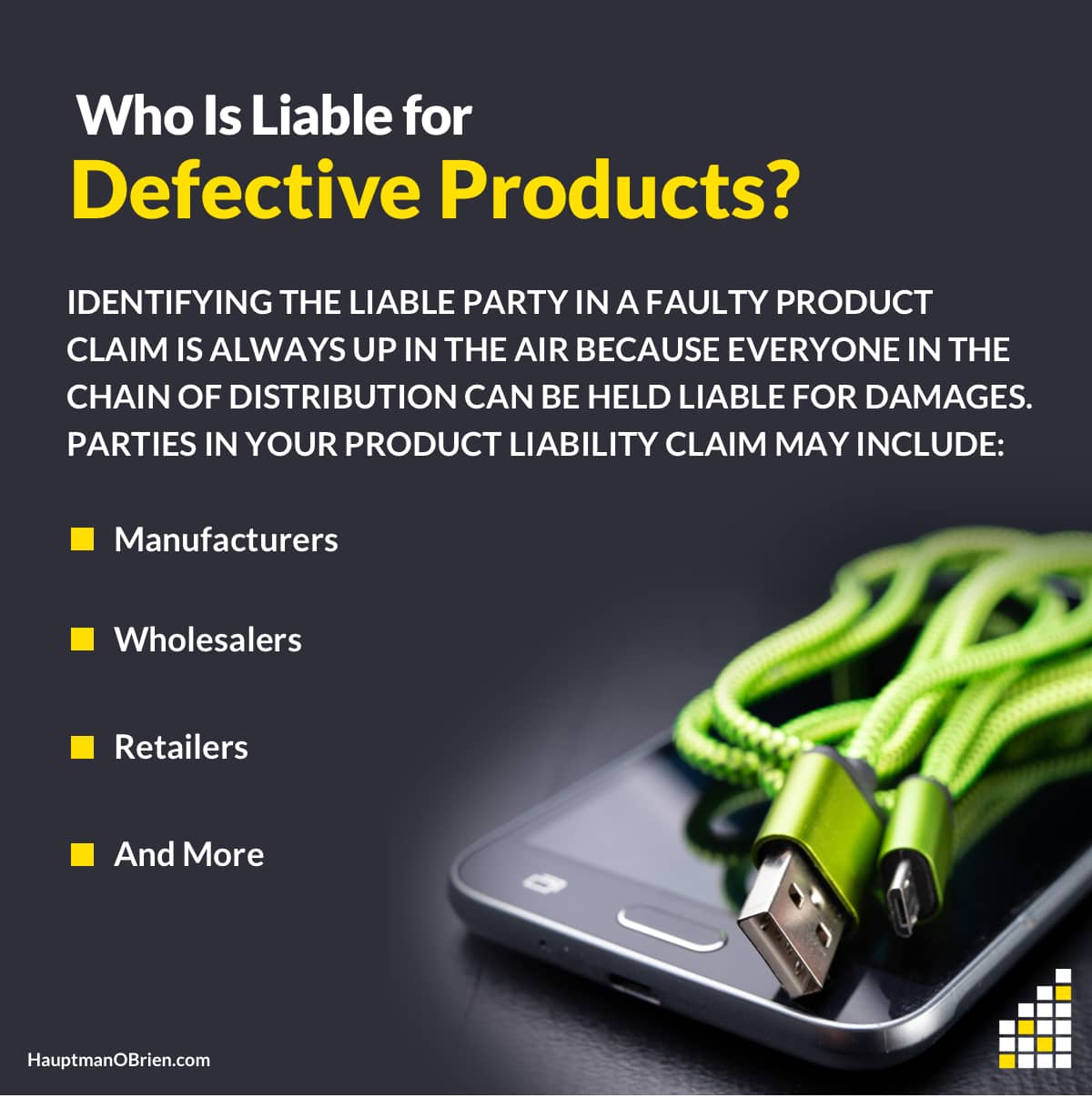 Types of Defective Product Lawsuits
In general, there are three main types of defective product liability cases. The three that we see are cases stemming from negligence, strict liability and breach of warranty.
Negligence
In these cases, we attempt to show that carelessness in the design or manufacturing of a product led to your injuries. The defective product lawyers at Hauptman, O'Brien, Wolf & Lathrop will demonstrate that the defendant had a duty to sell a safe product and failed to do so. This breach of duty can be shown if it is proven that the defendant knew the product was defective.
Strict Liability
In many cases, product liability cases fall under the theory of strict liability. In these claims, the injured person is required to prove that a defect existed in the product that injured them. If this alleged defect exists, the manufacturer of the product is held liable for damages, regardless of how cautious they were about the defect. For strict liability to come into effect, a product must have been bought in the chain of distribution. Products of which are bought second-hand do not apply to this theory.
Breach of Warranty
When a product is sold, there are two warranties in place that the buyer can lean on: the express warranty and the implied warranty. An express warranty is a representation of the product's safety that is produced by the manufacturer. An implied warranty is an implied promise by the manufacturer, saying that if the product is used for the intended purpose, it will not cause harm. A breach of warranty provision would come to aid anyone who was injured while using the product as it was intended.
Who is Held Liable for a Defective Product?
Based on the specifics of each case, an injured person can seek compensation from one or more of the following parties:
Manufacturer
Retailer
Wholesaler
Identifying the liable party in a faulty product claim is always up in the air because everyone in the chain of distribution can be held liable for damages.
Manufacturers
Manufacturers are simply those who construct a product. These can be large corporations or small businesses as long as they are responsible for making the product that caused injury.
Retailers
When a retailer puts an item on sale, it is implied as a safe product for consumption. If a consumer purchases a product from a retailer and is harmed, the retailer can be held liable for damages even though they did not make the product.
Wholesalers
A wholesaler is considered the middleman in the chain of distribution. They can also be held liable for damages caused by products they sell.
There is a statute of limitations on many types of product liability claims. Claims must often be made within a short period of time after the injury occurs, and if they are not, the injured person will no longer be able to seek and receive compensation.
Contact Our Bellevue Product Liability Lawyers for Your Free Initial Consultation
Contact us today for a free initial consultation. We will listen to your story, ask pertinent questions, and give you an honest assessment of your case. If it merits legal action, we will represent you at no cost, collecting a fee only if you win your product liability action. Our attorneys are zealous advocates for people who have been injured because of the negligence or carelessness of other individuals or organizations, and we will represent your best interests with passion and purpose.
For your convenience, we offer home, hospital, and nursing home visits. Our team of professional personal injury lawyers at Hauptman, O'Brien, Wolf & Lathrop will provide you with the experience, strategy, and commitment that protect your rights and claims. You will get a free initial consultation on your case. There are no attorney fees unless you win.
Product Liability FAQ
What Is Considered a Defective Product?
Broadly speaking, a product is defective if it presents a danger to the consumer when it is used appropriately for its intended purpose. Defects may arise in the design or manufacturing of the product, or as a result of a failure to provide instructions or to warn consumers about possible dangers.Countless consumers have suffered serious injuries and even died due to faulty products. Some of the most significant examples of product liability claims involve:
Defective vehicles and automotive parts
Dangerous medications
Defective medical devices, such as hip implants, hernia mesh, and more
Dangerous tobacco products
Defective power tools
Defective children's products, including toys, clothing, car seats, etc.
Defective appliances and electronics
Defective industrial and construction equipment
Dangerous and defective building materials
Product recalls are a frequent occurrence. Unfortunately, companies oftentimes don't recall products until after multiple consumers have suffered harm.
If you have been injured or a loved one was hurt or killed due to a faulty product, it is important to speak to a product liability attorney as soon as possible. Our knowledgeable lawyers consult industry experts to assess products for defects and determine your right to compensation.
Can I Sue for a Defective Product?
Product liability is a complex area of law. At minimum, you must be able to prove (a) the product in question was defective, (b) your injuries were caused by the product defect, and (c) the product was not modified and you used it as intended. You do not have to own the product in question to file a product liability claim. For example, the manufacturer of a defective vehicle may be liable for injuries sustained by anyone involved in an accident caused by the faulty part – including pedestrians, other motorists, etc.
Vehicle defects may be a factor in claims involving:
Similarly, if you are injured at work due to a faulty product (such as defective tools, equipment, etc.), you may have a claim against the manufacturer and other liable parties. These claims fall outside the workers' compensation system, and injured employees can recover significantly more in damages.
You are not automatically entitled to compensation for injuries caused by a defective product. The evidence must support your claim that the product was defective and your injuries occurred as a result. Issues such as negligence and breach of warranty may also be involved.
For all of these reasons, it is in your best interest to contact Hauptman, O'Brien, Wolf & Lathrop as soon as possible if you believe you or a loved one was harmed by a defective product. Our product liability lawyers can advise you of your options for recovering compensation, represent you in negotiations with the liable parties and their insurance companies, and take your case to trial if necessary.
How Do You Prove a Product Is Defective?
Consumers are often unaware that a product they use is defective. When the product fails, it is not uncommon to think that "user error" may have been the issue. In reality, however, most product defects arise due to errors on the part of manufacturers, distributors, and other parties in the chain of commerce. With this in mind, it is important to consult an attorney as soon as possible to determine if you have a product liability claim.
Expert analysis is crucial for determining whether a product is defective. Our lawyers consult with engineering and industrial experts who examine the product for faulty designs, manufacturing errors, and other issues that made the product dangerous.
Other key aspects of building a defective product claim include:
Assessing your use of the product at the time of the accident
Determining how your injury or injuries occurred
Calculating the damages you have sustained
The attorneys at Hauptman, O'Brien, Wolf & Lathrop will fully evaluate your medical records to understand the nature and extent of your injuries. We also investigate the total economic and non-economic impact to ensure that your product liability claim accounts for all damages.
What Compensation Can I Recover in a Product Liability Claim?
The compensation you may be entitled to for a defective product injury will depend on the specific losses you and your family have sustained. The Omaha product liability attorneys at Hauptman, O'Brien, Wolf & Lathrop can fully account for the damages in your case and build a strong claim on your behalf.Common types of damages recoverable in product liability claims include:
Current and future medical bills
Lost wages
Loss of earning capacity (future income) if you are unable to work long-term or permanently
Expenses for medical-related travel, hiring professional service providers for home healthcare and household work, modifying your residence and vehicle, etc.
Pain and suffering
Emotional anguish
Disability
Scarring and disfigurement
You may also be entitled to compensation if your loved one was killed by a faulty product. Potential damages in a wrongful death claim include:
Bills related to funeral services and burial or cremation
Loss of the decedent's income and other financial support
Medical expenses for care provided prior to the death of a loved one
Your loved one's conscious pain and suffering prior to death
Loss of consortium (the loss of affection, intimacy, and companionship between spouses, as well as the loss of household services the spouse provided before death)
Loss of parental guidance (if the decedent had a child or children, they can recover for the loss of emotional support and nurturing)
Companies that design, make, distribute, and sell products are principally concerned about their bottom line. They are not in the business of fairly compensating consumers who get hurt using their products. Insurance carriers further complicate these matters, frequently offering minimal settlements and even disputing liability for injuries.
Our product liability attorneys can help you overcome these challenges. We know how businesses and insurers operate, and our lawyers draw upon more than 233 years of combined experience to develop strategies for recovering the compensation you and your loved ones deserve.
How Long Do I Have to Bring a Product Liability Claim?
All injury claims are subject to a time limit known as the statute of limitations. In Nebraska, product liability claims involving injury must be filed within four years. If the product defect results in the death of a loved one, however, you and your family only have two years to bring a claim. Wrongful death claims are subject to a shorter statute of limitations than personal injury cases.
Is Product Liability Strict Liability?
Many product liability claims are tried under the legal theory of strict liability. In a strict liability claim, you do not have to prove negligence on the part of a manufacturer, distributor, and/or other parties to recover compensation. The most common defense manufacturers and other parties use to counter strict liability claims is to argue that the consumer misused or modified the product, and his or her injuries occurred as a result. However, the Nebraska Supreme Court has excluded the comparative negligence defense in strict liability claims. Therefore, defendants in product liability cases in Nebraska cannot cite misuse or modification of a product on the part of a consumer to dispute claims of strict liability for product-related injuries.
It is important to note that comparative negligence laws may apply in cases brought on the grounds of negligence, breach of warranty, etc. Damages awarded to plaintiffs in these product liability claims may be reduced according to the proportion of fault if the defense is successful in arguing that the consumer's negligence contributed to the failure of the product.
What Should I Do with a Defective Product?
If a product you own breaks or stops working, your first impulse is likely to throw it away or return it to the store for a refund. You may also receive recall notices for products with known defects. Your health and safety and the health and safety of your family is your top priority. However, if you or someone you love has been harmed by a defective product, you must keep the product in your possession.
If you return the product or throw it away, you are effectively discarding the key piece of evidence in your case. You should keep the product in a safe place where no one can access it. Our attorneys can take the product for you and perform an expert inspection to determine if you have a case.
Additional steps you should take include:
Gathering receipts that show where and when you bought the product
Locating instruction manuals and packaging for the product
Collecting product warranty information
During your free consultation, the product liability attorneys at Hauptman, O'Brien, Wolf & Lathrop will review these and other materials. Our team will investigate thoroughly to identify all liable parties in your case and develop a strategy to pursue compensation on your behalf.