Attorneys Handling Car Accidents Throughout Nebraska
Hiring a car accident lawyer is one of the best decisions you can make if you were injured through the carelessness of another driver. The attorneys at Hauptman, O'Brien, Wolf & Lathrop can help if you or a member of your family sustained life-altering injuries in a car accident.
Our lawyers are dedicated to protecting your rights and best interests. We can help you navigate the aftermath of a car accident and pursue the compensation you deserve.
Please call Hauptman, O'Brien, Wolf & Lathrop at (402) 241-5020 today for a free consultation with a car accident lawyer. Our attorneys serve clients in Omaha, Sarpy County, and all of Nebraska and neighboring Iowa.
On This Page (Quick Links):
You never know when a car accident could happen. In the United States, there are more than 6 million car accidents every year. That translates to an injury occurring every 14 seconds and a fatality caused by a car accident occurring every 12 minutes. It only takes a split second of negligence and, just like that, your life and the lives of others involved can be forever altered.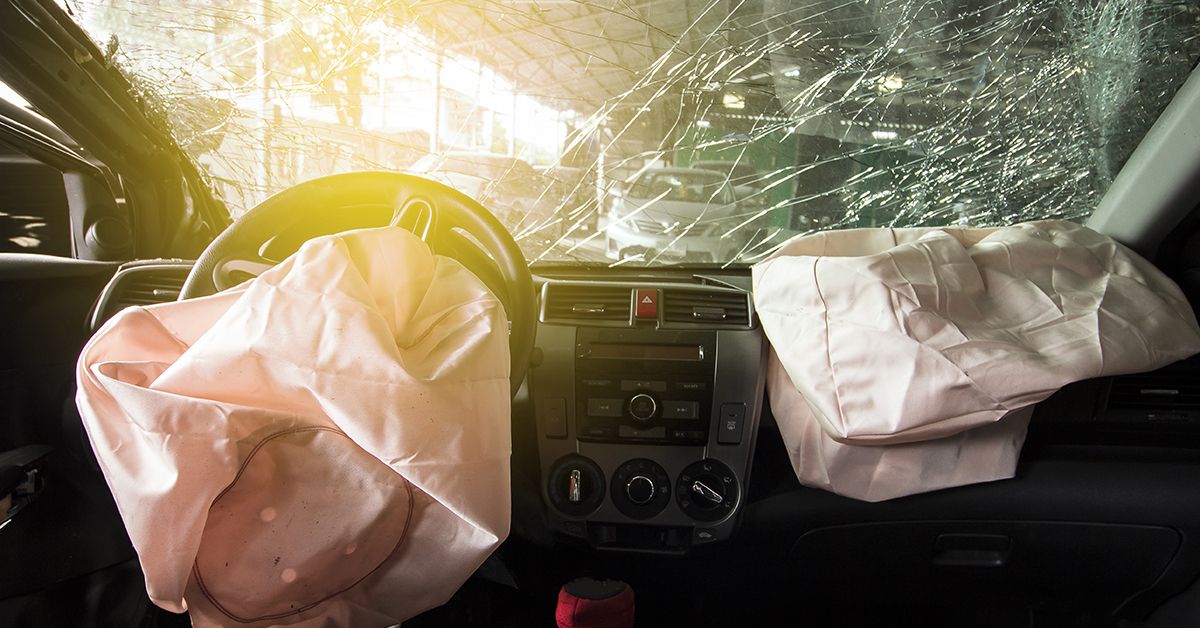 Don't try to handle the aftermath of a car accident alone. The Omaha car accident lawyers at Hauptman, O'Brien, Wolf & Lathrop, P.C. are here to help relieve the stress by taking the weight of paperwork, phone calls, and court dates off your shoulders. Our priority is to see you happy and made whole.
Why Do I Need a Car Accident Lawyer?
When you work with the car accident lawyers at Hauptman, O'Brien, Wolf & Lathrop P.C., you will be able to count on us to handle every aspect of your car accident claim. We will be able to provide you with a voice as well as serve as a platform in your battle against insurance companies. It is important to consider the following points when deciding whether or not to hire a car accident attorney:
Our Car Accident Lawyers Can Provide Sound Advice
As a victim of a car accident, you may find yourself asking a lot of questions and finding no answers. Questions you may have include:
Which insurance is going to pay my medical bills?
Who is going to pay for the damage to my vehicle?
Can I receive compensation for the pain and suffering that I am experiencing?
Questions like the ones above, along with many more, can all be answered by one of our experienced auto accident lawyers in Omaha. We can provide you with advice on where to go and who to see throughout your entire case so that you never have to feel alone.
Our Car Accident Lawyers Will Be Your Voice
During your case, you should never speak with anyone about the specifics of your accident without the guidance of one of our car accident lawyers. From the moment you hire one of our attorneys, we will become your voice and handle all communication that occurs with insurance companies and anyone else involved with your case. We will take all of the stress off of your shoulders while you concentrate on recovering.
Our Car Accident Lawyers Will Thoroughly Investigate Your Case
Although your recollection of the accident is very important to the outcome of your case, additional investigation by one of our lawyers is usually required to uncover more truths. Often, an accident reconstruction expert will be needed to determine just how your accident occurred and who was at fault. Our lawyers have the resources and contacts that are needed to properly investigate your accident. We will work tirelessly to ensure that you are fully and fairly compensated for your damages.
Our Car Accident Lawyers Know What You Deserve
How much compensation you receive in your case largely depends on the type and severity of your injuries. Often, insurance companies will contest the amount of an accident victim's medical bills and other damages because they don't want to pay the full amount. Our experienced injury lawyers know how to correctly evaluate medical documents and other evidence to make sure that you don't receive less than adequate compensation.
Most car accident cases will settle out of court through careful negotiations. Having a car accident lawyer help you through this process is important because those who do not may undervalue or overvalue their claim. Don't settle for less than you deserve and contact an auto accident attorney today. You will feel comfortable knowing that our lawyers are skilled negotiators and are fighting in your best interest.
We Will Be Your Steadfast Advocate in Court
Should your case be taken to court, our injury lawyers will be by your side every step of the way. We will advocate for you in front of a judge, jury, and the defendant's legal party. You can be sure that the other party will have lawyers fighting for them too, so it is important you have us there to combat their knowledge. You are not alone in this time, contact Hauptman, O'Brien, Wolf & Lathrop for a free case evaluation today.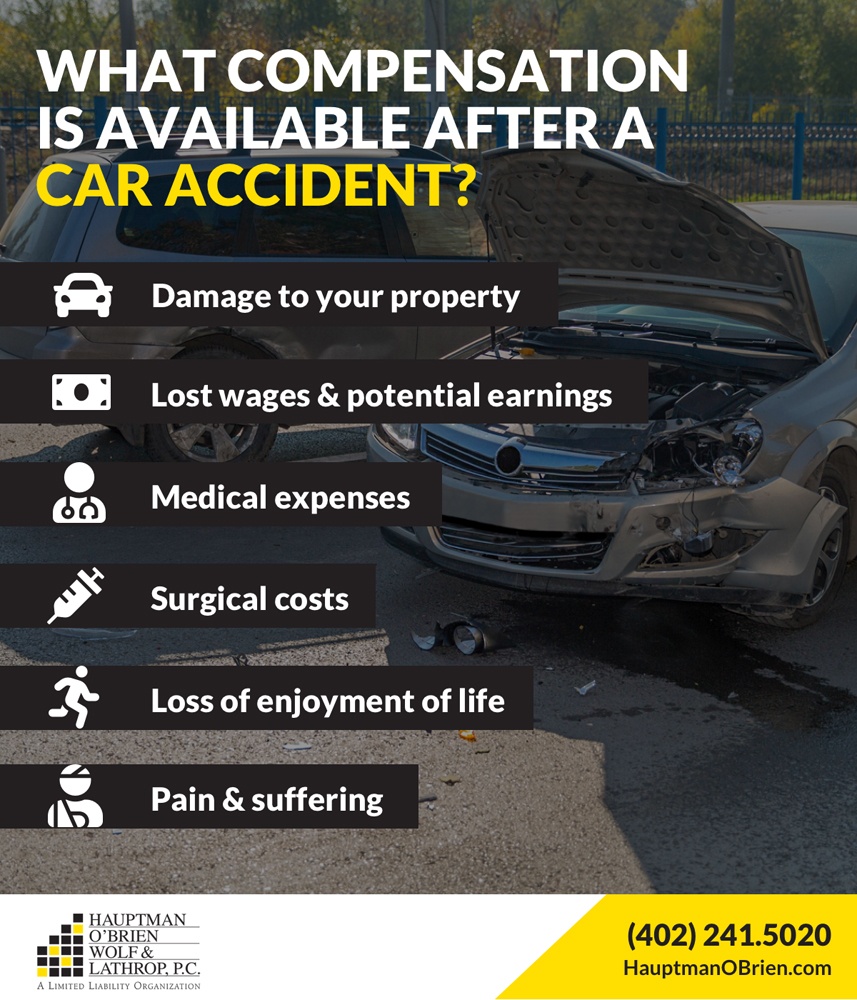 Our Lawyers Help You Get Compensation for Car Accidents in Omaha
At Hauptman, O'Brien, Wolf & Lathrop, we will investigate the events that led to your car accident and determine how it occurred. Our auto accident attorneys are prepared to conduct a thorough investigation, establish liability, and fight tooth and nail for the compensation that you deserve.
What Compensation Is Available in a Car Accident Claim?
You may accrue numerous expenses, injuries, and damages in a car accident. With the help of our experienced car accident lawyers and depending on the circumstances of your case, you may be entitled to recover compensation for the following damages:
Damage to your property
Medical expenses
Loss of enjoyment of life
Lost wages and earnings potential
Surgical costs
Pain and suffering
If you are injured by a driver without insurance coverage, your own insurance policy's uninsured motorist coverage should apply. However, even if you have faithfully paid your premiums for years, your own insurance company may try to deny your claim.
Who Is at Fault in a Car Accident?
Nebraska operates under a "fault" insurance system meaning that drivers in car accidents are required to recover compensation from the driver at-fault initially. Nebraska also has a contributory negligence rule that states that you must prove that any fault that you had in your accident was less than half of the total fault of the other driver.
Steps to Take After a Car Accident in Omaha or Sarpy County
Reckless and negligent drivers cause many car accidents. Whether it's a distracted driver who didn't see you or an overly aggressive driver who sideswiped you as they passed by, you shouldn't be responsible for someone else's mistake.
If you are involved in a car accident, there are several steps you can take to protect yourself and those around you in the moments that follow:
Most importantly, check yourself and anyone else involved for serious injuries. If there is any bleeding or someone is unconscious or not responding, call 911 right away.
If everyone appears to be okay, look at the vehicles to see if they can be moved from the roadway. If they are not able to be moved, call 911 or your local non-emergency police department number. If you've already contacted the authorities, wait for them to arrive at the scene.
As you wait, gather contact and insurance information for each driver involved. Never leave after an accident without the other party's information.
See if there were any witnesses to the accident. If there are, ask them if they'd be willing to give a statement to the police or insurance companies, if necessary, and collect their contact information.
Use your phone or a pen and paper to write down the basic details of the car accident: date, time, location, weather conditions, etc.
Call each insurance company involved and file a claim. Be prepared to give them the basic details you've written down.
As you speak to police or insurance agents, remember, do not make any statements regarding who is at fault. Statements like this given at such an early stage can be potentially incriminating or damaging to your case. Always speak to a local Omaha car accident attorney first.
If police were called, you'd probably need to speak to them before you're free to go home. If you are unsure about the condition of your vehicle, do not drive it. Your insurance provider should be able to help you get a tow truck and take it to the nearest approved garage.
Common Injuries From Car Accidents
Around 40% of all car accidents are rear-end collisions. As a result, the most common injury seen in an accident is whiplash. The sudden impact of a collision, especially a rear-end collision, results in occupants' heads being thrown forward, causing the neck to bend suddenly at an extreme and unnatural angle. Whiplash can cause extreme pain and muscle cramping that can last for days or weeks following the incident.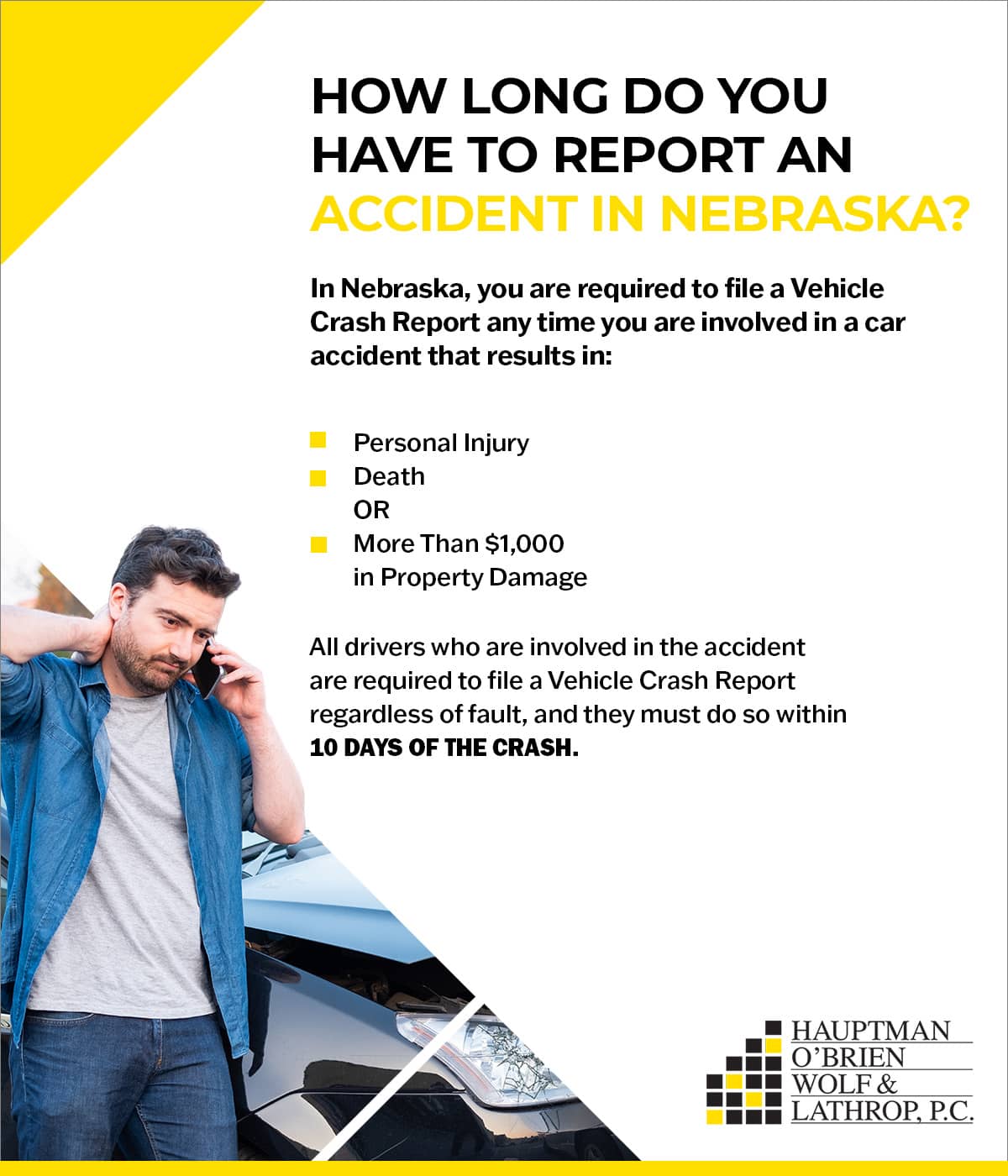 If you've never experienced a car accident, you may not realize that they can cause emotional trauma as well as physical injury. Whether the injuries are emotional or physical, chances are they will manifest in a variety of ways that are not only painful but disruptive to your everyday life.
The injury lawyers at Hauptman, O'Brien, Wolf & Lathrop, P.C. have years of combined experience handling car accident claims. We may be able to help you recover damages for your injuries, including:
Physical Injuries From Car Accidents
Cuts/Gashes
Scratches/Abrasions
Bruising
Neck/Disc Injury
Partial/Complete Paralysis (temporary or permanent)
Broken Back/Broken Vertebrae
Facial/Dental Damages
Broken Bones
Internal Bleeding
Organ Damage
Psychological Injuries From Car Accidents
Mental Anguish
Anxiety
Loss of consortium
Confusion/trouble concentrating
Loss of enjoyment of life
Nightmares
Depression
PTSD
Guilt
Insomnia
Who Will Pay Your Medical Bills?
If you are injured by a driver without insurance coverage, your own insurance policy's uninsured motorist coverage should apply. However, even if you have faithfully paid your premiums for years, your own insurance company may try to deny your claim.
Do I Need A Car Accident Lawyer?
Always speak with one of the Omaha car accident attorneys at Hauptman, O'Brien, Wolf & Lathrop before you speak to any insurance company. They are used to dealing with people without legal representation, and they are NOT on your side. If there is a personal injury claim by you against their client, they will offer you much less than you are entitled to.
Reckless driving doesn't always cause a car accident. But when it does, the driver who caused it should be held accountable for their negligence. For many years we've helped innocent members of our community recover damages in the wake of an accident. We're compassionate, caring, and willing to fight for what's right; just ask some of our clients.
Dealing with claims paperwork, phone calls, and negotiations can quickly become intimidating. Fortunately, the attorneys at Hauptman, O'Brien, Wolf & Lathrop, P.C. have the experience to tackle even the toughest of situations.
The fact of the matter is, you don't deserve to take a financial hit for a car accident that wasn't your fault. Our attorneys have more than 200 years of combined experience representing injury victims. We have been repeatedly voted the #1 personal injury law firm in Omaha for our commitment to protecting our clients' rights and safeguarding their futures.
If you've been injured in a car accident by a negligent driver, schedule your free consultation with us today. Give us a call at (402) 241-5020 to speak to a car accident lawyer today.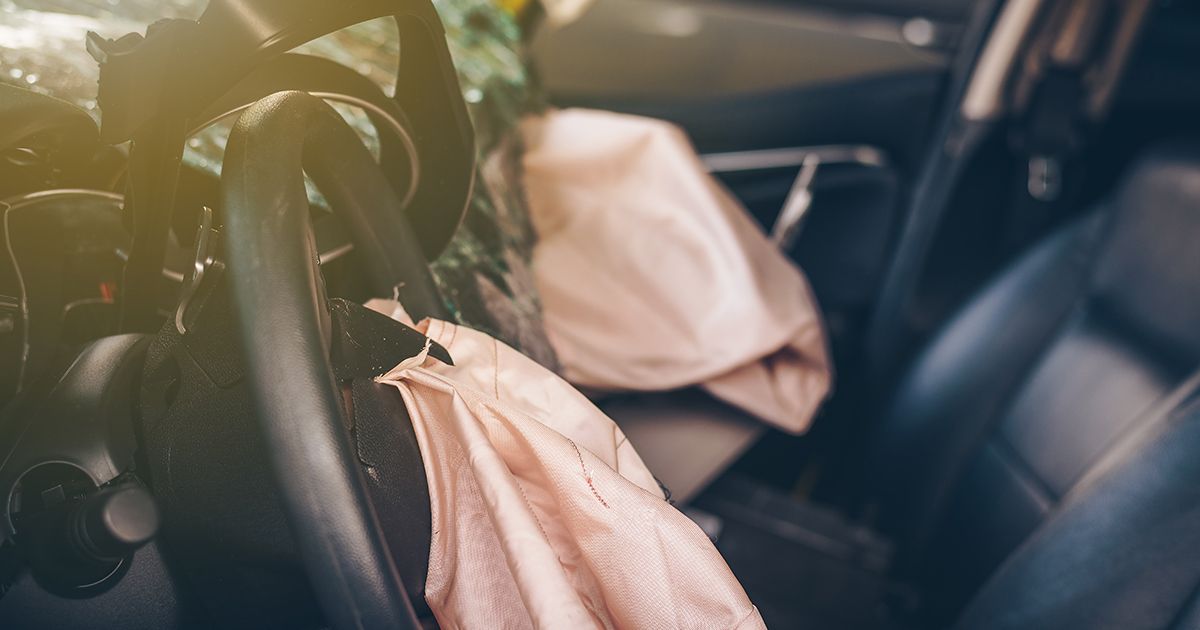 Video Questions and Answers From Our Attorneys
We handle a variety of car accident cases and other personal injury claims. In order to better serve our clients, we have compiled a list of common questions and answers.
What Is a Deposition?
If My Insurance Company Covers Part of My Costs, Will That Affect the Settlement Amount?
What Should I Say or Not Say to My Insurance Company?
Why Is My Insurance Company Requesting Proof of Loss?
Is There a Time Limit for When a Claim Needs to Be Filed?
Will I Have to Go to Trial?
Should I Accept My Insurance Company's Settlement Offer?
What Is Maximum Medical Improvement (MMI)?