On This Page (Quick Links):
No matter what your profession, there is always a chance you could suffer catastrophic injuries or be killed on the job. This happens to thousands of Nebraskans each year, but many of them do not receive the full workers' compensation benefits to which they or their families are entitled.
When you suffer a workplace injury, your employer and their insurance company may attempt to save money by acting in their best interests instead of yours. Unfortunately, this can leave you suffering physically and financially.
The Nebraska workers' compensation attorneys at Hauptman, O'Brien, Wolf & Lathrop, P.C., have helped many injured workers whose claims have been denied. It's our job to work with the insurance companies and state workers' comp officials to see to it that you receive the compensation you deserve.
Types of Workplace Injuries
The types and severity of injuries you can suffer at work depend on your job. Office workers may struggle with relatively minor issues, like back pain or carpal tunnel syndrome, while those who perform physical labor are at risk for more severe injuries. Keep in mind that occupational illnesses are considered job-related injuries as well.
Some of the more common workplace injuries and illnesses include:
Sprains and strains
Vision or hearing loss
Respiratory diseases
Fractured or broken bones
Joint, tendon and ligament damage
Back and spinal cord injuries
Hernias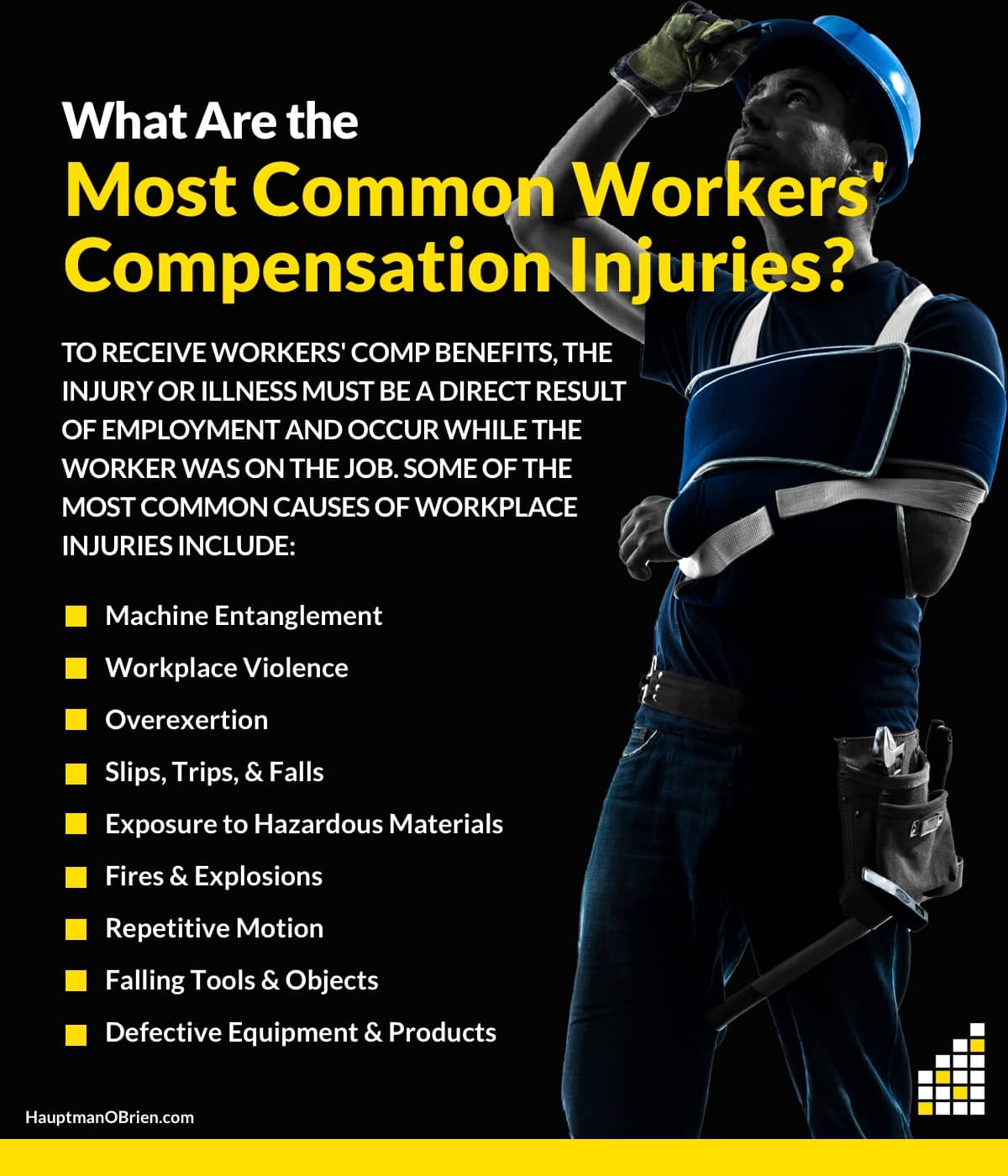 Workers' Compensation Benefits
The benefits you're entitled to depend on a variety of factors, including how you were hurt, the severity of your injuries, and whether the injuries are temporary or permanent. Under Nebraska Workers' Compensation law, you may be able to receive some or all of the following benefits:
Wage-Loss: You can receive total or partial disability benefits depending on the severity of your injury and how it's affected your ability to work.
Medical Bills: If you've been hurt at work, your employer is responsible for any "reasonable" medical expenses like doctors' bills, medication, and equipment.
Permanent/Partial Loss of Member or Body as a Whole: These benefits are awarded if your injury caused you to partially or completely lose the use of a body part. They may also be awarded if you suffer a permanent loss or impairment to your whole body.
Temporary Partial Benefits: These apply to employees who were injured and are able to work in some capacity but not the same as before the accident.
Vocational Rehab: If the injury results in a disability that prevents you from returning to your regular job, you may receive benefits for vocational rehabilitation and training for a new position.
Death: If the injured employee suffers wrongful death, the surviving spouse and/or children are entitled to death benefits and up to $6,000 for funeral expenses.
Common Causes of Workplace Injuries
According to the Bureau of Labor Statistics, there were roughly 2.9 million nonfatal work injuries reported in 2015. That works out to nearly 8,000 injuries each day. Some of the most common causes of work injuries are:
Machine entanglement
Workplace violence
Overexertion
Slips, trips, and falls
Exposure to hazardous materials
Fires/explosions
Repetitive motion
Falling tools or objects
Defective equipment or faulty products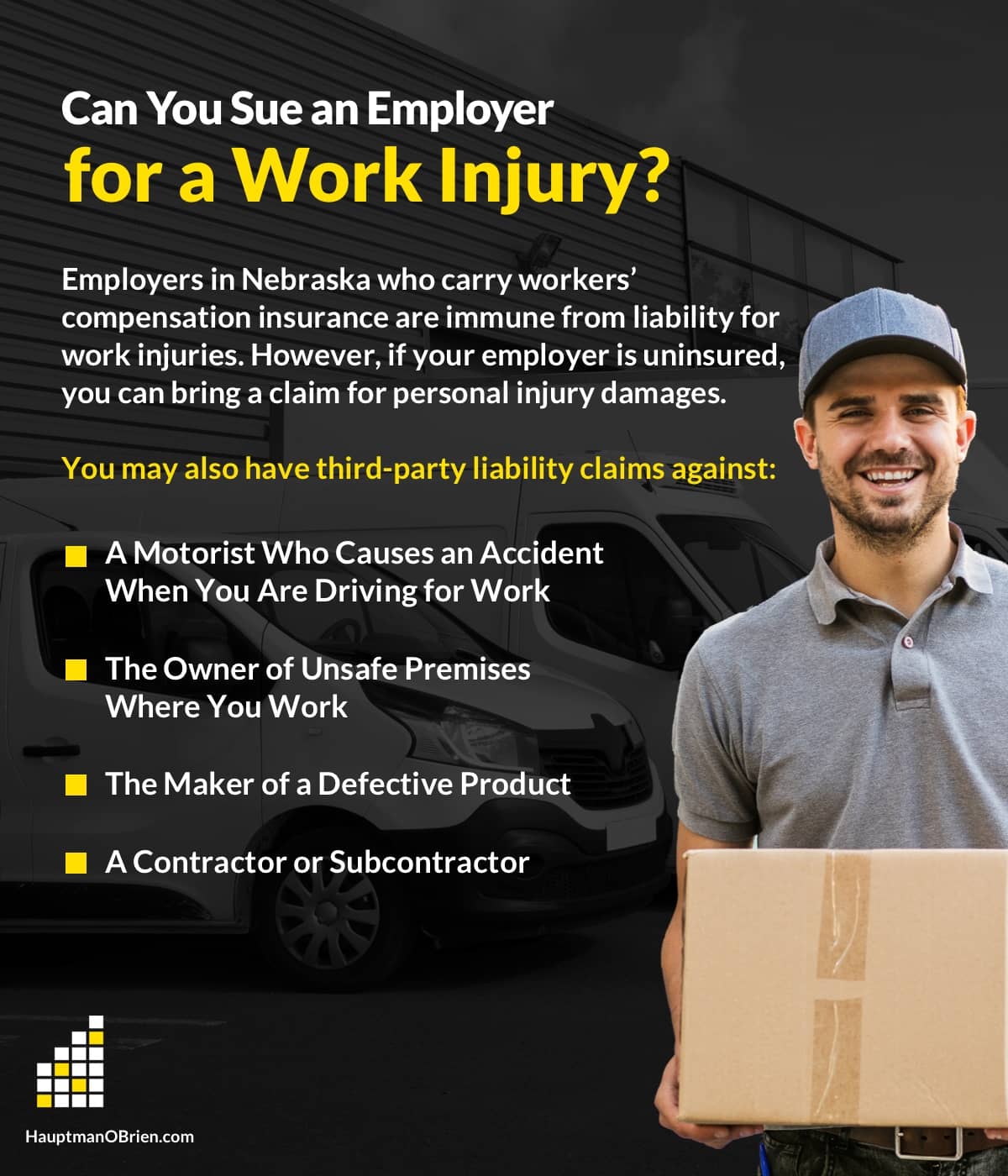 Nebraska Workers' Compensation Laws
Employers in Nebraska are required to carry workers' compensation insurance for all full-time, part-time, seasonal temporary, and minor employees. There are some employees who are not covered by workers' comp. These include:
Railroad workers, federal employees, independent contractors and some volunteers
Domestic servants
Agricultural workers
People who are self-employed, or are sole proprietors, partners or limited liability employees
Officers of companies who own more than 25 percent of that company's stock
Executive officers of nonprofit organizations who make less than $1,000 a year
Aside from those mentioned above, all other employees are entitled to Nebraska workers' comp benefits if they are injured on the job. There are, however, requirements that need to be met. To receive benefits, the following must be true:
The illness or injury was a direct result of employment and occurred while the worker was on the job
The illness or injury was not caused by the employee's willful negligence
The employment was typical of the employer's trade, business or profession AND the injury happened in Nebraska;

OR the employment was principally based in Nebraska
OR the employment contract and employer were based in Nebraska
This is just a brief overview of state law. Which benefits you'll be able to receive and how much they're worth depends on your specific situation. If you've been injured at work, it's a good idea to read more about Nebraska's workers' compensation laws and what to do after a workplace injury.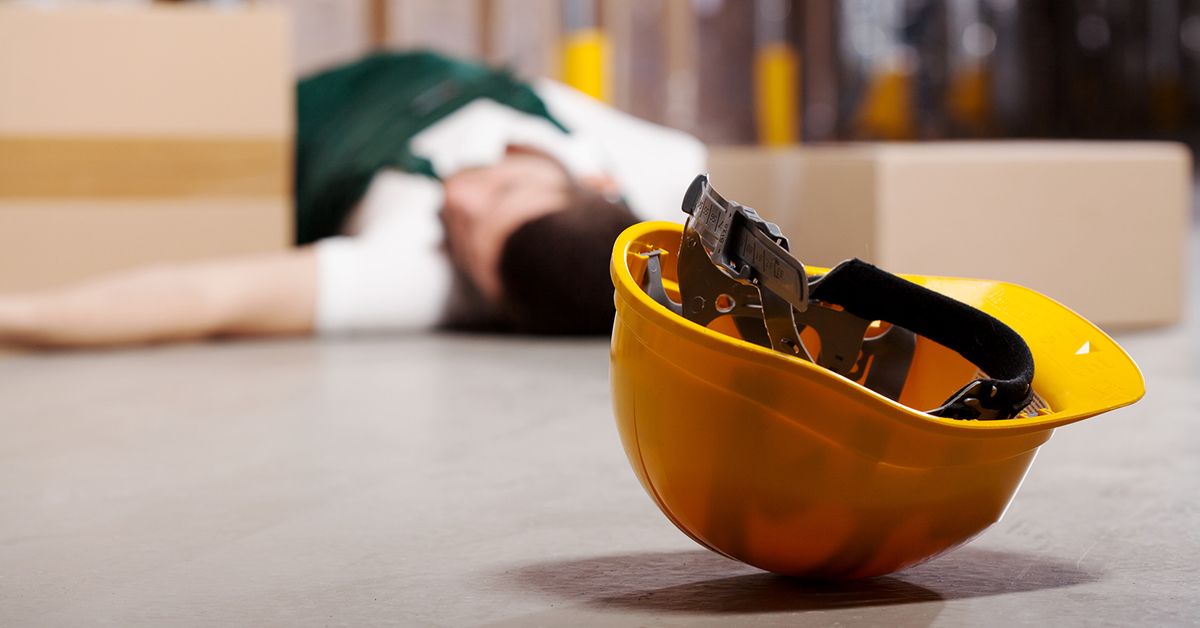 What to do if Your Employer Denies Benefits
Despite what the law says, there are employers who will refuse to give you the benefits you deserve. If this happens to you, your first step should be to call the Nebraska Workers' Compensation Court at 800-599-5155 and file a report.
Remember, according to the statute of limitations, you have two years from the date the injury occurred to file a lawsuit. If your employer refuses to pay or your benefits have been denied, the best way to protect yourself is by hiring a workers' compensation attorney.
At Hauptman, O'Brien, Wolf & Lathrop, P.C., we only handle employee workers' comp claims. We will do everything we can to ensure that you receive the benefits you need to pay the bills and take care of your family. We offer free consultations to assess your case and discuss your situation. Call to speak to an Omaha workers' comp attorney at 402-241-5020 or Sarpy County workers' comp attorney at 402-241-8214, or contact us online.
Commonly Asked Questions About Work Injury Claims
Who Will Pay Me If I Get Injured at Work?
How Long After an Injury Can You Claim Workers' Compensation?
How Much Do You Get Paid for an Injury at Work?
How Do You Prove Injury at Work?
How Is a Workers' Compensation Injury Settlement Calculated?
How Long Can You Be on Workers' Compensation in Nebraska?
Why Doesn't Workers' Comp Pay Pain and Suffering?
Can I Sue My Employer for an Injury on the Job?