Dedicated Omaha Truck Accident Attorneys Serving All of Nebraska
On This Page (Quick Links):
Unlike passenger vehicles, large trucks like semis have unique features that make them especially dangerous on the road and in an accident.
If you were hurt or a loved one was killed in a collision with a large truck in Nebraska, it's advisable to consult our semi truck accident lawyers before speaking with an insurance company representative or accepting a settlement offer. Each of the Omaha truck accident lawyers at Hauptman, O'Brien, Wolf & Lathrop are dedicated to helping injury victims recover the financial peace of mind they need.
Please call us today at (402) 241-5020 or contact us online to tell us your story and schedule your FREE consultation.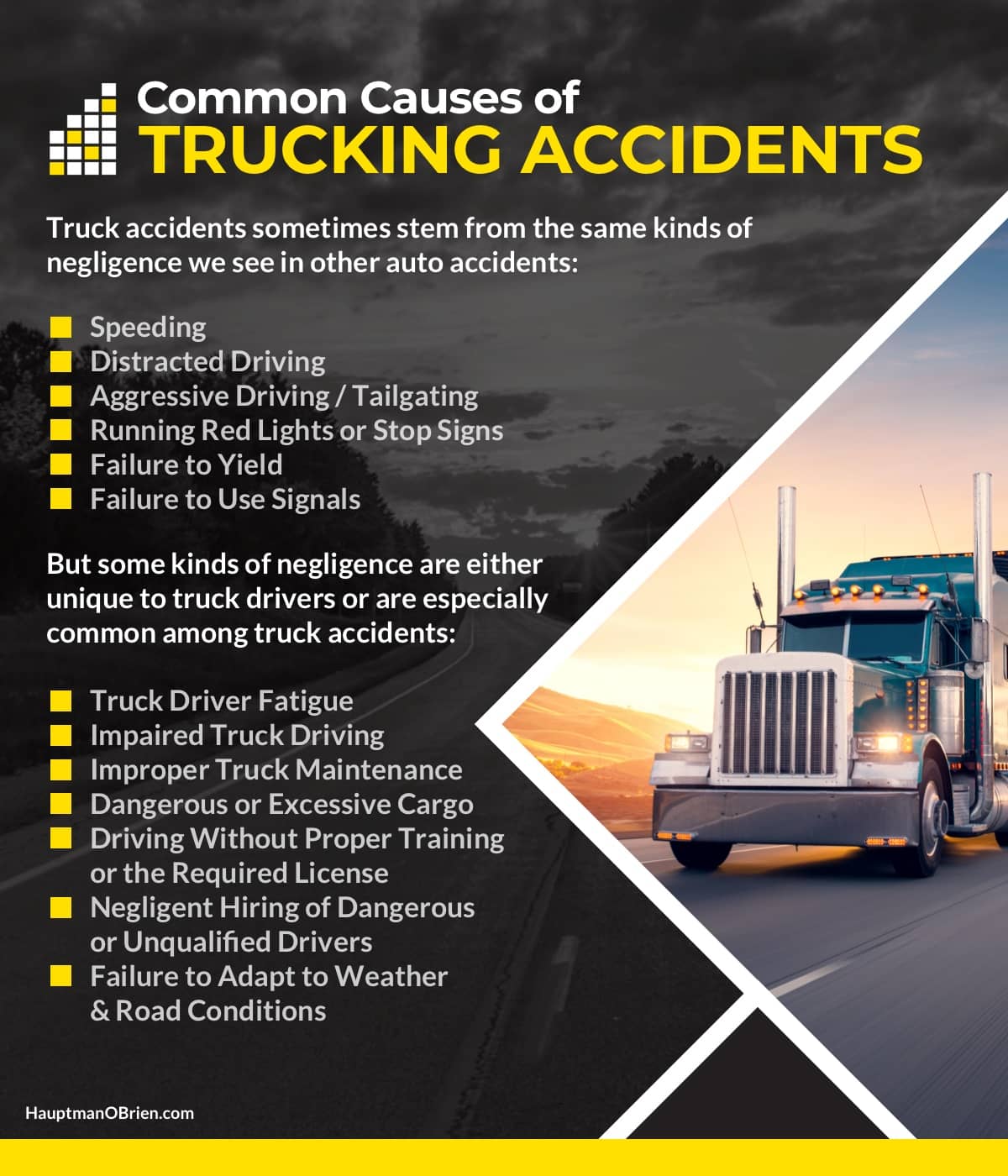 Why You Need an Experienced Nebraska Truck Accident Lawyer
If you have been involved in a truck accident in Omaha, you could be entitled to compensation for the damages you have incurred. Pursuing compensation isn't easy to do on your own. It helps to have the direction of one of our experienced truck accident lawyers throughout your case. You can trust that we will fight hard for you and your rights against the powerful opposing insurance companies. Our truck accident lawyers will be at your side throughout the entire process and will represent your best interests in scenarios which include:
More Than One Party is Responsible for Your Injuries
One aspect of truck accident cases that differentiates them from other motor vehicle accidents is that multiple parties may be held liable for damages. These parties could include the truck driver, the trucking company, the truck's manufacturer, contractors and government entities (you can read more about liable parties in a truck accident claim below). Our semi truck accident lawyers have the experience necessary to identify the liable parties in your accident in a timely manner. This will allow us to help you pursue compensation before the statute of limitations for your case runs out.
Negotiating with Multiple Insurance Companies
If your truck accident case involves multiple parties, negotiation with multiple insurance companies will likely be the result. While this could be more than overwhelming for you, leave it to our experienced truck accident lawyers to get the job done. Our attorneys know how to negotiate with multiple insurance companies and will work hard to gather the compensation you deserve from each one of them.
While some truck accident cases need to be resolved in court, others can be settled out of court with the help of skilled and aggressive negotiation by our semi truck accident lawyers. We know what strategies work, and with you at the forefront of our minds, we will weigh the different options given in the mediation process and choose what is best for your case.
The Complicated Nature of the Trucking Industry
The Federal Motor Carrier Safety Administration requires truck drivers and truck companies to follow strict standards and regulations while on the road. These include recording weight, hours on the road, hours off of the road, and more. Our truck accident attorneys know how to determine if these guidelines were violated leading up to your accident. We will use this information to identify liable parties, as well as use it as evidence to support your case for compensation.
Don't go about your truck accident case alone. Trust that our Nebraska truck accident attorneys here at Hauptman, O'Brien, Wolf & Lathrop can help. We will take on all of your stress and handle the insurance companies while you focus on healing your injuries.
Nebraska Truck Accident Compensation
The compensation you receive for your truck accident claim will depend on a variety of factors. Our truck accident lawyers will assess fault in your accident and will take the required steps in valuing your injuries and damages.
What Compensation is Available for a Truck Accident Claim?
After a detailed and thorough review of police reports, eyewitness testimonies, medical records, photographs and more, our Omaha truck accident lawyers may seek compensation for the following damages on your behalf:
Property damage
Medical expenses
Lost wages
Pain and suffering
Loss of quality of life
Surgical costs
Home alterations
And more
Who Is at Fault in a Commercial Truck Accident?
For truck accidents that occur in Nebraska, our truck accident lawyers can determine if one or more of the following parties were responsible for your accident:
The Truck Driver: Just like the rest of us, truck drivers have a responsibility to maintain their duty of care for those around them. When a truck driver behaves negligently behind the wheel and causes an accident, he or she may be held responsible for damages.
The Trucking Company: Many trucking companies have been found guilty of making their drivers adhere to unrealistic travel schedules. Because of this, truck drivers experience fatigue, which can result in accidents. If our semi truck accident lawyers investigate your case and determine that the trucking company was negligent, and consequently caused your accident, we can hold them liable.
Cargo Loading Company: Overloaded cargo and misloaded cargo are both common causes of truck accidents. Based on the circumstances of the accident and an investigation by a commercial trucking attorney, we can hold the cargo loading company liable for damages if we determine that improperly loaded cargo may have caused the accident..
Truck Manufacturers: If a truck is poorly manufactured, it can be a serious hazard to everyone on the road. This can include faulty axles, trailers, tires and more. Our experienced truck accident lawyers will investigate to determine if an equipment malfunction or product defect was the cause of the accident. Our truck accident attorneys aren't afraid to take on large companies to get you the compensation you deserve.
This list is not exhaustive, and there could be other parties responsible for the truck accident in which you were involved. However, these are the most common. At Hauptman, O'Brien, Wolf & Lathrop, P.C., our truck accident lawyers are committed to serving our clients with aggressive representation. We will do everything we can to recover the compensation your case deserves.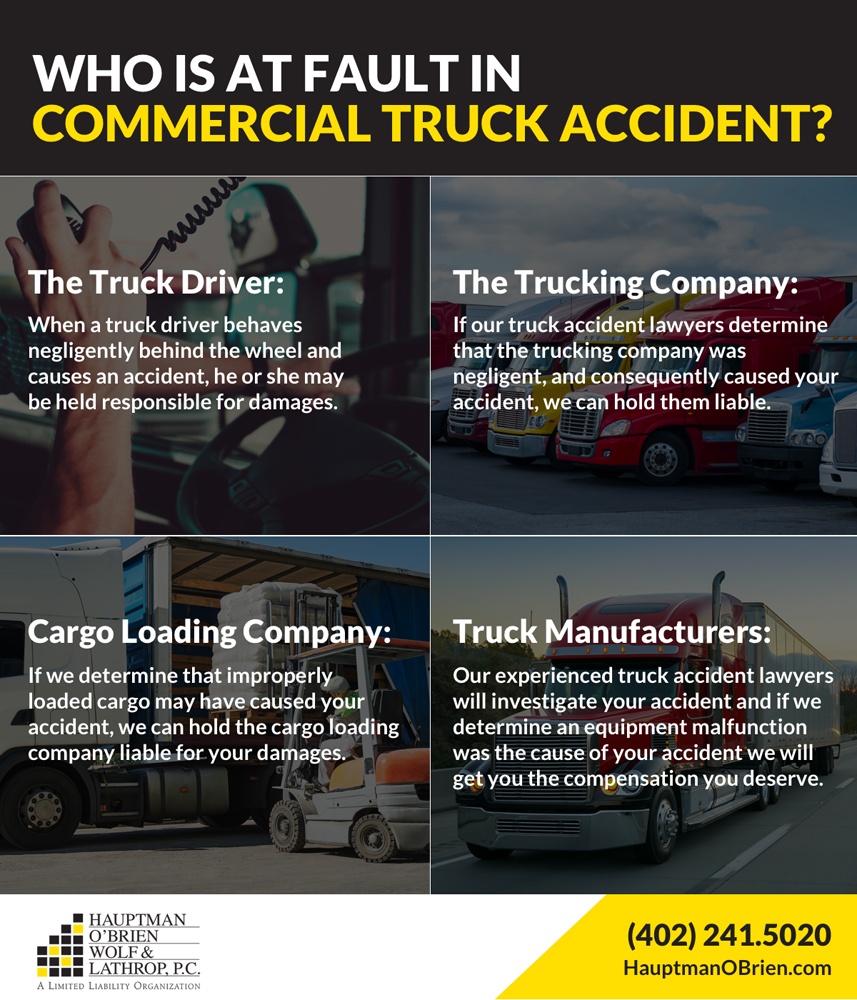 What Makes Truck Accidents So Dangerous?
"Large trucks" are commercial motor vehicles with a gross vehicle weight rating (GVWR) of greater than 10,000 pounds. These trucks are also commonly known as semis, tractor-trailers, and 18-wheelers.
Other types of large trucks that pose severe injury risks to passenger vehicle occupants in the event of an accident include:
Buses
Charter vans or shuttles
Construction vehicles
Delivery trucks
In addition to their size and weight compared with passenger vehicles, many large trucks have other attributes that make them especially dangerous in accident scenarios:
Tractor-trailers and other big trucks require longer stopping distances
The air brakes used in many big rigs can fail without proper maintenance
Freight can shift with sudden movements and affect a truck's maneuverability
Cargo may include toxic or otherwise hazardous materials that compound the severity of an accident and resulting injuries
Accidents involving large commercial vehicles result in higher rates of catastrophic injuries and death than crashes involving only passenger vehicles. According to the Nebraska Department of Transportation, crashes involving automobiles accounted for 42.2% of all vehicle accidents and 32% of fatal crashes in Nebraska in 2020. Conversely, although accidents involving heavy trucks made up only 4.4% of all accidents in the state that same year, heavy truck accidents accounted for 15.1% of fatal crashes.
Common Nebraska Truck Accidents Injuries
Truck accidents can have severe consequences for their victims. Often, if a truck accident does not kill a person, it usually leaves them with lifelong injuries. Injuries that result from trucking accidents include but are not limited to the following:
Neck and Spinal Cord Injuries
Neck and spinal cord injuries can range from minor neck pain to ruptured discs. A person's neck and back are critical for everyday functionality, so an injury that affects the spinal cord or spinal structure can be debilitating. Serious injuries to the neck and back can lead to symptoms that include the following:
Partial to complete paralysis
Numbness in various areas of the body
Loss of quality of life
Inability to complete basic daily functions
Moderate to severe daily pain
Loss of earning capacity
Broken, Fractured and Shattered Bones
Commercial trucks are massive and powerful machines. The human bone structure stands little chance when a crash occurs. Some bone breaks can be so severe they need surgical repair and extensive rehabilitation. When a person is involved in a truck accident and breaks bones as a result, they may experience symptoms such as:
Numbness
Compound fractures
Severe pain in the affected area
Head Trauma and Traumatic Brain Injuries
Brain injuries are very common in commercial trucking accidents and can have incapacitating effects on their victims. Head injuries often occur when the head is impacted by blunt force. Brain injuries do not always show immediate symptoms, and when symptoms begin to show, victims may experience:
Confusion
Nausea
Blurred vision
Minor to severe headaches
Minor to severe vertigo
Internal Trauma
It is also common in truck accidents for the body to be jostled around violently. Because of this, blunt force trauma to internal organs is very common. This trauma can result in bleeding and ruptured spleens, kidneys, lungs, etc. These injuries are hard to treat and should be taken care of immediately. Anytime you are involved in an accident, call 911 right away and receive medical treatment.
Wrongful Death
If a loved one has been killed in a truck accident in Nebraska, our experienced truck accident lawyers can help you hold the at-fault party accountable. We will never be able to replace your lost loved one, but we can certainly help your family pursue the compensation necessary to begin moving forward.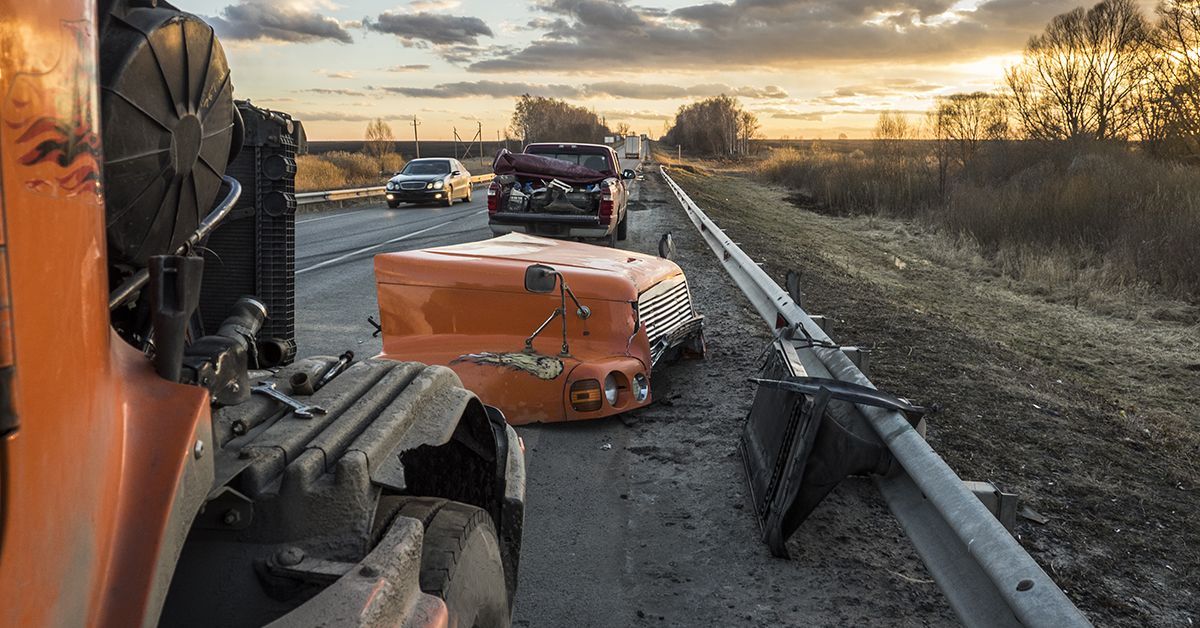 Steps to Take After a Commercial Trucking Accident in Omaha
The time after your truck accident can be very traumatic and hectic. While our commercial trucking attorneys understand these moments could be some of the scariest of your life, the steps you take after the accident will have a significant impact on your ability to recover compensation for the damages you sustain.
At the Scene of the Truck Accident
If your injuries don't prohibit you from doing so, call 911 immediately. While you are waiting for emergency responders to arrive:
Collect the contact, insurance, and employment information from the driver of the truck
Collect the contact information of any eyewitnesses
Take photographs of the scene
Contact your insurance provider and report that you have been involved in a truck accident
Once the police and EMTs arrive, make sure that you file a police report and get medical attention for your injuries. Many truck accidents cause serious injuries, which can make following these steps extremely difficult. When this occurs, our experienced truck accident lawyers can obtain all of this information through a detailed investigation into your accident.
Following the Truck Accident
Even if your injuries were cleared at the scene of the accident by EMTs, it's strongly advised you still set up an appointment with your primary care doctor for further evaluation. Brain injuries and whiplash do not always show symptoms right away but can be detected later during a doctor visit. This examination will be pivotal for identifying injuries that may have gone unnoticed at the scene of your accident. It is important you obtain a copy of the doctor's findings.
Contact the truck accident lawyers at Hauptman, O'Brien, Wolf & Lathrop, P.C., as soon as you can so we can evaluate your case. Our legal team will gather evidence, determine liability, and decide what course of action is best for your case going forward. You will feel comfortable knowing we will work very hard on your behalf so you can get the compensation your case deserves.
Your First Consultation With a Truck Accident Lawyer Is FREE!
The truck accident attorneys at Hauptman, O'Brien, Wolf & Lathrop, P.C. have been helping truck accident injury victims since 1980. We investigate, analyze and diligently prepare truck accident claims to ensure our clients can recover the maximum compensation available.
If you were hurt or a family member was killed in a Nebraska truck accident, please call Hauptman, O'Brien, Wolf & Lathrop today at 402-241-5020 or contact us online. Our experienced injury lawyers offer FREE initial consultations, and we don't charge for our services until we win your case.
Frequently Asked Questions About Truck Accidents
Who Is Responsible for Truck Accidents Under Nebraska Law?
Like ordinary drivers, commercial truck drivers have a legal duty to share the road reasonably and responsibly. In other words, truck drivers owe a duty of care to the drivers, passengers, and pedestrians around them.
Any careless, reckless, unreasonable, or unlawful behavior by the truck driver will be considered a breach of the duty of care. The truck driver will then become liable (legally responsible) for the damages they cause.
But the truck drivers aren't the only ones with a legal duty. The trucking companies have responsibilities too. In many cases, they may be held liable for their employees' negligence — or for the company's own negligence (for example, when the company neglects its vehicle maintenance or encourages the driver to spend too much time on the road).
Likewise, the companies that manufacture the trucks and their parts and accessories have a duty to make sure they are safe and operable.
As you can see, it is possible to have a claim against multiple parties relating to the same truck accident. Depending on the circumstances, you could have claims against the driver, the trucking company, the truck manufacturer, a tire manufacturer, or even the government for creating dangerous roadway conditions.
In most cases, each liable party will also have a liability insurance policy that provides coverage for your damages.
Our Omaha truck accident lawyers can help you identify the party or parties that might be responsible for compensating you after a truck accident in Nebraska.
How Long Do I Have to File a Truck Accident Claim in Nebraska?
As with many other personal injury claims, Nebraska truck accident claims are subject to a strict statute of limitations (that is, a time limit). Failure to formally file a claim within the appropriate time period will cause you to permanently lose the right to claim compensation in the future.
Generally speaking, the statute of limitations for truck accidents in Nebraska is four years from the date of the accident — a longer time window than exists in many other states.
However, calculating the statute of limitations isn't always as easy as it may seem.
Numerous exceptions, qualifications, limitations, or special circumstances might apply. You may have more or less time to file than you believe.
It is important not to make assumptions and not to delay. Talk to a commercial trucking attorney right away. Even if you do have time left to file, personal injury claims take time to research and prepare. The sooner our Omaha truck accident lawyers can get involved in your claim, the more helpful we can be.
How Long Will My Truck Accident Claim Take to Resolve?
Unfortunately, there is no easy way to estimate exactly how long a truck accident claim will take to resolve. Every accident is different, and the timeframe for resolution depends on several factors, which may include:
How long it takes you to heal
How many parties are involved
How quickly the insurance companies respond to our demand package
The dollar amounts involved
The insurance coverage & policy limits available for your claims
The complexity of your accident and injuries
The strength of the evidence
The court's calendar (if your claim proceeds to trial)
The time of year
As a general rule, commercial truck accident claims do take longer to resolve than ordinary auto accident claims. It is not uncommon for the claims process to unfold across a period of several months or longer, sometimes requiring more than a year (as may be the case with an especially complicated claim).
To get a better sense of how long your particular claim might take, schedule a free consultation with our semi truck accident lawyers as soon as you can. While we are unable to promise a particular timeframe or outcome, a commercial trucking attorney can help you get a sense of how complex your claim might be, relative to others. We can also talk to you about any options you might have for satisfying your medical bills while you wait for your claim to resolve. (Depending on the circumstances, you may have more options than you realize.)
Our truck accident lawyers are committed to handling claims as efficiently as possible without ever compromising our clients or their best interests.
What Causes Most Truck Accidents?
As is the case with most other types of auto accidents, commercial truck accidents in Nebraska tend to happen because of preventable negligence — often on the part of the truck driver and/or the carrier company.
Truck accidents sometimes stem from the same kinds of negligence we see in other auto accidents:
Speeding
Distracted driving (e.g. texting while driving, using a CB radio, etc.)
Aggressive driving/tailgating
Running red lights or stop signs
Failure to yield
Failure to use signals
Other violations of traffic law
But some kinds of negligence are either unique to truck drivers or are especially common in truck accidents. These include:
Drowsy driving (truck driver fatigue)
Impaired truck driving (due to alcohol, drugs, prescriptions, or over-the-counter medicines)
Improper truck maintenance
Dangerous or excessive cargo / overloaded trailers, truck beds, or vans
Driving without proper training or the required license
Negligent hiring of dangerous or unqualified drivers
Failure to adapt to weather conditions or road conditions
Commercial truck operations are subject to special state and federal regulations, which apply to truck maintenance, the number of hours truckers can spend on the road without sleeping, licensure (CDL licenses, for example), and so on.
The Omaha truck accident lawyers in our office can help you determine what might have caused your accident and which state or federal laws might apply to your claim.
What Kind of Evidence Do I Need for a Truck Accident Claim in Nebraska?
There may be a wide range of relevant evidence available for your truck accident claim – perhaps even more than you realize. Common examples of evidence in Nebraska truck accident claims include:
Video footage or surveillance/traffic cameras
Photographs of the accident
Eyewitness testimony
Expert witness testimony
Statements by the truck driver or truck company representatives
Employment records
Driver logs
Driver's travel route/shift schedule
Receipts
Vehicle metadata
Smartphone metadata
Cell phone records
"Black box" data (like airplanes, commercial trucks are often equipped with a black box of data)
Drug test results or BAC (Blood Alcohol Content) readings
Police reports
Skid marks/accident reconstruction reports
Forensic evidence
Don't worry if you don't have all of this evidence yourself. A truck accident attorney may be able to help by uncovering highly relevant and credible evidence to support your claim. That said, you must preserve any evidence you might have relating to the accident.
At Hauptman, O'Brien, Wolf & Lathrop, P.C., our truck accident lawyers are committed to building the strongest possible evidentiary foundation for our clients' claims.
Should I Accept an Insurance Settlement for My Truck Accident Claim?
Please never accept an insurance offer until you've discussed the matter with an experienced commercial trucking attorney in your jurisdiction – confidentially and one on one. Insurance companies are for-profit corporations that stay in business by reducing payouts and denying claims.
The insurance company will not act in your best interest and is not on your side. Their settlement offer has likely been carefully calculated to protect their own interests. Once you sign an agreement, you will generally be unable to take further action should you later determine that you were owed much more.
Before you talk to an insurance adjuster, schedule a FREE and confidential consultation with a truck accident lawyer at Hauptman, O'Brien, Wolf & Lathrop, P.C.