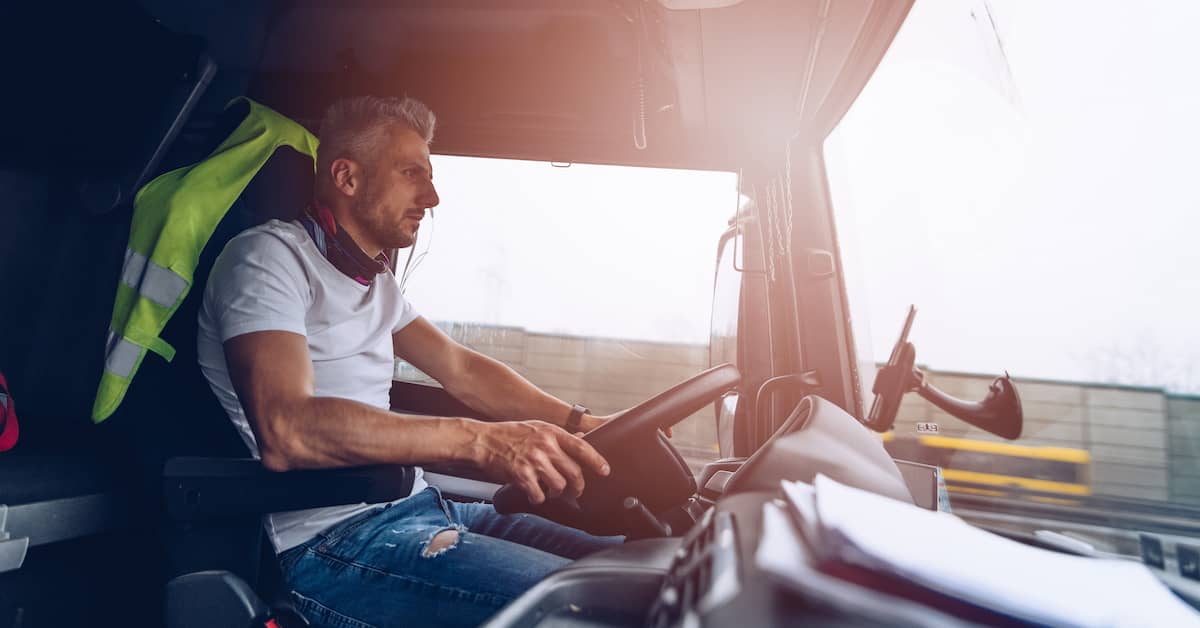 If you have been injured or lost a loved one in a truck accident, you may have a claim for damages. At this point, the question becomes: Who can be held liable? Semi truck accident lawyers will examine a host of different factors to determine where fault lies for a crash. The first party to consider is the driver of the truck.
Driver error is a leading factor in truck accidents. However, the driver is not the only party that may be held responsible.
The semi truck accident lawyers at Hauptman, O'Brien, Wolf & Lathrop can help if you suffered serious injury or a member of your family was killed in a truck accident. Please call (402) 241-5020 today for a FREE case review.
Determining Who Is Responsible for a Truck Accident in Nebraska
Whether or not the truck driver can be held personally responsible for an accident depends on two major factors. The first is the truck driver's employment status. The second is the cause of the truck accident.
1. Is the Truck Driver an Employee or an Owner-Operator?
In cases involving truck driver negligence, determining whether the truck driver is responsible for damages starts with determining the truck driver's employment status. There are two main possibilities:
Owner-Operator – Some truck drivers are owner-operators. This means that they own their own trucks and they make hauls on a contract basis.
Employee – Truck drivers who aren't owner-operators are typically employees. This means that they receive assignments and paychecks from a trucking company, a retailer (i.e., Walmart, Amazon, etc.), or another company that has its own fleet of commercial trucks.
If the Truck Driver Is an Owner-Operator
If the truck driver who hit you or your loved one is an owner-operator, then the truck driver may be financially responsible for the accident. Owner-operators are required to have liability insurance. To pursue compensation, you will need to bring a claim against the driver's insurance company.
If you have a claim under an owner-operator's insurance policy, a semi truck accident lawyer will work to prove the truck driver's negligence and the amount of damages you have incurred. Your attorney will then negotiate with the insurance company in an effort to reach a fair settlement. If the truck driver's insurance company refuses to offer a fair settlement, then your lawyer can file a lawsuit and, if necessary, take your case to trial.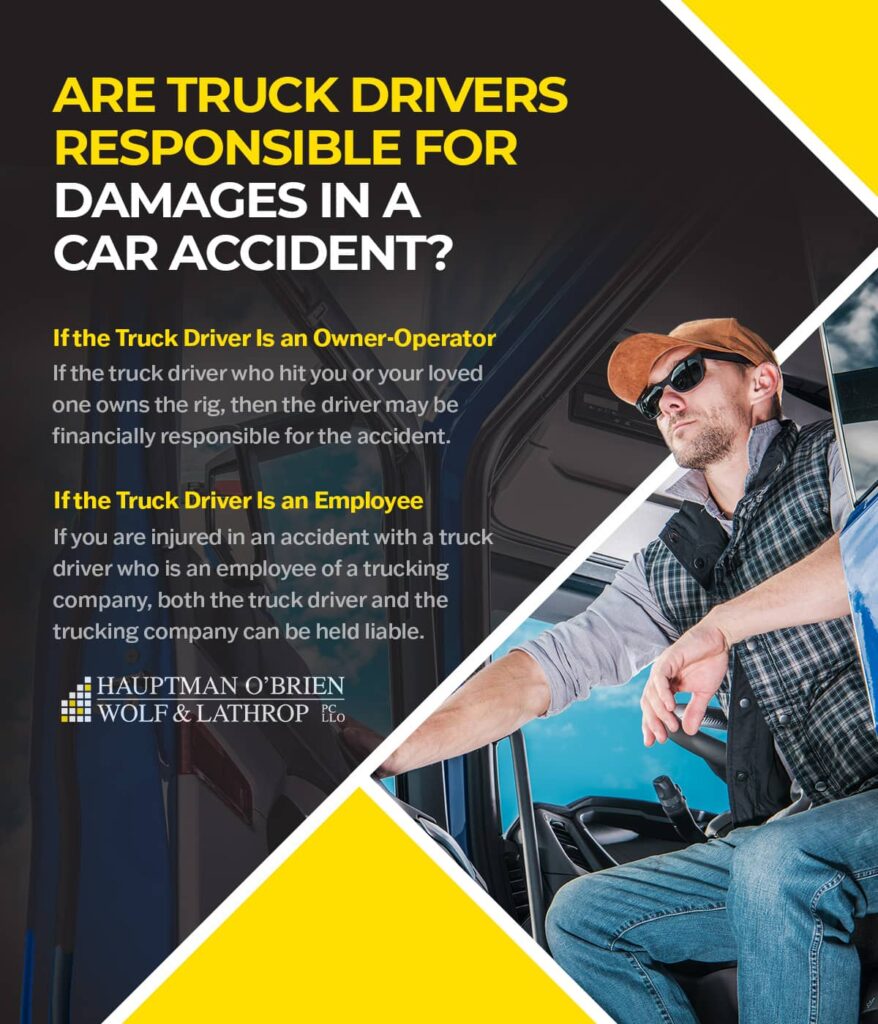 If the Truck Driver Is an Employee
As a rule, employers are responsible for injuries and damages caused by employees acting in the course of their jobs. If you are injured in an accident with a truck driver who is an employee of the trucking company, both the truck driver and the trucking company can be held liable.
How do you know if a truck driver is an owner-operator or an employee? Sometimes it will be fairly obvious. For example, if the truck says "Independently Owned and Operated," then the driver is probably an owner-operator. On the other hand, if the truck is branded with the logo of a major trucking company or retailer, then the truck driver is most likely an employee. If possible, you should exchange information with the truck driver at the scene of the accident – paying close attention to the driver's employment and insurance information.
2. What Caused the Truck Accident?
Truck drivers are often responsible for causing truck accidents. However, it is important to investigate all of the causes of the crash and identify who is at fault.
Often, multiple factors can lead to a truck accident. In addition to negligence on the part of the truck driver and/or the trucking company, semi truck accident lawyers will also look at the following parties:
Truck Manufacturers – Tire blowouts, brake failures, and a variety of other truck-related issues can cause truck drivers to lose control unexpectedly. When a truck defect leads to an accident, victims can file a claim against the manufacturer of the truck and/or the faulty part.
Dealerships and Repair Vendors – Even if a truck isn't defective when it leaves the factory, maintenance issues can make it unsafe to drive. If a dealership or repair vendor performs negligent service, then the dealership or repair vendor can face liability in the event of an accident.
Shipping Companies – In many cases, the drivers of semi trucks carry loads that were packed and prepped by other companies. If the shipping company overloaded the trailer, placed too much weight to one side of the trailer, or failed to properly secure the truck's cargo, this could also cause the driver to unexpectedly lose control. In this scenario, the shipping company could be liable for causing the accident.
Other Drivers – Truck drivers can also find themselves helpless to avoid accidents due to other drivers' negligence. For example, if the driver of a car or SUV cuts off a large truck and this leads to an accident, the driver of the other vehicle could be liable for damages resulting from their negligence.
Contact Our Semi Truck Accident Lawyers
Many accidents involving semi trucks can be directly attributed to the driver's negligence. Although truck drivers are often responsible for accidents, it is important not to overlook the many additional factors that may have contributed to the crash (or the multiple parties that may be liable for damages).
Hauptman, O'Brien, Wolf & Lathrop has been repeatedly voted the #1 personal injury law firm in Omaha. Our attorneys have more than 200 years of combined experience serving those who have been injured through no fault of their own.
Please contact Hauptman, O'Brien, Wolf & Lathrop today for a FREE case review. Our semi truck accident lawyers serve clients in Omaha, Sarpy County, and all of Nebraska and nearby Iowa.