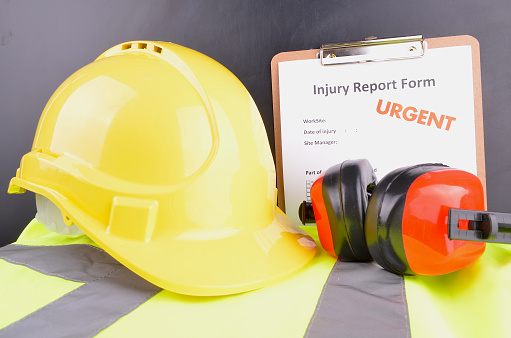 Workplace injuries are more common than you might think. They can happen to almost any employee, from construction workers to administrative professionals. Bureau of Labor Statistics data shows there were almost 3 million non-fatal workplace injuries in 2014. Factoring in the number of workers in the United States means that 3 out of every 100 employees were injured.
As workers' comp lawyers, we know better than anyone else that accidents happen. Understanding the circumstances surrounding workplace accidents is an excellent first step in preventing them.
Today, we'll talk about some of the most common work injuries, why they happen, and how they can be prevented. We'll also discuss what you should do if you're injured on the job and how hiring an experienced workers' compensation attorney can help your case.
Most Dangerous Workplaces
No matter what you do, it's possible you could be injured at work. That said, there are jobs that are much more dangerous than others. Earlier this year, Time published an article with data from the Bureau of Labor Statistics outlining the most dangerous jobs in America. The list ranked jobs based on how many fatal injuries occurred per 100,000 people in 2014. They are:
Logging workers
Fishers and related fishing workers
Aircraft pilots and flight engineers
Roofers
Refuse and recyclable material collectors
Farmers, ranchers, and other agricultural managers
Structural iron and steel workers
Driver/sales workers and truck drivers
Electrical power-line installers and repairers
Taxi drivers and chauffeurs
First-line supervisors of construction trades and extraction workers
Construction laborers
First-line supervisors of landscaping, lawn service, and grounds keeping workers
Maintenance and repairs workers, general
Police and sheriff's patrol officers
Grounds maintenance workers
First-line supervisors of mechanics, installers, and repairers
Painters, construction and maintenance
Electricians
Telecommunications line installers and repairers
Types of Work Injuries
The injuries you could sustain at the workplace vary on what your occupation is. For instance, a construction worker is more likely to break a bone than someone working in a cubicle. Many clients come to us with workplace injuries such as:
Concussion
Herniated discs
Dislocations
Fractures/broken bones
Amputated or crushed limbs
Soft tissue injuries
Common Causes of Work Injuries and How to Prevent Them
It is your employer's responsibility to ensure you and your coworkers are adequately trained and work in a safe environment. When they fail to do this, work injuries are far more likely to occur. Here is a break down of the most common injuries employees suffer on the job and what your employer should be doing to prevent them.
Workplace Violence happens to over 2 million American workers every year. Of the 4,679 workplace injury deaths in 2014, 403 were homicides.
Prevention: The actions of an individual can never be predicted, but there are things employers can do so their employees never feel the need to be violent toward their coworkers. Written codes of conduct, anger management training, and harassment policies are a good first steps. Employers should provide a place for disgruntled workers to address their conflicts and communicate openly without fear of judgment.
Machine Entanglement is a risk at any factory or business with large machinery. The moving parts can easily trap and destroy hair, fingers and limbs.
Prevention: When operating machinery with moving parts, take great care to keep loose strings, clothing and hair out of the way. Employees should be trained to never put their hands, arms, feet, or legs inside or near the opening of an operating machine.
Fires/Explosions are often the result of human error because heating or electrical equipment is improperly used, stored or maintained. Other workplace fires can be the result of equipment failure.
Prevention: Cutting down on office clutter, properly storing fuels and flammable materials, and providing proper fire extinguisher training can significantly reduce the chance of a fire happening in your workplace.
Hazardous Materials cause injuries when they are improperly stored or used. Employees exposed to these materials can suffer burns or develop life-changing diseases or disabilities.
Prevention: In any workplace where hazardous materials are used, it's essential that a hazmat safety plan be in effect. This should be accompanied by training on how to handle these materials and ensuring they are properly labeled and stored.
Repetitive Motion can cause wear and tear on muscles and joints over time. Workers doing the same motion over and over again are at risk for conditions like carpal tunnel and tennis elbow.
Prevention: Take frequent breaks to avoid repetitive motion injuries. Ergonomically designed office equipment, like desks, chairs, and keyboards, can also prevent these injuries.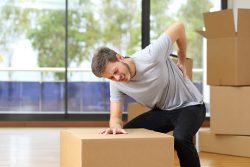 Lifting heavy items is something that factory, warehouse and office workers alike do often. Unfortunately, lifting objects can cause serious muscle, tendon and ligament damage if done incorrectly.
Prevention: Stopping lifting injuries is easy. If the item isn't too heavy, crouch down, keep your back upright, and lift with your legs. If the object is too heavy, ask for help or let your boss know you're unable to lift the object safely.
Collisions can happen when an employee is operating machinery or driving a company car. Most of the time, workplace collisions are car accidents and happen on regular roads.
Prevention: You can't know what another driver is going to do, but employees can help protect themselves by being aware of their surroundings, wearing a seatbelt, and obtaining the training required to safely operate special vehicles (e.g. semi-truck).
Stress, Fatigue and Overexertion can happen to any employee in any position. They are usually caused by trying to do too much work with too little energy. That can lead to an inability to pay attention to details, impaired judgment, and slower reflexes.
Prevention: Employers have to understand the limits of their employees' capabilities and provide breaks to combat fatigue. If you feel that you're being overworked or overloaded, speak up. Every worker has the right to file an anonymous complaint with the Occupational Safety and Health Administration.
Slips, Trips and Falls can be caused by wet floors, cluttered areas, and unsafe structures, among other things. These accidents can cause a wide variety of injuries, especially if the worker falls from a higher level to a lower level.
Prevention: Proper housekeeping is key to prevent slips, trips and falls. It's as simple as keeping the workplace clean and uncluttered. Tools and other equipment shouldn't pose a trip hazard and anti-slip materials should be used where needed.
Falling Objects are a major problem on construction sites. Too often a tool or piece of building material will fall down, seriously injuring and possibly killing a worker.
Prevention: Hardhats must be used by every employee in a workplace where multiple levels or heights could allow objects to fall. Tools should also be anchored at all times and any dangerous areas need to be pointed out for employees to avoid.
What to Do After a Work Injury

If you are injured on the job, you may qualify for workers' compensation benefits through the Department of Labor. Nebraska Workers' Compensation Laws entitle you to these benefits as long as the injury occurred on the job and as a result of that job's duties.
Follow these important steps to ensure that you have the best chance of receiving the benefits you're entitled to:
Report any on-the-job injury to your supervisor immediately
Get medical attention right away
Follow your doctor's instructions for recovery and take any prescribed medication
Collect information from witnesses
Keep a written record of how and when the injury occurred, as well much time off work you have had to take
Keep copies of receipts for your medical expenses
When Should I Contact a Workers' Comp Attorney

Hiring a lawyer can help you navigate the workers' comp process. The first thing your employer's insurer will do is get a recorded statement about how the accident occurred. Having an attorney present during this interview can prevent you from providing information that could hurt your case. They will do whatever it takes to get you to say something that can, and will, be used against you.
Your employer's insurer will also offer you a smaller settlement than your injuries are worth. Taking the first settlement you're offered is almost never a good idea. Insurance companies are low-balling you, hoping to save some money.
Nebraska is a business-friendly state, which can make it tougher for workers to get compensation for their injuries. If you or a loved one have been involved in a work-related accident or illness, contact one of our Omaha workers' compensation lawyers. We only handle employee workers' comp claims. Call to schedule a free consultation at (402) 281-9706.