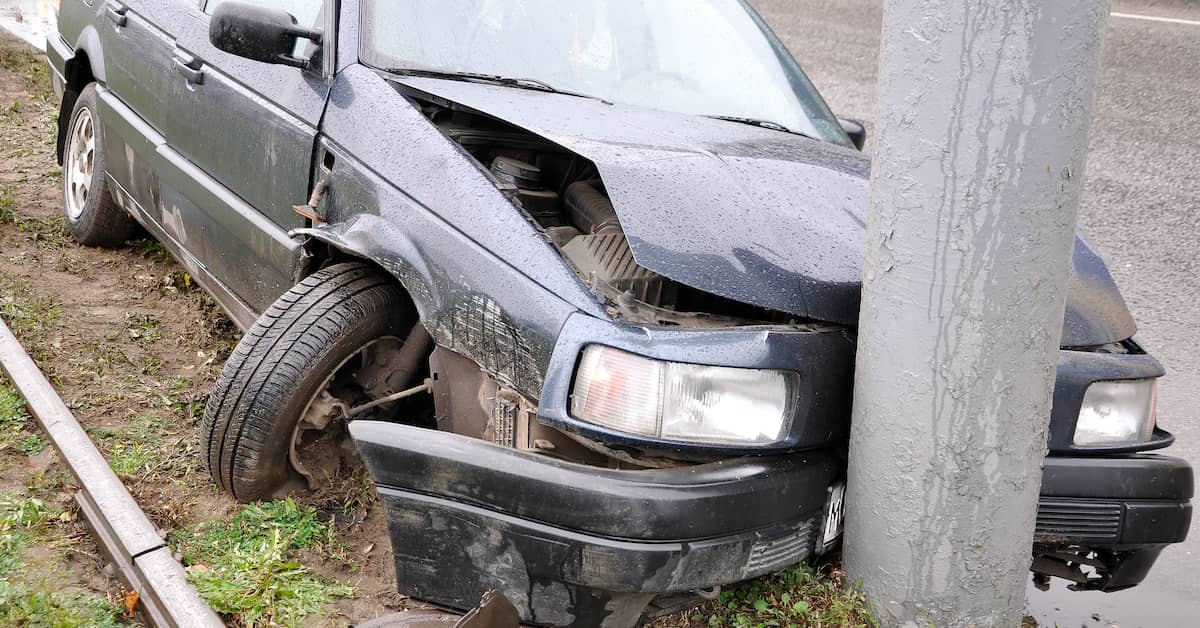 When you get injured in a single-vehicle collision, it is important to make informed decisions so you can protect your legal rights. Even though your car, truck, or SUV may have been the only vehicle involved, you could still have a claim for just compensation. Depending on the circumstances, this could be a claim against a negligent third party or it could be a claim under your auto insurance policy.
If you were involved in a single-vehicle collision and you believe someone else may have been at fault, you should speak to an attorney as soon as possible. Call Hauptman, O'Brien, Wolf & Lathrop at (402) 241-5020 today for a FREE case review.
What Can Cause a Single-Vehicle Collision?
Single-vehicle car accidents can have a variety of different causes. If you have been injured in one of these accidents, identifying its cause will be a key first step toward establishing liability.
Potential causes of a single-vehicle collision in Nebraska include:
1. A Negligent or Aggressive Driver
Even if your vehicle was the only one that crashed, this doesn't necessarily mean that you were the only driver involved. In some cases, drivers and passengers injured in single-vehicle collisions will have claims against other drivers.
One of the most common scenarios in which this is the case is when a negligent or aggressive driver forces another driver off of the road. Even if the vehicles don't make contact, the negligent or aggressive driver could still be liable for causing a single-vehicle accident.
Similarly, if a distracted, drowsy, or inattentive driver runs a stoplight or stop sign, this could leave another driver with no option but to leave the road in order to avoid a potentially serious collision.
2. A Vehicle Defect
Vehicle defects can cause single-vehicle car accidents as well. Cars, trucks and SUVs are made of numerous individual components, one or more of which can suffer from defects that can make the vehicle as a whole unsafe.
If a defective component causes a driver to lose control, the defect could be deemed the sole cause of an ensuing single-vehicle accident. Examples of vehicle defects that have the potential to cause single-vehicle collisions include:
Defective accelerator and brake pedals
Defective brake pads, brake rotors, and tires
Defective electronics
Defective engine and drivetrain components
Defective fuel system components
From causing car fires to leaving drivers with no way to slow down, vehicle defects can lead to accidents in a variety of different ways. This is true whether the defect impacts the accident victim's vehicle or another driver's vehicle. Any kind of vehicle failure can result in a chain of events that ultimately leads to a single-car crash.
3. A Road Defect or Hazard
Along with vehicle defects, road defects and hazards are also common factors in single-vehicle accidents. This includes common defects and hazards such as:
Debris in the roadway
Inadequate or confusing lane markings or signs
Low shoulders
Potholes
Visual obstructions
While drivers in Nebraska have a duty to pay attention to the road ahead, even vigilant drivers won't always be able to spot a road defect or hazard in time to avoid a dangerous situation. Additionally, if a negligent or aggressive driver forces another driver onto a low shoulder, both of these factors could ultimately be responsible in the event of a single-vehicle collision.
Who Is Responsible for a Single-Vehicle Crash?
After determining the cause of a single-vehicle car accident, the next question is: Who is responsible for the crash?
Depending on the circumstances involved, drivers and passengers injured in single-vehicle accidents could potentially have several different claims for financial compensation. This could include claims against:
A negligent or aggressive driver (or, more likely, the driver's auto insurance company)
The manufacturer of a vehicle and/or vehicle component
A vehicle dealership
A state or local road authority
A government contractor hired to construct, maintain, or repair the road
Additionally, drivers involved in single-vehicle collisions may be entitled to compensation through their uninsured and underinsured motorist coverage (UM/UIM). In addition to compensating you for damages sustained in accidents with uninsured drivers or drivers whose insurance does not cover your losses, UM/UIM coverage also extends to accidents where the at-fault driver is unknown.
Identifying a driver who forces you off the road or engages in other behavior that causes a single-vehicle accident can be difficult. UM/UIM insurance can pay for at least some of your losses if the driver responsible for the crash can't be found.
Injured in a Single-Vehicle Collision? Our Lawyers Can Help
You should not automatically assume that you are solely to blame if you are injured in a single-vehicle car accident. If another driver's negligence caused you to crash, if your vehicle malfunctioned, or if a hazard in or on the road led to a wreck, it is important to seek legal counsel as soon as possible.
The attorneys at Hauptman, O'Brien, Wolf & Lathrop have more than 200 years of combined experience representing clients in accident claims. We will identify all of your legal options and take prompt and aggressive action to obtain the full compensation you deserve.
Contact Hauptman, O'Brien, Wolf & Lathrop for a FREE case review. Our attorneys serve clients injured in car accidents in and around Omaha, Sarpy County, and throughout Nebraska and nearby Iowa.