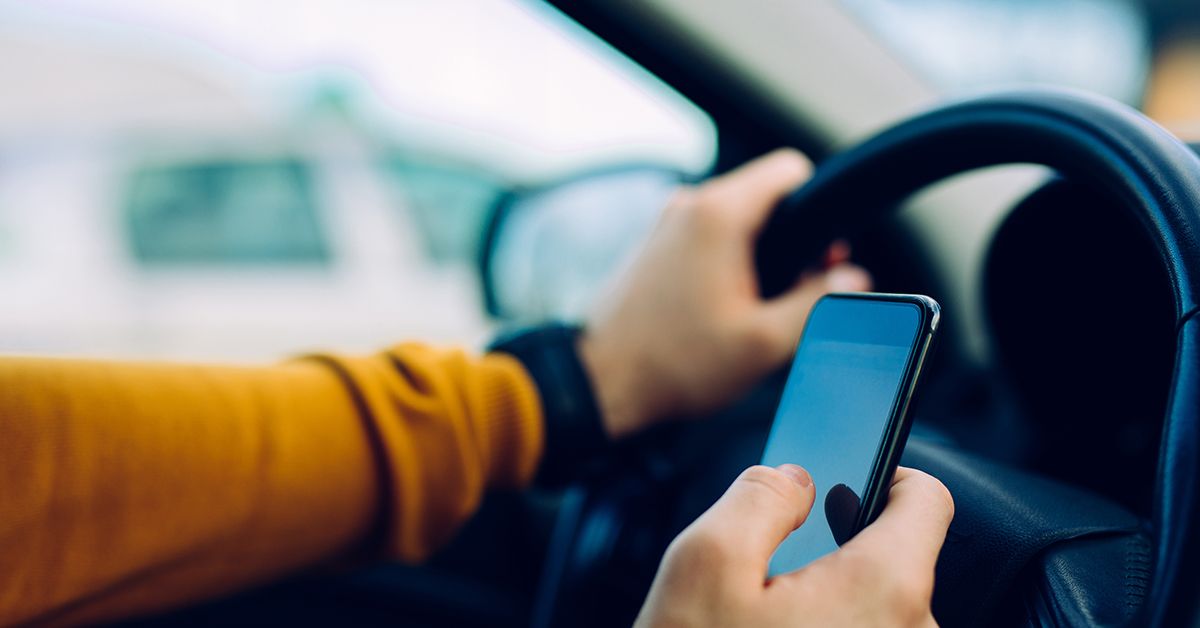 These days, it seems like people don't even try to avoid texting while they drive. It's everywhere you look.
Take a drive down the nearest highway this afternoon and you'll probably spot at least a dozen people using their smartphones behind the wheel. It happens so often now that it starts to feel normal…until a distracted driver crashes into you.
If you've recently been injured in a distracted driving accident in Nebraska, you probably feel frustrated…
Frustrated that you're suffering because of someone else's careless choices,
Frustrated that you now have to deal with a complex insurance claims process that you have neither the patience nor the necessary experience to navigate effectively on your own,
And maybe even frustrated because you don't have proof that the other driver was distracted.
We're here to help. The Omaha car accident lawyers at Hauptman, O'Brien, Wolf & Lathrop, P.C. have extensive experience in helping distracted driving victims claim the financial justice they deserve.
If you're wondering "what now?" after a distracted driving accident in Nebraska, we've put together a general guide to your next steps, broken down into two categories:
Steps to take while you're still at the scene of the crash, and
Steps to take soon after.
What to Do at the Scene of the Car Accident
The moments right after a car crash can be confusing and overwhelming. Some victims have trouble remembering what happened, or they describe the experience as "not feeling real." Adrenaline kicks in and takes over. But the steps you take while still at the scene can make a difference in the process that will follow.
Stay calm. It's easy for emotions to get the best of you after a distracted driving accident. Take a deep breath. Proceed as calmly and rationally as you can. Doing so will serve your own best interests later.
Get emergency medical care if needed. Are you hurt? Do you think you might be hurt, but aren't sure? Does anyone else at the scene appear to be injured? If the answer to any of these questions is a yes, call 911 right away.
Get off the road if you can. If your vehicle is in harm's way (for example, in the middle of the road with oncoming traffic), try to move it off the road — but only if safe to do so. If your car isn't operable or might be in danger of catching fire, get out of the car and far away from the road.
Report the accident. Even if no one requires emergency treatment, you still need to notify the police. Call 911 or the local police department. If you don't have a phone, ask someone else to alert the authorities.
Stay put. You have to stay at the scene of the accident until a police officer allows you to leave. This is true even if there are no major damages. (The exception is if you're taken away by ambulance, paramedics, or other emergency responders.)
If you suspect the other driver was texting or distracted, tell the officer. When talking to the officer, remain calm, respectful, and factual in your statements. Don't argue. The officer will ultimately decide what to put in his or her report. The time for disputing a police report, if necessary, will come later.
Take photographs. The more photographs you take, the better. Choose a variety of angles. Capture details. Try to document the vehicle conditions, the road conditions, the license plates, and the scene at large.
Get contacts & insurance info. If possible, stay at the scene until you have a name and contact information for every driver, passenger, and eyewitness. Ask for auto insurance information from every other driver involved — and be willing to give them yours (the police officer may help you exchange this information).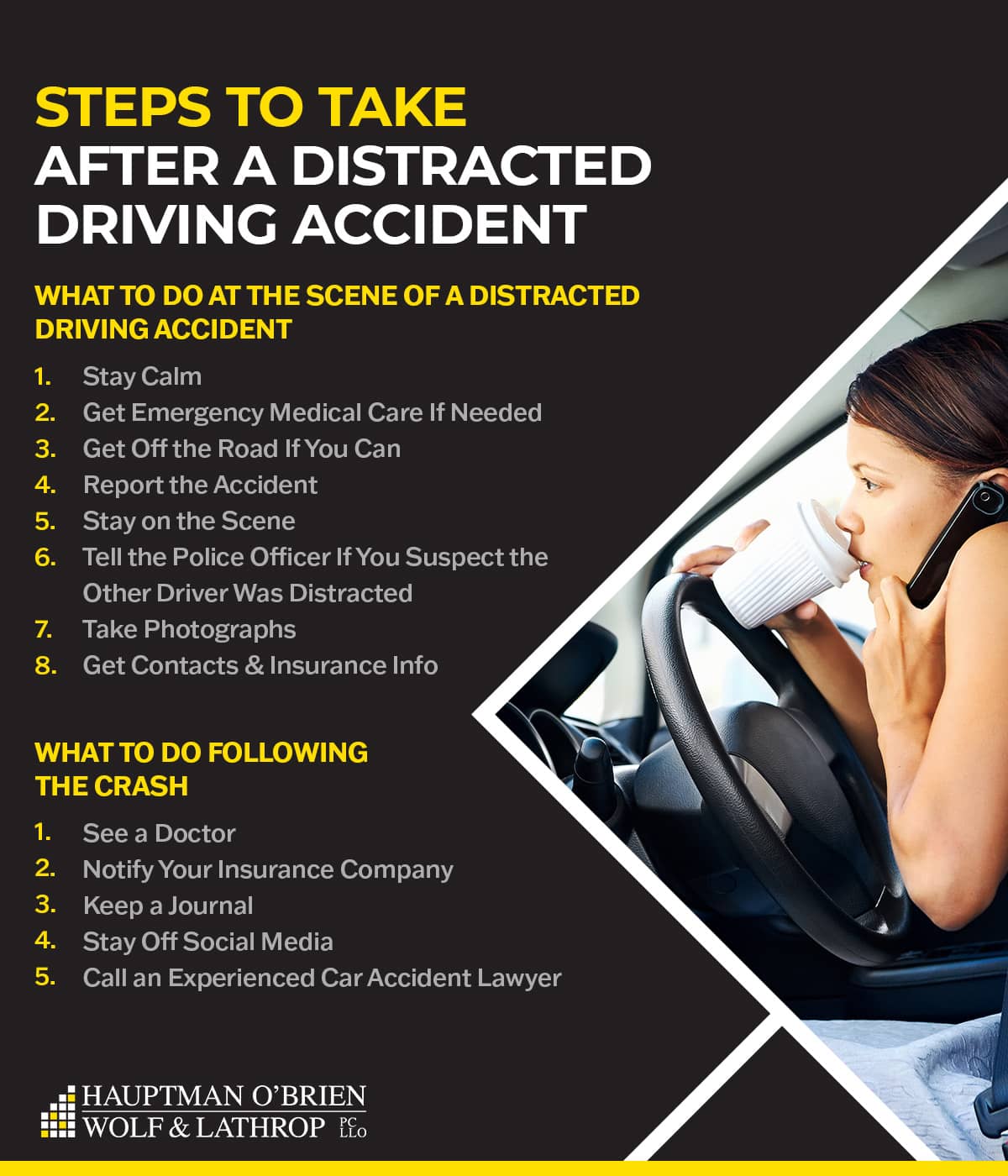 What to Do in the Days and Weeks That Follow the Accident
After you've left the scene of the crash, whether you are at home or in a hospital, there are a few steps you'll want to tend to right away:
See a doctor. You might think you're okay. See a doctor anyway. Scheduling an examination is the first thing you should do after any distracted driving accident in Nebraska. For one thing, having a contemporaneous medical visit in your records could strengthen any personal injury claim you might file later. More importantly, you could be hurt without realizing it. Some car accident injuries are "silent" (i.e. symptomless) for weeks, months, or longer. Doctors generally know what to look for.
Notify your insurance company. Your own auto insurance policy likely requires you to give notice of the accident to your provider. You'll find the appropriate phone number on your insurance card, which you should keep in your purse, wallet, or car.
Keep a journal. From pain and suffering to emotional distress, you should make detailed notes about your experience on a regular basis. These may be helpful in your claim for compensation later. Also keep a record of each medical visit, each expense you incur, each work absence, and any contact with an insurance representative or attorney.
Stay off social media. If you plan to file a claim for compensation after a distracted driving accident in Nebraska, you should assume that the other side will be actively searching your social media accounts for evidence they can use against you — even if all your privacy settings are enabled at their highest levels. Don't post anything about the accident or photos that might suggest you are uninjured, etc. In fact, the less you use social media, the better (until any and all claims have been resolved).
Call an experienced Omaha car accident lawyer. Hauptman, O'Brien, Wolf & Lathrop, P.C. proudly offers no-cost, no-obligation case reviews for people injured in distracted driving accidents in Nebraska. Call our office, tell us about your situation, and learn about your options. If you decide to hire us, we won't charge a fee unless we get you money first. We want to help.
Know Your Rights After a Distracted Driving Accident in Nebraska
If you were injured in a car crash and someone else's negligence was at fault, you are entitled to financial compensation for your damages. Most forms of distracted driving are considered negligent under Nebraska personal injury law, including texting while driving.
You might not be sure if you can prove that the other driver was distracted. That's okay. Give us a call anyway. There might be steps we can take to gather evidence or otherwise build a compelling case for the compensation you deserve.
Schedule a Free Case Review with an Omaha Car Accident Lawyer Today
Have you or your loved one been in a distracted driving accident in Nebraska? If so, please contact our office and learn about your options.
At Hauptman, O'Brien, Wolf & Lathrop, P.C., our goal is always to get our clients the largest amount of financial compensation available. We are a Nebraska personal injury law firm with years of experience and a record of getting injury victims the compensation they deserve in the majority of our cases.
To schedule a free claim review with an experienced Omaha car accident lawyer in our office, please contact Hauptman, O'Brien, Wolf & Lathrop, P.C. as soon as possible. We do not charge a fee for our services unless and until you win.