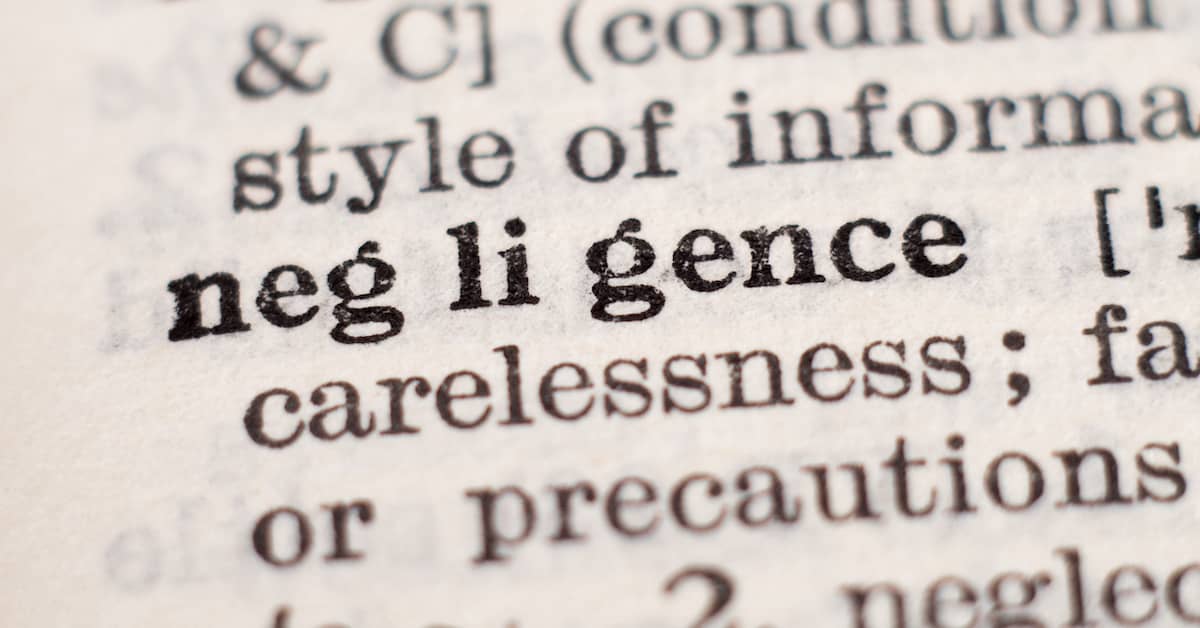 The "Nebraska negligence law" is a broad term for the statutes governing how fault and liability are assigned in a personal injury case. Generally, negligence is the standard that must be met for a plaintiff to recover damages. As such, it is very important to understand how the Nebraska negligence law applies and what you need to prove to obtain fair compensation for your injuries.
Hauptman, O'Brien, Wolf & Lathrop has been voted the #1 personal injury law firm in the Omaha area. Our experience handling negligence claims on behalf of our clients is unsurpassed.
For a FREE case review, call (402) 241-5020 today. Our personal injury lawyers serve clients injured by others' negligence in Omaha, Sarpy County, and all of Nebraska, as well as nearby Iowa.
When Does the Nebraska Negligence Law Apply to My Case?
Nebraska's negligence law sets the threshold for whether plaintiffs who are partly responsible for their injuries can recover damages. In essence, you may still be entitled to compensation even if you were somewhat at fault.
Let's use a simple example: Say you slipped and fell on another person's property. Liability would likely be assigned to the property owner for failing to keep the floor dry, but it is determined that you were distracted by your phone just prior to the fall.
In this scenario, you could be held partly responsible for the injuries you suffer in the fall. However, because the owner has a duty to maintain safe conditions on the premises, the lion's share of liability would be assigned to the defendant for failing to keep the floor free from slipping hazards.
What Are the Grounds for Negligence?
When people are accused of being negligent, it means that their actions (or failure to act) deviated from what a reasonable person would have done under similar circumstances. If a person's negligence causes harm to another, this may be grounds for a personal injury claim.
Before an individual can be held liable in a personal injury lawsuit, the following four elements must be proved:
Duty of care: It must be shown that the defendant had a duty or an obligation to act with the plaintiff's safety in mind. For example, all drivers have a duty to drive safely and carefully on the road.
Breach of duty: Evidence must show that the duty the defendant owed the claimant wasn't fulfilled because of carelessness or mistakes (e.g., a driver caused a wreck because he was speeding).
Causation: A direct link must be drawn between the defendant's negligent actions and the plaintiff's injuries and losses (i.e., medical records show that the plaintiff's injuries occurred because of the accident).
Damages: Finally, proof of the plaintiff's losses (e.g., medical bills, lost wages, etc.) must be supported by the evidence.
If each of these elements is satisfied, the plaintiff has the right to bring an injury claim against the defendant on the grounds of negligence.
What Is Contributory Negligence?
The Nebraska negligence law can be found in Nebraska Revised Statutes Sections 25-21,185.07 to 25-21,185.12. Although these statutes use the term "contributory negligence," Nebraska actually follows a modified comparative negligence standard in personal injury matters.
"Any contributory negligence chargeable to the claimant shall diminish proportionately the amount awarded as damages for an injury attributable to the claimant's contributory negligence but shall not bar recovery, except that if the contributory negligence of the claimant is equal to or greater than the total negligence of all persons against whom recovery is sought, the claimant shall be totally barred from recovery. The jury shall be instructed on the effects of the allocation of negligence."

– Nebraska Revised Statute 25-21,185.09
---
It is important to draw a distinction between contributory negligence and comparative negligence. Most jurisdictions with a contributory negligence rule will bar plaintiffs from recovering any compensation if they are found to be in any way responsible—even if the defendant was 99% to blame.
Fortunately, most states (including Nebraska) have disregarded the contributory negligence rule in favor of comparative negligence. In Nebraska, the right to compensation is based on the "51% rule." A plaintiff can still recover partial compensation so long as their degree of fault is less than that of the defendant(s) in the case. The plaintiff's compensation will be reduced in proportion to their percentage of fault.
How Does a Finding of Contributory Negligence Affect My Compensation?
Let's say you were involved in a car crash and it was determined that you were 30% at fault. If the sum of $100,000 was awarded as compensation, the courts will deduct the percentage for which you are liable ($30,000 in this instance) and pay you the remaining $70,000.
If there's a 50/50 tie in liability or you're found to be 51% at fault, your recovery will be barred—that's legalese for forfeiting any recovery or compensation. While Nebraska's comparative negligence law is generally fair and reasonable, insurance companies often try to use the law to deter claimants from recovering compensation by claiming that they were primarily or even fully responsible for the accident.
Can I Dispute Contributory Negligence?
If you're unsatisfied with the degree of partial fault that the insurance company is passing on to you or how much they're offering as a settlement, you can always contest it. Insurance companies are not in the business of charity, and will always do what they can to underpay you or deny your monetary compensation. This includes trying to point the finger at the victim.
The best way to dispute accusations of fault is by hiring an experienced personal injury lawyer to investigate the case and counter the insurance company's offer. Don't try to contest or fight these claims by yourself. That's a surefire way to lose or get far less money than you deserve.
A knowledgeable attorney will investigate the case, collect evidence, and determine who is at fault. If the evidence shows that the defendant was fully or mostly responsible, your lawyer can fight for the maximum compensation you deserve.
Get Help Navigating the Nebraska Negligence Law
You should not have to suffer the consequences alone if someone else's negligence caused you harm. Attorneys at Hauptman, O'Brien, Wolf & Lathrop have more than 230 years of combined experience representing plaintiffs in personal injury claims.
We are very well-acquainted with how negligence can upend someone's life. Our team also has an in-depth understanding of the Nebraska negligence law and what it takes to prove your right to compensation for personal injury.