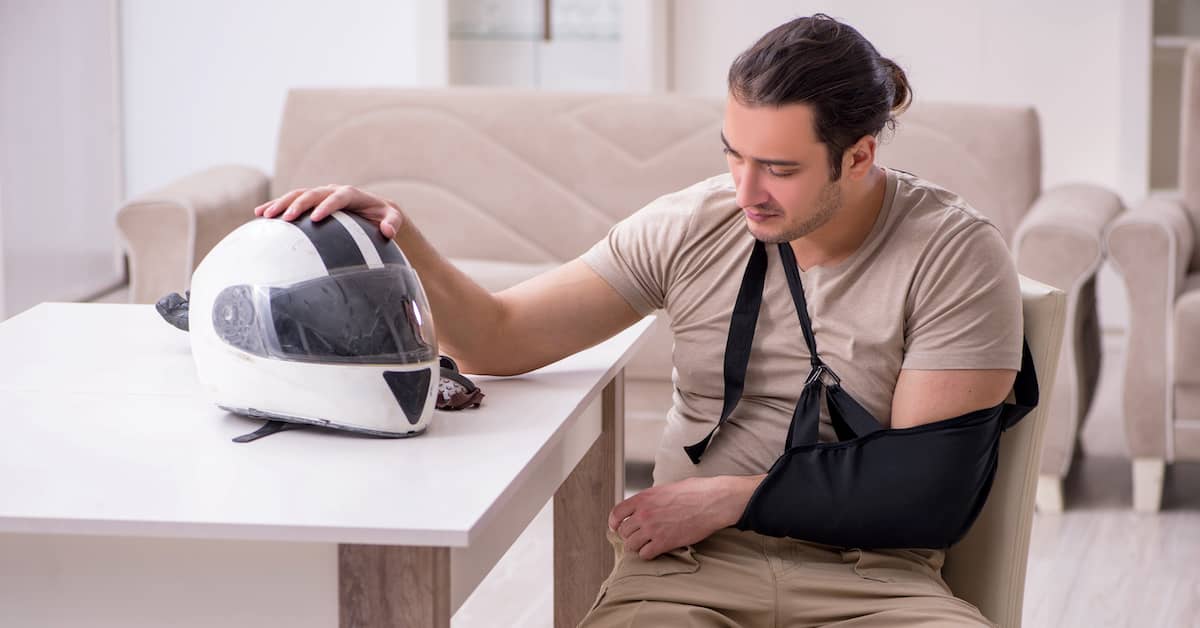 Motorcycle accidents are always serious. They frequently lead to life-altering injuries and, in extreme cases, fatalities. Due to the serious consequences of these accidents, it is not uncommon for motorcyclists and their families to have viable claims for compensation.
Unfortunately, motorcycle accident victims and their families are often at a disadvantage when it comes to bringing a claim. Evidence can be difficult to gather, you may be unaware of your legal options, and the insurance companies will make it difficult for you to recover damages.
Given these challenges, it is in your best interest to speak to an attorney as soon as possible after a motorcycle crash. The Omaha motorcycle accident lawyers at Hauptman, O'Brien, Wolf & Lathrop can review your case for free.
5 Ways a Motorcycle Accident Lawyer Can Help You
If you were injured or a member of your family was hurt or killed in a motorcycle accident, it is crucial to understand your legal rights and take steps to protect them. Although you can try to handle the claim on your own, entrusting the matter to a knowledgeable attorney has a number of benefits:
1. Collecting Evidence for Your Motorcycle Accident Claim
One of the most important things to do after any motor vehicle accident is to gather evidence at the scene. Photos, witness statements, and information from the driver(s) are all essential if you decide to take legal action at a later date.
There are a number of steps motorcyclists can take if they are involved in an accident. Unfortunately, riders are often too seriously injured or incapacitated to collect the evidence they need at the scene.
A motorcycle accident lawyer can investigate the crash and collect all necessary evidence. Your attorney will leave no stone unturned, obtaining and reviewing photos, video footage, testimony from eyewitnesses, and more. In addition, your lawyer will review your medical records and consult with your doctors and other experts to build a strong claim on your behalf.
2. Assessing Liability for the Motorcycle Accident
To recover compensation for personal injury or wrongful death in a motorcycle accident, you need to prove that one or more parties are at fault. Once your attorney has reviewed the evidence, he or she will be able to tell you what kind of claim(s) you may be able to bring.
Generally, most motorcycle accident claims involve taking legal action against the driver of another vehicle. However, you may have additional options depending on the circumstances of your case:
A product liability claim, if the design or a component part on your motorcycle was defective
A claim against an employer, if the accident was caused by someone who drove negligently in the course of their job (this is a common issue in truck accident claims, for example)
A claim against a government entity responsible for a hazardous road
Once all of the negligent parties are identified, an Omaha motorcycle accident lawyer can assess who is liable for your injuries and damages. In the majority of cases, the defendant's insurance company is liable for paying compensation when an accident arises due to negligence or a wrongful act.
3. Calculating Damages in Your Motorcycle Accident Claim
Motorcyclists often sustain serious injuries in crashes. As a result, the compensation in a motorcycle accident claim may be substantial. Unfortunately, if you try to handle the claim on your own, you are likely to underestimate the full value of your claim.
You may be entitled to compensation for the following after a motorcycle accident:
All of your medical expenses, current and future
Your lost wages to date
Loss of earning capacity
Pain and suffering
Emotional distress (such as anxiety, depression, post-traumatic stress disorder, etc.)
Disability
Permanent scarring
And more
The insurance company will not be honest about how much your motorcycle accident claim is worth. You need an experienced lawyer to calculate the total monetary value of your losses.
4. Negotiating a Fair Motorcycle Accident Settlement
In addition to determining what compensation you may be entitled to for your motorcycle accident injuries, an Omaha motorcycle accident lawyer can fulfill another important role in your claim: communicating with the insurance company on your behalf.
Trying to negotiate a settlement on your own is full of pitfalls. Insurance adjusters may try to convince you a low settlement is "the best they can do," ask you to make a recorded statement to use against you later, request access to your medical records, and engage in other underhanded tactics.
Experienced motorcycle accident lawyers know the tricks insurance companies and defendants will use. When you hire an attorney, you will be protected from these efforts to pay you less than you deserve. As a rule, your lawyer will be able to negotiate a better settlement than you would be able to obtain on your own.
5. Taking Your Motorcycle Accident Case to Trial
Most motorcycle accident claims are resolved through out-of-court settlements. However, there is a possibility that your case will not settle if the following issues are involved:
Liability for the motorcycle accident is disputed
Multiple parties are at fault for the accident
Your claim involves substantial damages
A loved one was killed in the accident (wrongful death claim)
Although a settlement is not impossible in motorcycle accident claims involving these circumstances, it may be necessary to file a lawsuit and even go to court to recover fair compensation. If this is the case, it is important to seek the help of a motorcycle accident lawyer.
Your attorney will file the necessary paperwork to initiate your lawsuit. Significant preparation is required before trial, which a lawyer can handle on your behalf.
Litigation is a highly specialized legal skill that requires practice and experience. When you look for an Omaha motorcycle accident lawyer to handle your case, it is important to make sure the attorney you choose will not hesitate to go to trial if it means obtaining the result you deserve.
A motorcycle accident can change your life and have an immense impact on your family. If someone else is at fault for the accident, you should not have to bear the cost of a serious injury or the death of someone you love on your own.
Hiring a motorcycle accident lawyer is the best way to protect your rights and build a strong claim for compensation. The attorneys at Hauptman, O'Brien, Wolf & Lathrop have more than 233 years of combined experience representing accident victims in claims involving motorcycles and other motor vehicles.
For a free case review, please call Hauptman, O'Brien, Wolf & Lathrop at (402) 241-5020 today to speak with an Omaha motorcycle accident lawyer. Our attorneys serve clients in Sarpy County and all of Nebraska and nearby Iowa.