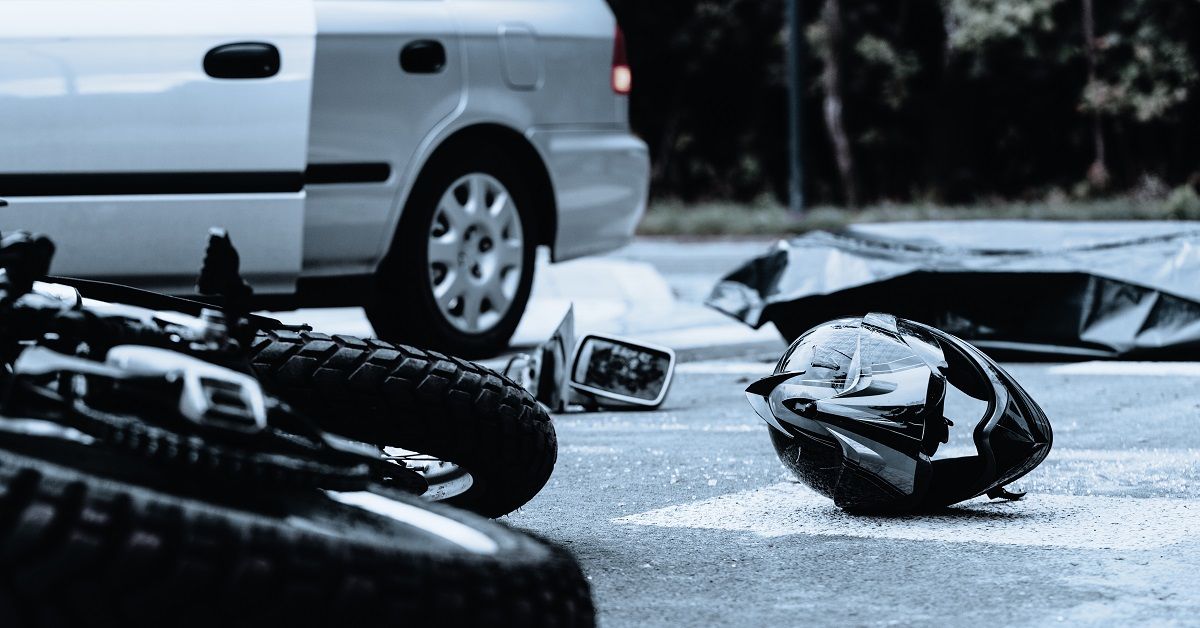 If you've been involved in a motorcycle accident, you're likely wondering what you'll be able to receive in compensation. If the accident was caused by the negligence of another, you would be right to assume that individual should be responsible for paying all of your medical bills, vehicle damage, and other expenses.
However, what many accident victims fail to realize is that there might be other expenses and damages associated with the collision. Motorcycle accidents tend to cause a significant amount of damage and trauma, and we believe accident victims need to make sure they're pursuing the maximum amount of compensation they deserve under the law.
Below, we want to take a look at the different types of compensation you can receive after a motorcycle accident to help you fully understand what you may deserve. Please don't hesitate to reach out for a free case review if you have been injured in a motorcycle accident. It's important to get started as soon as possible to have the best chance of winning your claim.
Medical Expenses for Your Injuries
Most damages associated with a motorcycle accident fall into two categories: compensatory damages and general damages. Compensatory damages are concrete expenses, including medical bills, related to the accident; it's not uncommon for these damages to involve a lot of money.
After all, motorcycle accidents can cause serious injuries, including broken bones, road rash, spinal cord injuries, and traumatic brain injuries. These injuries can require extensive, costly medical treatment that – if you win your claim – the negligent party's insurance company will be ordered to cover.
However, it's important to think beyond immediate bills when it comes to medical expenses. After all, you might be facing years of ongoing medical treatments for your injuries. These types of medical expenses are called general damages (more on these below) since there isn't a concrete, simple way to calculate them. Instead, you'll need to rely on the opinion of medical professionals who can help determine how much you need to compensate for these future expenses.
It's not a simple process, but it is important to do the hard work of determining how much you should receive to make sure you get maximum compensation for your injuries. Our attorneys have the experience to help you make these calculations and pursue the amount you deserve.
Income Lost After the Motorcycle Wreck
Compensation for an accident isn't just about expenses incurred – it can also be about not making money that you otherwise would have made, such as when you miss time away from work because of an accident. If you missed out on pay because of the accident, you should be able to pursue financial compensation for those lost wages.
However, like medical expenses, lost income can be categorized under both compensatory damages and general damages.
When you have concrete costs associated with the accident, such as missed time from work, those would be classified as compensatory damages. There's a clear, easily calculable amount of money that you lost because of your injuries.
But it's also possible that an accident will have long-term ramifications on your capacity to make more money. For example, if you're a construction worker who relies on your physical abilities to make a living, but then you are unable to continue in that line of work because of the accident, you may be able to pursue compensation for that loss of future earning potential.
Also, in a wrongful death case, the family of the accident victim may be able to pursue damages associated with future lost wages as well.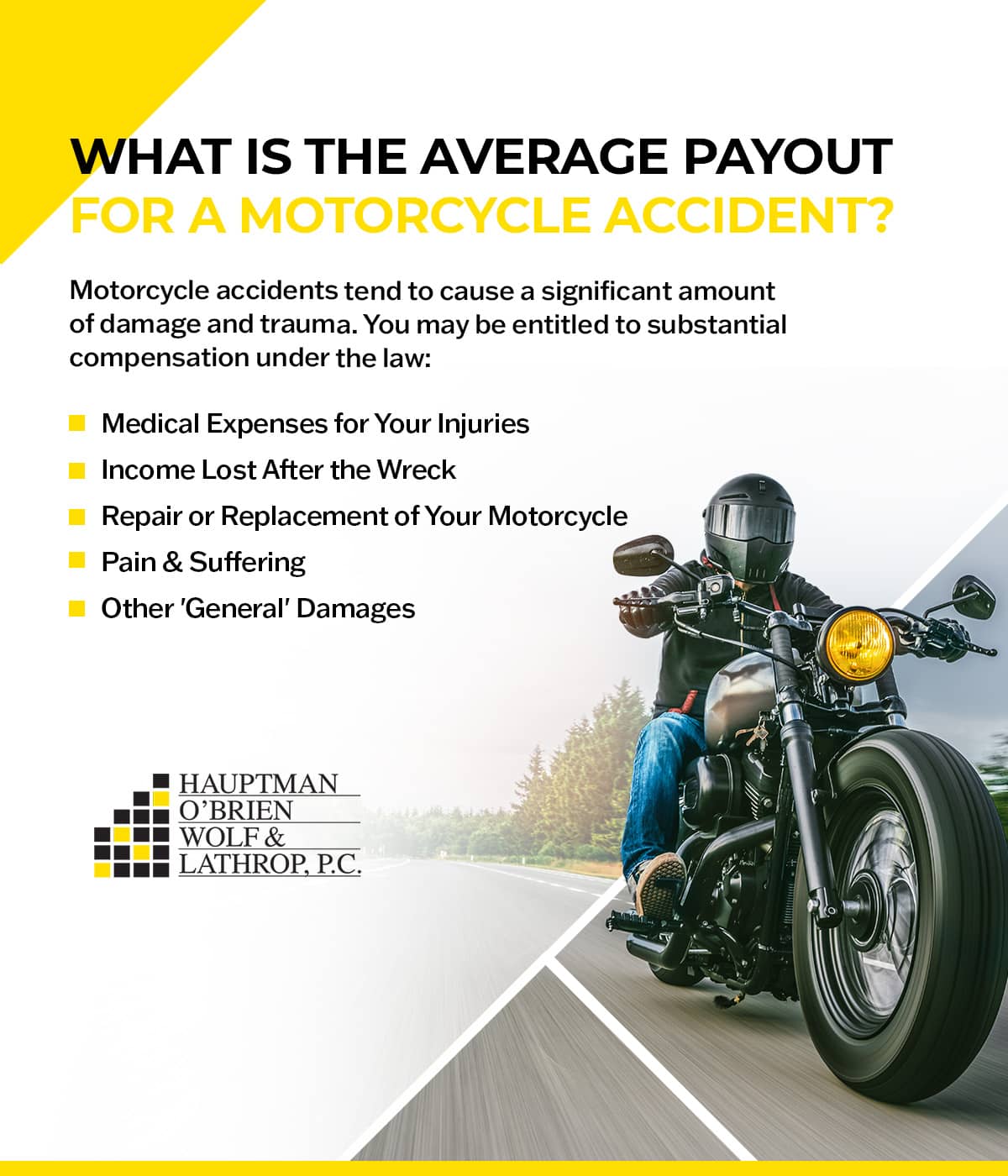 Repair or Replacement of Your Motorcycle
Motorcycles are much more vulnerable than the average passenger vehicle on the road. There is little protection with a motorcycle, which is why medical damages tend to be significant. The motorcycles themselves also often incur heavy damages, sometimes requiring the replacement of the bike.
Regardless of the extent of the damages, whether a repair or a replacement, the liable party may be required to cover the costs associated with the accident.
That said, as with medical bills, you will need to provide evidence of the damages to – and value of – your motorcycle.
Insurance companies, including their teams of corporate lawyers, will do whatever they can to pay you as little compensation as possible. To effectively fight them, you will need to verify your claims with facts, evidence, and hard proof, whether it be related to property damage, medical bills, or any other damages for which you are demanding compensation. This might require your attorney to find an expert witness who can attest to the damages done to your motorcycle, as well as its value.
'General' Damages After a Motorcycle Wreck
We've discussed a couple of types of general damages so far, including future lost income and future medical costs. Again, general damages refer to damages that are not easy to calculate and may or may not be associated with a specific cost, present or future.
One of the most common types of general damages is one you might have heard of: pain and suffering.
"Pain and suffering" refers to the emotional, psychological, and mental trauma you experience as a result of the accident. For motorcycle accident victims, this can be a very real thing.
It might mean they are no longer willing to ride a motorcycle, even though they used to get great enjoyment out of it. It could also lead to anxiety, PTSD, depression, and a multitude of other problems, particularly when combined with a traumatic brain injury.
While pain and suffering could lead to additional, direct hard costs – such as the cost of counseling or therapy – the idea here is that you should be able to receive financial compensation for the difficulty and stress that an accident places on you.
Considering that this type of mental anguish can have very direct effects on your physical health and overall quality of life, motorcycle accident victims often have a compelling case for their right to compensation for pain and suffering damages.
However, it can be challenging to determine the right amount to request for pain and suffering. There are a few different ways to go about it:
Expert witnesses: Unlike a physical injury, you can't see a psychological injury. Hence, proving the existence of mental trauma often requires input from professional psychiatrists who can attest to the existence and severity of your injuries.
Precedent: Oftentimes the courts rely on what has been decided in the past in similar cases to guide the judgment of your case. However, this requires an understanding of case law and an understanding of the legal issues involved. Ultimately, this means you need to work with an attorney who is familiar with your type of case and has a proven track record of winning.
Multipliers: Insurance companies will often use a multiplier to calculate the pain and suffering damages associated with an accident. This involves taking the compensatory damages associated with your accident and then multiplying that number from 1-5. The number you multiply by depends on the severity of your injuries. The more severe the injury, the higher the multiplier, since greater physical damages are generally associated with greater pain and suffering.
While these can be useful ways to begin to understand how much you should demand in compensation, they are by no means the end-all, be-all. There are dozens of factors to consider when figuring out how much to request in compensation, but it's absolutely imperative that you leave no stone unturned.
Contact Our Motorcycle Wreck Lawyers to Pursue Compensation
No matter how accurate your records are of the costs you accrue in the wake of a motorcycle accident, determining the kinds and amounts of damages you should pursue is generally not something you should do on your own. We know you have bills right in front of you, but what about the expenses you may face months or even years down the line?
The attorneys at Hauptman, O'Brien, Wolf & Lathrop, P.C. will evaluate all of your current expenses. We will also work with experts to determine what your injuries may cost in the future. Together, we will build a case that gives you the best chance of getting back on your feet after a traumatic accident.
To discuss your situation at a free case review, including what types of damages you might be eligible to receive, please call (402) 241-5020 or complete our online contact form. Our motorcycle accident attorneys serve clients in Omaha, Sarpy County, and nearby areas of Nebraska.