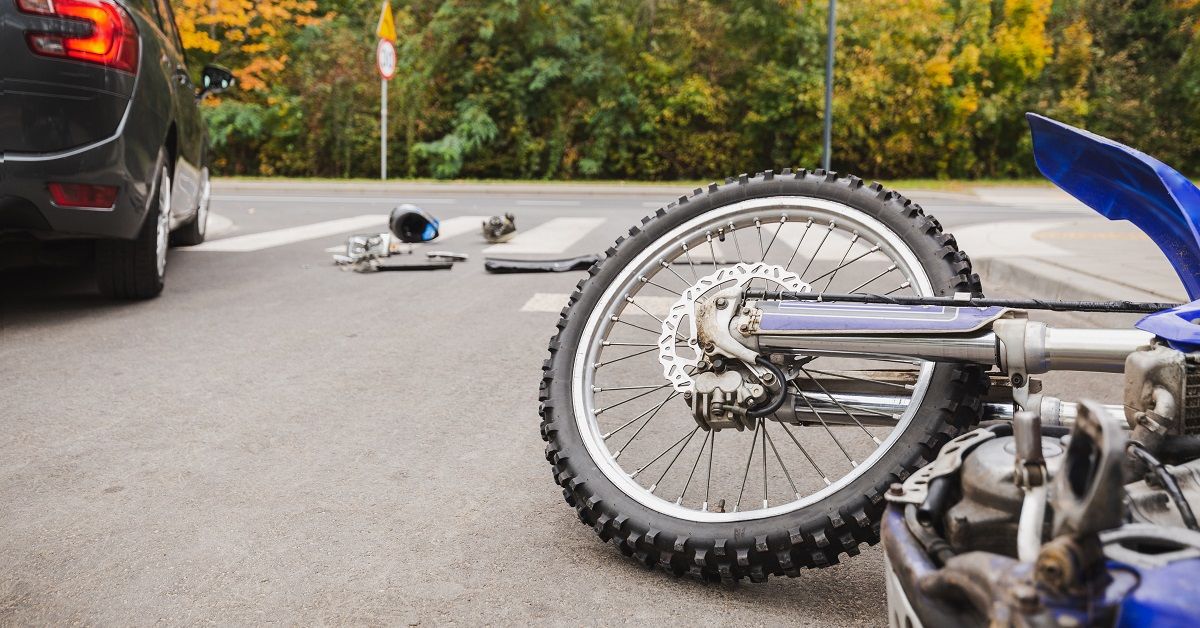 If you've been in a motorcycle wreck, it's important to follow some specific steps immediately after the accident. The goal of these steps is to help you protect your rights and start building your case at the scene of the crash.
If you are reading this after being in a wreck, we recognize that the extent of your injuries might have made it difficult to follow the advice below. However, that doesn't mean you don't have a case. Our motorcycle accident lawyers simply need to review your situation to understand what you're facing and discuss the optimal strategy for achieving fair compensation.
To schedule a free case review, please contact Hauptman, O'Brien, Wolf & Lathrop, P.C. online or give us a call at (402) 241-5020. Our lawyers serve clients in Omaha, Sarpy County, and nearby areas of Nebraska, as well as Iowa.
1. Check Yourself for Injuries
Because accidents tend to happen very quickly and are extremely dangerous, it can cause you to be unaware of how serious your injuries are. The adrenaline coursing through your body simply masks the pain. This is why it's so important to be extremely aware of your body after an accident, relying not only on what you feel but also what you see.
That said, some injuries can't be seen, either, which is why you should go to the hospital as soon as possible to get a full check-up and receive follow-up treatment. If you notice additional pain or other symptoms in the days that follow, don't hesitate to return to the doctor for additional tests.
2. Call 911
Nobody enjoys the inconvenience that comes with an accident, which is why we so often feel tempted to "shrug it off" and move on with our lives. The other driver might even suggest that you don't call the police but instead settle the matter yourselves.
The problem here is that, as mentioned above, you probably don't fully understand what has happened, including the injuries you may have sustained and the damage to your motorcycle. If you neglect to call 911 and then later realize that the damages are more serious than you first thought, it will be much more difficult to pursue the compensation you need.
Not only that, but neglecting to call 911 after a serious accident – that is, an accident where there is an injury or death and/or property damage that exceeds $1,000 – is against the law in Nebraska. So, not only is it in your best interest medically to call 911 after a motorcycle accident, it may be illegal for you not to make that call.
3. Give a Statement to the Police
Another reason to call the police after a motorcycle accident: A police statement serves as an important piece of information in your case and will be needed when you file your insurance claim.
It's important to keep this in mind when you're making your statement to the police. You want to stick to the facts and explain how the accident happened from your perspective. The police officer likely won't try to determine who was responsible on the spot, so you should help them do their job by answering their questions in a calm, straightforward manner.
Once the report is filed, you will want to get a copy for yourself to review. Usually, you will be able to obtain a copy about 10 days after the accident. If you believe that some of the information in the report is incorrect, you can request that the report be reviewed.
4. Exchange Information
Make sure you get the other driver's information after the accident, including:
Name
Phone number
Address
Insurance company and policy number
Driver's license number and license plate number
Also, if the driver's name is different from the name on the insurance policy, establish and record the nature of that relationship.
Gathering all of this information at the scene will make it easier to file a claim against the at-fault driver.
5. Document the Scene
If you're able, you will also want to document the scene of the accident with photos and videos. Luckily, most of us have high-quality cameras on our phones that work well for this purpose.
It is important for you to document everything from the weather conditions to the state of the road. These things can change quickly and become difficult to prove after the fact, so taking some photographs and videos can help prove the conditions of the road at the time of the accident.
It helps to record skid marks, debris, and other crucial signs of an accident. These may fade or be completely cleaned up after an accident, but they will stand out vividly immediately following the wreck.
6. Contact a Motorcycle Accident Lawyer
While all of these are ideal steps that an accident victim should take, we understand that nothing about a motorcycle accident is ideal. Due to your injuries or your disorientation, you may have been unable to follow these steps.
We completely understand, and we're here to help. Even if you were unable to document the scene fully or if you failed to get the police involved, you may still have a viable claim for compensation.
To learn more, contact the attorneys at Hauptman, O'Brien, Wolf & Lathrop, P.C. online or by phone at (402) 241-5020 today for a free case review. Our motorcycle wreck lawyers serve clients in Omaha, Sarpy County, and communities throughout Nebraska.