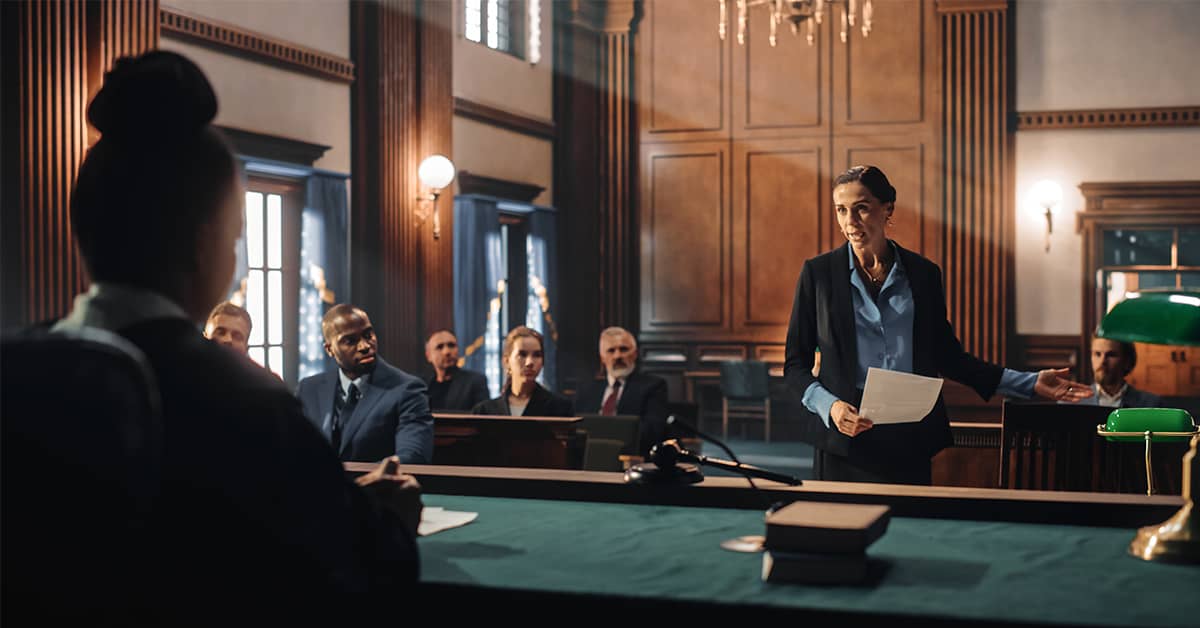 Contrary to popular belief, a personal injury lawsuit is not the first and only recourse for people who have been injured due to the negligence of others. Most personal injury cases are settled out of court, often without the need to file suit.
That said, some personal injury matters cannot be resolved via settlement. If this is the case, it may be necessary to bring a personal injury lawsuit and, potentially, go to trial to recover the full compensation you deserve.
Having a lawyer with trial experience is essential for obtaining a favorable result in the courtroom. Attorneys at Hauptman, O'Brien, Wolf & Lathrop have more than 200 years of combined experience representing clients in litigation proceedings and at trial.
For a FREE case review, call (402) 241-5020 today to find out if you have a personal injury lawsuit. Hauptman, O'Brien, Wolf & Lathrop serves clients in Omaha, Sarpy County, and all of Nebraska, as well as nearby Iowa.
When Might a Personal Injury Lawsuit Go to Trial?
An injury claim can go to court if one or more of the following conditions are present:
The defendant's insurance provider is unwilling to pay the plaintiff reasonable compensation.
The insurance provider is reluctant to set a precedent by paying for a new type of claim.
The defendant's lawyer thinks a court case will favor the client.
The plaintiff's lawyer wants to bring an unyielding insurance company to the table.
The injury attorney just wants to force the insurance provider to pay up or take the claim more seriously.
The case is still within Nebraska's statute of limitations and is not time-barred.
The lawyer feels the plaintiff may be able to get a lot more money than the insurance provider is offering.
Experienced attorneys only recommend trial proceedings if there are strong indications that the trial will yield substantially larger compensatory damages for their clients. We understand that this might be confusing for injured victims who just want to get the compensation they deserve.
At Hauptman, O'Brien, Wolf & Lathrop, we endeavor to explore all out-of-court settlement options first before recommending a court trial. Whenever we feel that you might get a better outcome if the case goes to trial, we explain the entire process and reasoning behind the legal advice.
As Omaha's leading injury law firm, our clients' best interests are the priority. If we do recommend this option, it's because we strongly feel that a trial will be in your best interest. As always, the decision to go to court ultimately lies in your hands as the plaintiff and injured victim. If you have any questions, our injury lawyers can provide answers.
Are All Lawyers Equally Capable of Representing You in the Courtroom?
Not all practicing injury lawyers have extensive courtroom experience, which means that they may not be able to effectively present your case in the courtroom.
You want a trial attorney who can aggressively fight for you and represent your interests while seeking a satisfactory outcome. At Hauptman, O'Brien, Wolf & Lathrop, all of our personal injury attorneys have trial law experience and are registered members of the Nebraska Association of Trial Attorneys.
Our trial lawyers possess unique skills that are valuable in the courtroom. These include:
Evidence gathering. Compelling evidence can make or break a case. Your attorney should have the resources required to collect as much evidence as is necessary to win.
Jury selection. Picking sympathetic jurors can often mean the difference between getting a huge award and an adverse judgment. Furthermore, our lawyers can determine if it would be advantageous to present the case solely before a judge (known as a bench trial).
Making a strong opening statement and closing argument.
Building a strong case. A trial attorney is experienced at convincing the court of the merits of your case.
Finding and questioning the right expert witnesses whose testimony will help your case.
Cross-examination of defense witnesses. Asking the right questions can punch a hole in the defense witness's statements and sway the court in your favor.
Trial law and winning in the courtroom is both art and science. An experienced trial lawyer is skilled at convincing the court to rule in favor of the plaintiff through compelling arguments and the use of relevant legal knowledge.
What to Look For in a Personal Injury Trial Lawyer
A personal injury trial lawyer should have some or all of the following qualities:
Tenacity and doggedness
Trustworthy and fair
Your attorney should be both straightforward and a person of integrity. You should be able to trust that your attorney is committed to your best interests.
Personal injury trial law experience
This includes being a member of a recognized professional organization, such as the Nebraska Association of Trial Attorneys.
Their investment in your case
Do they have a solid legal team? If yes, who will be handling your case? You want to make sure that you're not just a case number to the firm and that your attorney will be personally handling your case.
Contingency fee arrangement that allows you to pay fees only after your case is won
Experienced attorneys find considerable satisfaction in representing injured victims and helping them get the compensation they deserve. With a qualified personal injury trial lawyer in your corner, you will have a strong advocate who can handle the details of your personal injury lawsuit and, if necessary, pursue a favorable result in court.
Get Qualified Assistance with Your Personal Injury Lawsuit
No one should have to face their legal troubles alone. If you have been hurt by another person's negligence and you are seeking qualified legal representation, the trial attorneys at Hauptman, O'Brien, Wolf & Lathrop can help.