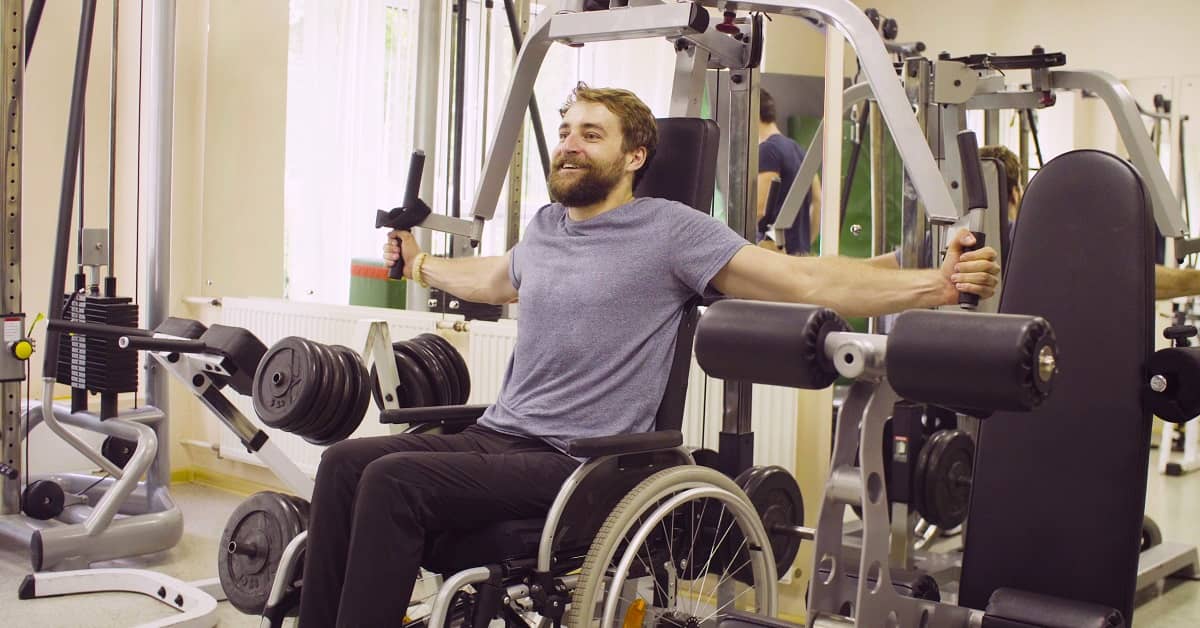 While there is an incredible amount of promising research being done on spinal cord injuries, there is still no cure. Nerve cells in the spinal cord are complex, and the trauma associated with spinal cord injuries makes it nearly impossible for these cells to regenerate.
That said, recovery from a spinal cord injury is not impossible. With proper treatment and therapy, victims may be able to recover some degree of function. However, full recovery after a spinal cord injury is rare.
Several factors contribute to the likelihood of recovery from a spinal cord injury. One of the most important is access to medical care, which can be very expensive.
If you or a loved one has suffered a spinal cord injury that you believe was caused by the negligence of another, it is important to contact a Nebraska spinal cord injury attorney as soon as possible. Hauptman, O'Brien, Wolf & Lathrop can review your case for free and advise you of your options for recovering the compensation you deserve.
What Factors Affect Spinal Cord Injury Recovery?
The primary factor that affects recovery is the severity of the spinal cord injury. Spinal cord injuries are rated according to the American Spinal Injury Association (ASIA) grading scale, which ranges from A (complete spinal cord injury) to E (normal).
Spinal cord injuries given an A rating rarely heal. The injured victim is unlikely to recover sensory or motor function below the site of the injury.
With incomplete spinal cord injuries rated B, C, or D, however, there is a chance that the injured individual will be able to recover to some degree. Improvement in sensory and/or motor function is possible over time.
Beyond the severity of the injury, another factor to consider is how quickly a spinal cord injury is treated. If an individual doesn't receive immediate, emergency medical treatment, it may impact their long-term outlook.
What Is the Typical Course of Recovery for a Spinal Cord Injury?
Recovery from a spinal cord injury is unpredictable. Despite advances in research and treatment, doctors do not fully understand these injuries or why some people seem to improve more than others.
That said, if recovery or improvement happens, it usually occurs within the first six months after the injury. The time frame is even narrower for complete spinal cord injuries. According to the American Association of Neurological Surgeons, any improvement after a complete spinal cord injury will usually occur within the first few days.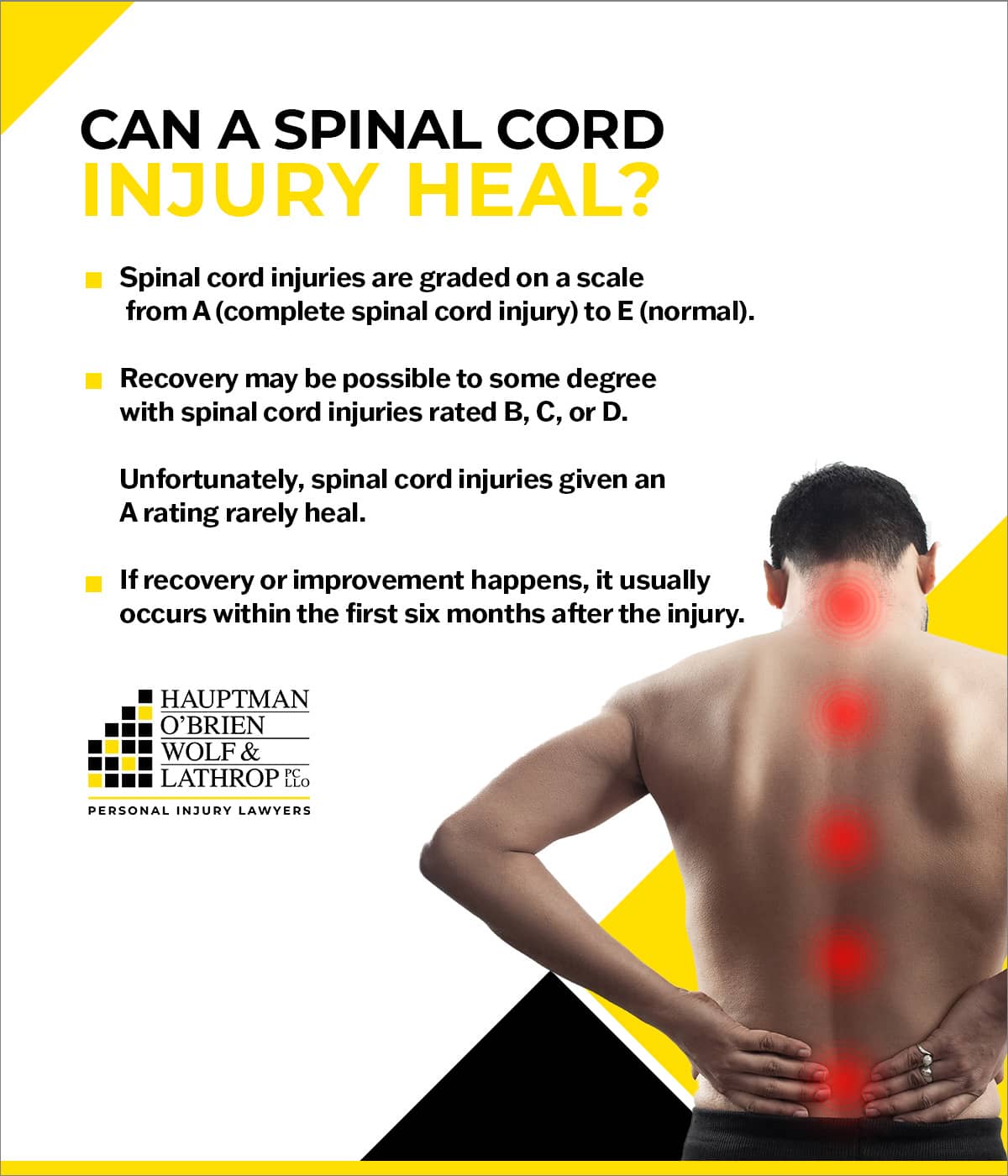 Spinal Cord Injury Treatments and Rehabilitation
Spinal cord injuries always require immediate medical care. These injuries, after all, are almost always caused by catastrophic accidents. This means that accident victims have undergone severe trauma, which is why the first steps of treatment will be to stabilize the individual – ensuring they can breathe, preventing shock, and taking steps to mitigate complications.
After these initial steps are taken and some testing is done, further treatment can include medications, ongoing immobilization, surgery, and experimental treatments. A team of specialists, including neurologists, orthopedic surgeons, spinal cord medicine specialists, and others, will work together to diagnose the injury and agree on a treatment plan.
Most spinal cord injury patients require rehabilitation that is catered to their unique injury. Generally, the goal is to strengthen muscle function, work on fine motor skills, and learn ways to manage the condition.
How a Spinal Cord Injury May Affect Your Life Long-Term
There are promising new treatments and technologies that hope to cure and/or help victims manage spinal cord injuries. But the truth is that it is often a difficult journey. Those who suffer from spinal cord injuries face an increased risk of depression and substance abuse.
Beyond the psychological and emotional impact a spinal cord injury can have on a person, there is usually a significant financial burden as well. While modern wheelchairs, computer adaptations, and other technologies can help victims be more autonomous, they are also expensive.
Altogether, spinal cord injuries can cost millions of dollars to treat, placing a significant burden on accident victims and their families. It is crucial for accident victims to consult an attorney and fully consider their legal options after a spinal cord injury.
The damages in a spinal cord injury claim can be immense. You should not have to face these challenges alone if someone else's negligence caused your injury.
Contact a Nebraska Spinal Cord Injury Attorney
Spinal cord injury victims require a lot of help from doctors, therapists, family members, friends, coworkers, and others. Without this support, it can be difficult – if not impossible – to manage a spinal cord injury.
At Hauptman, O'Brien, Wolf & Lathrop, we are here to offer our support to spinal cord injury victims. Unfortunately, the accidents that lead to spinal cord injuries are sometimes caused by someone else's carelessness or wrongdoing, resulting in significant damages. When this happens, we will do everything we can to fight for your rights and help you obtain the compensation you need and deserve.
Please call (402) 241-5020 today for a FREE consultation with a Nebraska spinal cord injury attorney. Hauptman, O'Brien, Wolf & Lathrop serves clients in Omaha, Sarpy County, and other areas of Nebraska, as well as Iowa.