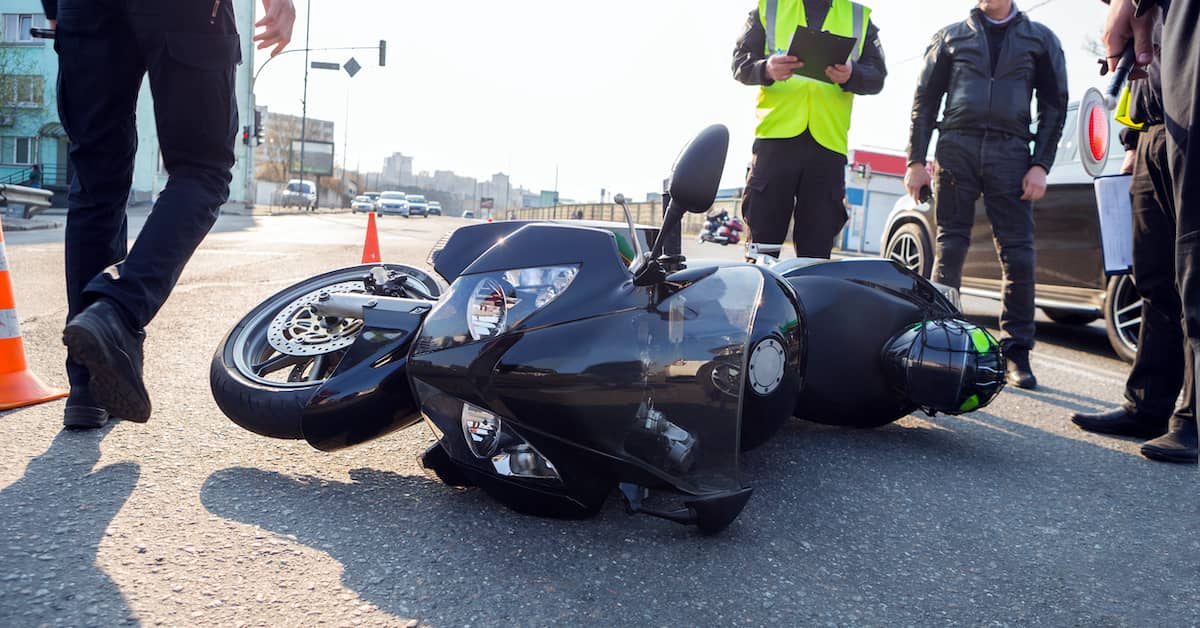 Motorcyclists are the road users most vulnerable to serious injury and death in the event of an accident. An Omaha motorcycle accident lawyer can help if you were injured or a loved one was killed in a collision caused by a careless driver or other negligent party.
There are a number of different factors to consider when determining what a motorcycle accident claim may be worth. Two of the most important considerations an Omaha motorcycle accident lawyer will take into account are (1) the nature of your injuries and (2) the severity of your injuries.
Motorcycle riders are at risk for a host of different injuries if they are involved in an accident. The most common motorcycle accident injuries include:
Lower Extremity Injuries
A study in the Journal of Trauma investigated the injuries suffered by 700 riders who were hurt in motorcycle accidents. Researchers discovered that bone fractures were the most common lower extremity injury, with 52% of riders experiencing a broken bone in the lower body in non-fatal accidents and 42% in fatal crashes.
More than one-third of broken bones in the lower extremities in motorcycle accidents involved fractures of the tibia or fibula (the bones making up the lower leg). Unsurprisingly, researchers found that motorcyclists involved in side-impact collisions (also called T-bone accidents or broadside collisions) were at the highest risk of trauma to the lower extremities.
Upper Extremity Injuries
A study in the Journal of Trauma and Acute Care Surgery (the successor to the Journal of Trauma) investigated upper extremity injuries in motorcycle accidents. Researchers evaluated motorcycle riders admitted to a Level 1 trauma center over a period of 5 years. They found that 35% of the admitted patients experienced injuries to the upper extremities such as:
Shoulder girdle injury (i.e., damage to the collarbone and shoulder blade)
Forearm fractures
Distal injury (i.e., trauma around the wrist)
Motorcyclists who suffer upper extremity injuries are more likely than other injured riders to need rehabilitation services, but they are less likely to have fatal outcomes. Researchers believe this could be caused by a "crumple zone effect" that spares the head and neck from a direct hit in a motorcycle accident.
Head and Facial Injuries
The journal Annals of Emergency Medicine performed an in-depth investigation of facial trauma and intracranial injury among motorcycle riders. Out of 5,790 motorcyclists who sustained an injury in an accident, 24.4% experienced facial injury and 411 had one or more broken bones in the face.
Riders who sustained a facial injury were 3.5 times more likely to have a traumatic brain injury (TBI). The risk of TBI was even higher among riders with facial fractures, with motorcyclists who sustained one or more broken bones in the upper face 6.5 times more likely to suffer a brain injury.
Researchers concluded that facial injuries were closely linked to TBIs in motorcycle riders – even if they are wearing a helmet at the time of the accident.
Chest and Abdominal Injuries
The Association for the Advancement of Automobile Medicine researched the rate of "trunk" injuries in motorcycle accidents. (Trunk injuries refer to wounds or trauma to the chest and abdomen.) The study found that 36% of motorcycle deaths among helmeted riders involved some form of trunk injury.
Multiple intra-thoracic (chest) and intra-abdominal injuries are common in motorcycle crashes. The number of ribs fractured in a motorcycle accident is closely linked to the severity of the chest injury.
Spinal Injuries
Injuries to the spine and spinal cord are more likely to happen to younger motorcyclists involved in a crash. Older riders are more at risk of thoracic injuries.
The Journal of Trauma analyzed data from 1,121 motorcyclists involved in traffic accidents over a period of 8 years. Spinal injuries happened in 11.2% of cases. Of those cases, 42.9% involved injury to multiple vertebral levels.
Researchers determined that the thoracic spine (middle of the spine) is the most common area for spinal trauma in a motorcycle accident. Injury to the thoracic spine typically involves significant long-term consequences, with motorcycle riders at risk of partial or complete paralysis for the rest of their lives.
Road Rash
Motorcyclists often have little to no barrier between the road surface and areas of their skin during a crash. As such, road rash or road burn is a very common injury in motorcycle accidents. Severe road rash may happen if the rider is dragged on the pavement during the collision, resulting in multiple layers of skin being scraped off.
The classification of a road rash injury is similar to the degrees used to categorize burns. Some motorcyclists may only need first aid for the injury, while other cases of road rash may require hospitalization.
Any number of serious injuries can occur in a motorcycle accident. If you or a loved suffered injury in a crash caused by someone else's negligence, you need an experienced firm to handle your case.
The attorneys at Hauptman, O'Brien, Wolf & Lathrop have more than 200 years of combined experience representing clients in a wide range of serious injury and accident claims. We are committed to protecting your rights and safeguarding your future by pursuing the full compensation you deserve.
Please call Hauptman, O'Brien, Wolf & Lathrop at (402) 241-5020 today for a free case review. Our motorcycle accident lawyers serve clients in Omaha, Sarpy County, and other areas of Nebraska and nearby Iowa.