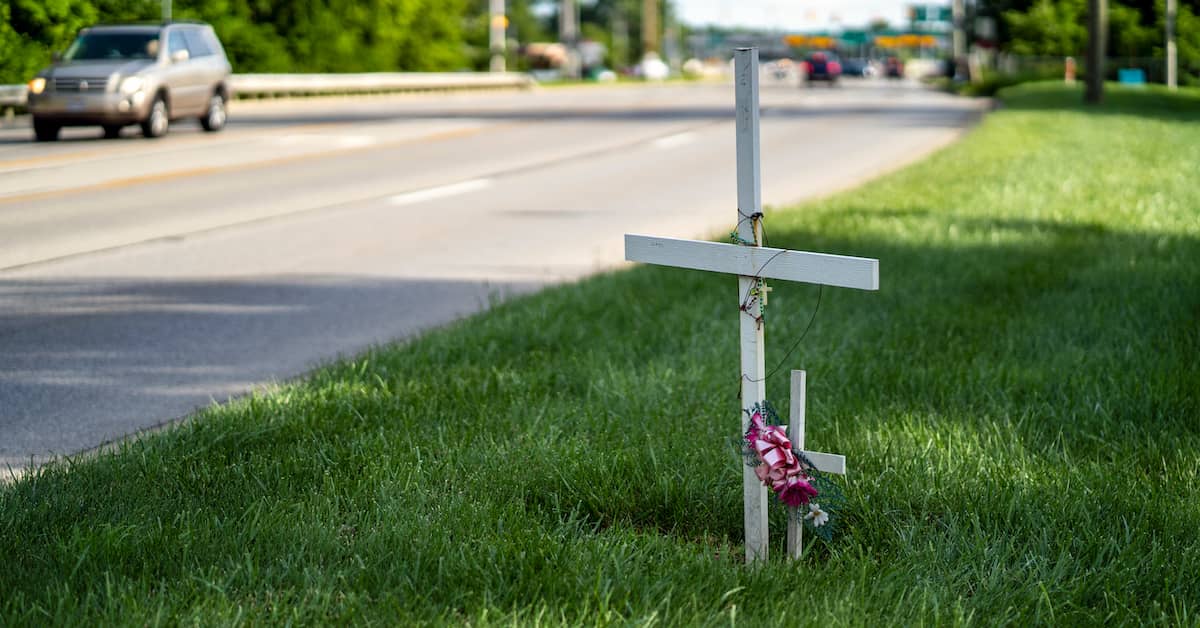 A fatal car accident is a devastating event. In addition to unimaginable grief for the loss of their loved one, surviving family members are often forced to deal with substantial financial losses and adverse effects on their day-to-day lives.
Sadly, fatal car accidents are all too common. The latest statistics from the Nebraska Department of Transportation (NDOT) show that 221 people were killed in car accidents in 2021. While this represents a 5% decrease from the prior year's death toll (233 accident fatalities in 2020), that is still far too many people whose lives ended in crashes on Nebraska's roads.
If you lost a loved one in a fatal car accident, you and your family may be entitled to compensation. Hauptman, O'Brien, Wolf & Lathrop can pursue a wrongful death claim on your behalf.
For a FREE case review, call (402) 241-5020 today. Our lawyers serve clients in Omaha, Sarpy County, and all of Nebraska and nearby Iowa.
What Are the Chances of Being in a Fatal Car Accident?
Most people drive to work, run errands, and perform other daily tasks with little to no expectation of a deadly outcome. Unfortunately, anybody can be involved in a car accident. Most crashes result in property damage and, perhaps, injury. However, the most serious collisions can lead to death.
According to NDOT, 1.2 people in Nebraska are killed for every 100 million miles traveled by motor vehicle. This is slightly lower than the national average of 1.37 deaths per 100 million miles traveled (as reported by the Insurance Institute for Highway Safety).
To be clear, this does not mean that the chances of dying in a car crash are "one in a million." The National Safety Council estimates the likelihood at 1 in 93—approximately 1%. A 1 percent chance might seem remote. But, for the families left in the wake of such a catastrophe, the odds likely seem stacked against them.
Common Causes of Fatal Car Accidents
NDOT's latest statistics show that collisions between vehicles account for more than 45% of fatal accidents in Nebraska. Where improper driving was a factor, the most common reckless behaviors that led to crashes resulting in fatalities include:
Lane departures
Driving erratically
Failure to yield the right of way
Disregarding traffic signs and signals
Speeding/driving too fast for conditions
Alcohol was a factor in nearly one-third of fatal accidents. Drivers aged 25–34 were the most likely to drive drunk and cause a fatal crash.
What County Had the Most Fatal Car Accidents?
More people were killed in crashes in Douglas County than anywhere else in the state. In 2020 (the most recent year of complete data released by NDOT), 46 people were killed in 41 separate accidents. Overall, the accident fatalities in Douglas County accounted for nearly 20% of the state's total crash deaths.
Time of Day & Road Conditions
Although the time one is most likely to be in a car accident is 3 p.m. to 6 p.m. (evening rush hour, approximately), there is no one time of day that stands out as the most deadly. The hours between 9 a.m. and noon had the most fatal accidents in 2020 (18%), but other times were not far behind:
9 p.m. to midnight: 14.5%
3 p.m.–6 p.m. & 6 p.m.–9 p.m.: 14% (tied)
Midnight to 3 a.m.: 13%
The vast majority of accidents (fatal or otherwise) happened when the roads were dry. In fact, only 14.5% of fatal wrecks occurred on roads affected by snow, ice, rain, and other issues. While adverse weather and road conditions can be a factor in fatal accidents, drivers do not usually have this excuse.
Fatal Accidents on Rural vs. Urban Roads
In Nebraska, rural roadways (including interstates, state highways, and local streets and roads) have nearly double the number of fatal crashes compared to urban roads. A total of 147 fatal accidents occurred on rural roadways, resulting in 155 deaths (compared to 70 accidents and 78 deaths, respectively, on urban roadways).
Why Are Rural Highways in Nebraska So Dangerous?
According to the Nebraska Transportation Center, "rural highways support a high percentage of heavy commercial vehicles; in some rural areas, over 60% of highway traffic consists of heavy commercial vehicles."
Semi trucks, farming equipment, and other heavy commercial vehicles significantly outweigh cars and other passenger vehicles. As a result, fatalities are not uncommon in a semi truck accident or a collision with another commercial vehicle.
Another factor is speed. Accidents occurring at highway speeds are generally more dangerous than crashes at slower speeds. Furthermore, heavy commercial vehicles require a greater distance to come to a stop, which makes it more difficult to avoid an accident.
Compensation in a Fatal Car Accident
If your loved one was killed in a traffic accident, our lawyers can pursue a wrongful death claim on behalf of your family. Depending on the losses you and your family have suffered, you may be eligible for compensation of damages such as:
Lost wages and other financial hardships
Expenses for funeral services and burial or cremation
Medical expenses for care provided prior to death
Loss of household services
Loss of consortium
Loss of parental guidance
Pain and suffering of the deceased
How Long Do I Have to File a Wrongful Death Claim After a Car Accident?
The statute of limitations in Nebraska for car accident cases is different from the statute governing wrongful death claims. Injury victims in car accident cases have 4 years to bring a claim (shorter time limits can apply when suing a governmental entity). However, the statute of limitations for wrongful death is only 2 years.
So, if your loved one is killed in a vehicle accident, you have just 2 years to file suit. With this in mind, it is important to contact an attorney as soon as possible to start building your claim.
Damages in wrongful death claims are often significant, and the other driver's insurance company will try to pay you as little as possible. Starting on your claim early gives your lawyer time to prepare an effective case on your behalf, and it gives you and your loved ones the best chance of recovering fair compensation.
Who Can File a Wrongful Death Claim After a Fatal Car Accident?
According to Nebraska Revised Statute 30-810, a wrongful death action "shall be brought by and in the name of the person's personal representative." The personal representative is generally named in the decedent's will. The personal representative may be a family member, or it could be someone unrelated to the deceased.
Although the personal representative files the wrongful death claim, the action is brought "for the exclusive benefit of the widow or widower and next of kin." Family members who may be awarded damages in a wrongful death claim include:
Car accidents are a leading cause of death nationwide. If your loved one is killed in a traffic collision, an experienced lawyer can review your legal options for filing suit against the at-fault driver.
Serving Survivors After a Fatal Car Accident
Though the number of fatal traffic accidents may have decreased year over year, more than 200 deaths annually is a sobering statistic for drivers throughout Nebraska. It also illustrates the importance of knowing your rights if a loved one is killed in a crash.
Hauptman, O'Brien, Wolf & Lathrop has been serving communities of Nebraska and Iowa for over 30 years. Collectively, our attorneys have more than 230 years of experience serving clients in auto injury and wrongful death cases. We have earned millions of dollars in verdicts and settlements on behalf of clients and their families.
For a FREE case review, please contact Hauptman, O'Brien, Wolf & Lathrop. Our lawyers have offices in Omaha and Sarpy County.