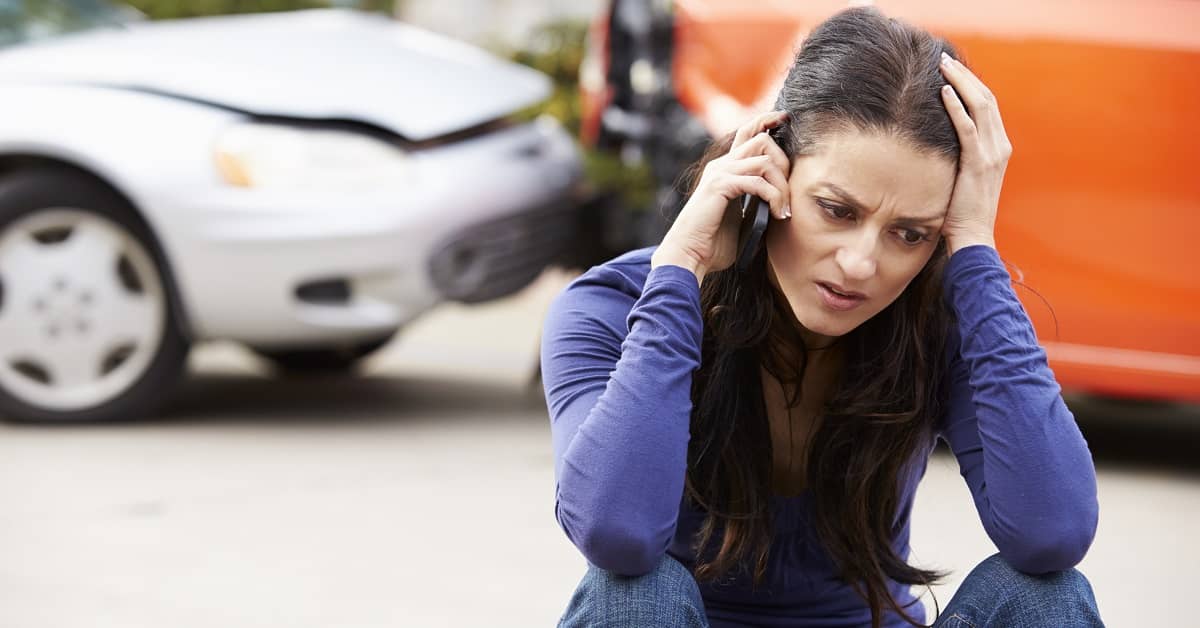 Note: If you are struggling with your mental health, we encourage you to reach out to your healthcare provider or SAMHSA's National Helpline.
Car accidents affect people in many different ways. There are, of course, the physical effects. Accidents can cause broken bones, burns, lacerations, and other life-altering injuries.
Then there are the psychological effects. Some victims suffer serious psychological pain without being physically injured. These effects are a result of the trauma caused by the accident, including the fear, panic, and helplessness felt by accident victims.
Psychological and physical injuries are sometimes intertwined. Severe pain can, for example, lead to psychological trauma. Traumatic brain injuries suffered in accidents can lead to serious, ongoing mental and emotional difficulties.
If you have been in a car accident recently, it is important to know that you may be able to recover compensation for both your physical and psychological injuries. Insurance companies may attempt to dismiss the psychological effects of an accident in an attempt to pay out less compensation, but it is well-established that these damages can lead to long-term difficulties. They should not be treated lightly.
Hauptman, O'Brien, Wolf & Lathrop can help if you or a loved one suffered physical, mental, and emotional trauma as a result of a collision. Please contact a car accident attorney for a free case review.
Common Psychological Issues Associated with Accidents
When facing psychological issues, we often try to ignore the problem. It can be difficult to admit that we need help.
However, the following psychological conditions are serious medical issues that, in many cases, can also cause debilitating physical problems. They should never be ignored.
Depression
After being injured in a car accident, it is not uncommon for accident victims to become depressed. You may not be able to work or stay as active as you like to be. This can affect your sleep, your weight, and your overall enjoyment of life. As a result, you may start to feel lost or hopeless.
Anxiety
After an injury, you may also be facing financial uncertainty from your medical treatment and lost wages. Your physical well-being might be uncertain and you may be unsure if you will be able to recover compensation for your losses.
These issues can result in persistent feelings of anxiety. In some cases, you may also feel stressed or anxious due to intrusive thoughts and memories of the accident.
Changes in Behavior
The brain is an extraordinarily complex organ. When it is damaged due to a traumatic brain injury, it can alter the way your brain functions, leading to changes in your behavior or personality.
You may find yourself getting angry for no reason or experiencing increased levels of frustration. Again, the important thing is to recognize these issues and begin working with a physician who can diagnose and treat you.
Sleep Disturbances
Sleep is one of the most important things for maintaining our physical and mental well-being. When issues such as anxiety, depression, or a brain injury make it difficult to sleep, it can adversely impact your recovery after the accident as well as your long-term health.
Phobias
Some car accident victims develop a fear of driving, referred to as vehophobia. This phobia can make life challenging, especially if you drive for a living or if you have to commute to work on a daily basis. In some cases, fear of driving requires a career change which could affect your long-term earning potential.
Post-Traumatic Stress Disorder
Vehophobia is just one type of post-traumatic stress disorder (PTSD) that car accident victims may experience. PTSD can also lead to nightmares, self-isolating behavior, and serious physical and emotional reactions including disturbing memories or flashbacks.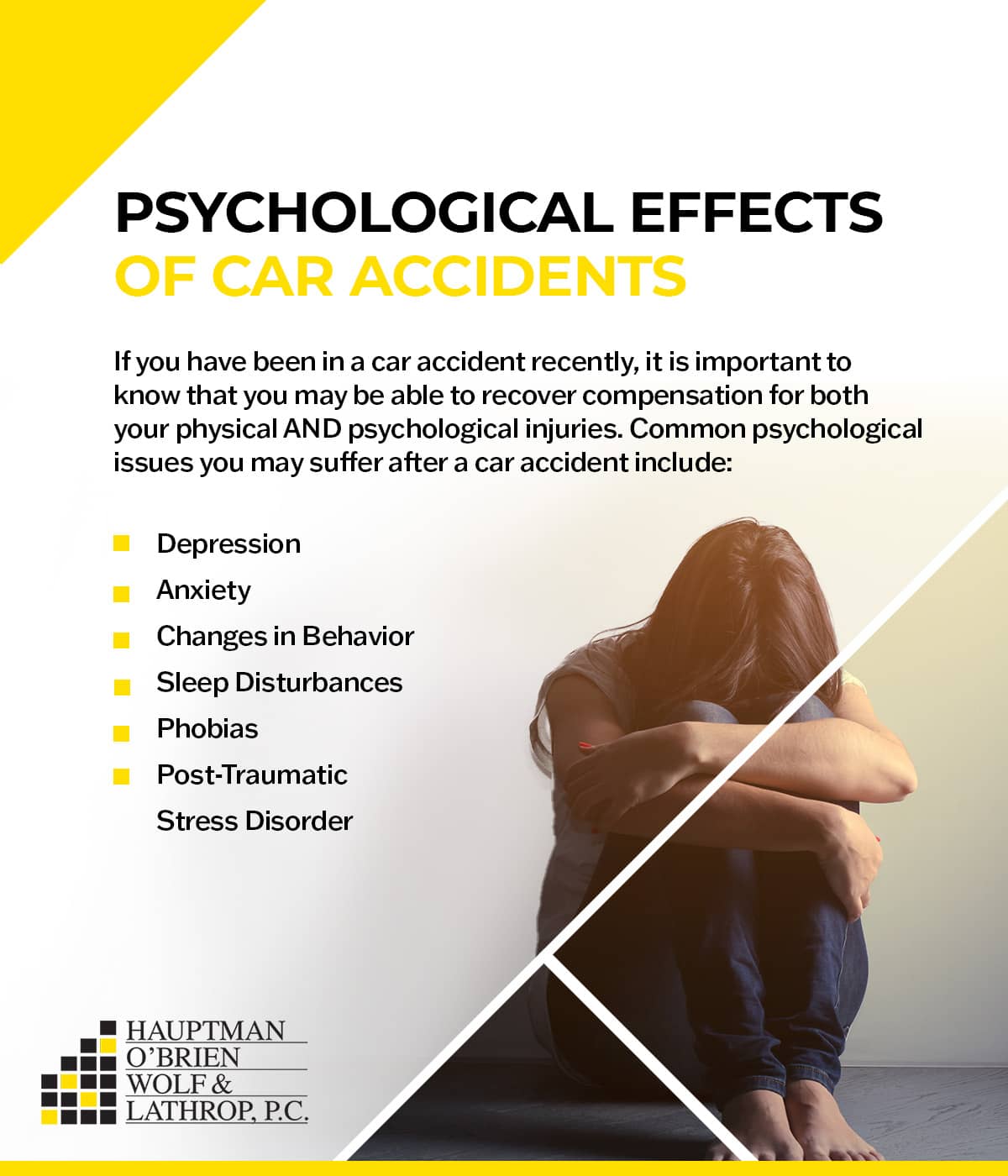 What Compensation Can I Recover for Mental Health Issues After an Accident?
The amount of compensation you can recover for mental health issues – referred to as pain and suffering damages – is not always clear. Unlike economic damages, there is not always a calculable financial cost associated with pain and suffering.
That said, there are various common methods for calculating these damages. These include the multiples method, where your economic damages are multiplied by a number between 1 and 5 depending on the severity of your damages, and the Per Diem Method, where a daily amount is calculated and multiplied by the days required for recovery.
Although these methods are commonly used by insurance companies, the compensation you pursue in your car accident claim should be unique to you. An experienced lawyer can assess the evidence in your case and consult with experts to determine how much you may be entitled to for pain and suffering and other damages.
Contact a Car Accident Attorney Today
When struggling with the psychological trauma caused by a car accident, it is important to know that you are not alone. Throughout our years of working with car accident victims, the team at Hauptman, O'Brien, Wolf & Lathrop understands the difficulties you are facing.
Our attorneys have more than 233 years of combined experience representing clients in car accident claims. With a long track record of success and an aggressive approach, we can help you fight for the compensation you need and deserve so you can focus on your health and well-being.
Please call (402) 241-5020 today for a free consultation. The car accident attorneys at Hauptman, O'Brien, Wolf & Lathrop serve clients in Omaha, Sarpy County, and throughout Nebraska and Iowa.