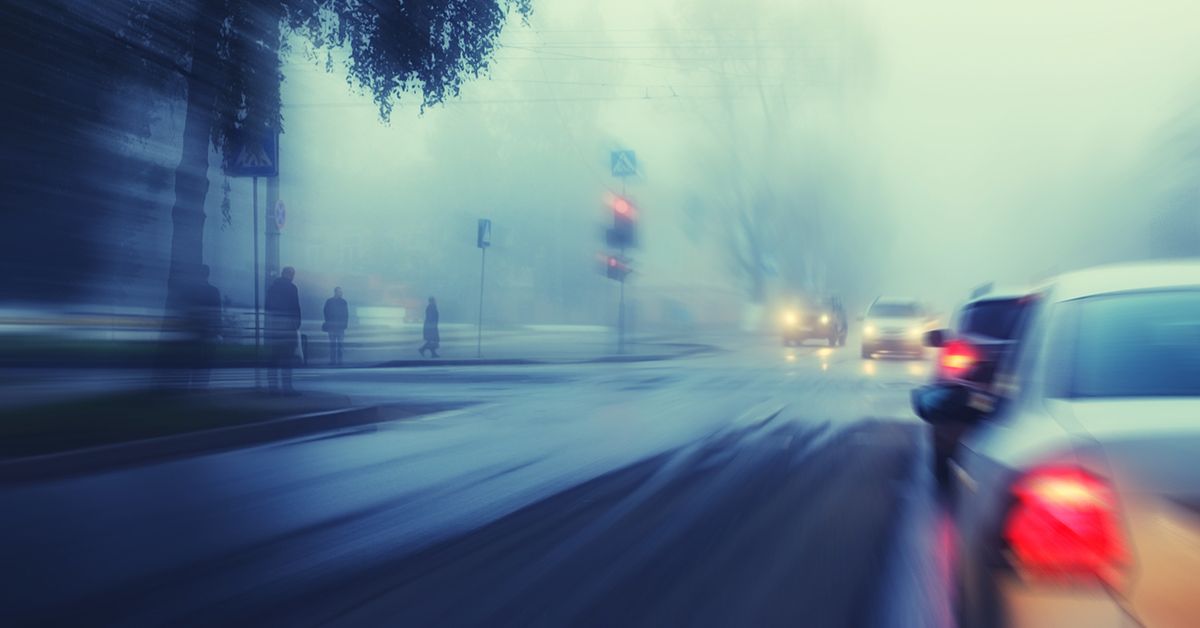 Do you know what you're up against each time you hit the road in Omaha and the cities beyond? In today's article, we're sizing up our state with an in-depth look at the latest car accident statistics in Nebraska.
Each of the facts and figures to follow comes directly from the state itself (specifically, the Highway Safety/Accident Records Section of the Nebraska Department of Transportation) and are current as of 2017, the most recent year on record. (The data for 2018 will be made available at a later date in 2019.)
So just how common are car accidents in the place you call home? How do they happen, when, where, and to whom? How can you protect yourself? These insights and more below:
General Car Accident Statistics in Nebraska
Before we delve into the specific types and causes of collision, a broad overview of the state as a whole:
There are 2,503,163 registered vehicles in Nebraska, and 1,450,479 licensed drivers.
In 2017, some 57,995 drivers (and 64,151 vehicles) were involved in a grand total of 34,999 crashes.
One crash occurred every 15 minutes.
49 people were injured each day.
One person was killed in a car crash every 40 hours statewide.
In total, there were 210 fatal crashes in Nebraska during 2017. That's 16 more deaths than were recorded the previous year.
The fatality rate for 2017 came to 1.09 persons killed per 100 million vehicle miles traveled (a slight increase over 2016's rate of 1.05). The long-term trend, however, is downward.
In 12,278 of the state's car accidents, someone suffered an injury. That's 35.1% of all Nebraska car crashes in 2017. (1,228 of those — in other words, 3.5% — involved serious injuries.)
The economic loss of all Nebraska car crashes in 2017 added up to a whopping $2,281,208,920.
Types of Accident
Motor vehicle incidents take many forms. Here's how the car accident statistics in Nebraska break down by type:
65% of the state's collisions were between two motor vehicles. However, these crashes accounted for a smaller portion of overall traffic deaths: 39.5% (still a significant percentage).
11.8% of crashes were between a vehicle and a fixed object (accounting for 22.4% of traffic deaths).
8% were between a moving vehicle and a parked vehicle (no deaths recorded).
7.3% were between a vehicle and an animal (accounting for 1.4% of deaths).
4.1% involved an overturned car but no collision (accounting for an astounding 21.9% of deaths).
Only 1.1% involved a motor vehicle striking a pedestrian. However, these accidents were responsible for 9% of the state's traffic deaths — a testament to just how serious pedestrian accidents tend to be.
0.7% involved a motor vehicle striking a bicyclist (no deaths recorded, perhaps surprisingly).
0.7% of accidents (and 1% of deaths) were recorded as "Other."
Railroad accidents also accounted for 1% of the state's vehicular deaths.
Finally, in its 2017 report, the NE DOT noted, "Many of our rural fatalities are the result of Roadway Departure crashes," which include running off the road, rolling over, and colliding with fixed objects (e.g. trees, guardrails, poles, etc.).
Seat Belts
It's a well-known fact by now that seat belts save lives. To that end, there is some good news for Nebraskans — but some sad news to go along with it:
Over 80% of Nebraskans wear seat belts.
However, 7 out of 10 vehicle occupants killed in car crashes during 2017 were not wearing seat belts.
In other words, even though most people are wearing seat belts these days, there are still a lot of people dying because they don't.
Drunk Driving & Car Accident Statistics in Nebraska
As with seat belts, most drivers understand by now that driving under the influence of alcohol is wildly dangerous, not to mention illegal. Nevertheless, this reckless habit persists.
Nearly 20% of drivers involved in fatal crashes during 2017 had been drinking prior to the crash. That number is down over the long term, but it is still a frighteningly high percentage.
In crashes with some property damage but zero injuries, alcohol was involved just 3.8% of the time. When an injury was involved, alcohol was a factor 6.1% of the time. When someone died in an accident, alcohol was a factor 30% of the time.
Drivers aged 21 to 34 are the most likely be involved in an alcohol-related accident. "In fact," the NE DOT notes, "these drivers are in 51.1% of alcohol involved crashes."
Drivers between the ages of 15 and 20 are in 11% of alcohol-related crashes in NE. This is in spite of the fact that the legal drinking age in our state is 21.
Type of Road / Surface Conditions
Many people might assume that an Interstate in a rain storm is just about the most dangerous place you could be. But the car accident statistics in Nebraska tell a different story:
While wet, slippery, snowy, or ice-covered roads are generally more dangerous for drivers (that's true anywhere, not just in Nebraska), the overwhelming majority of auto accidents (80.8%) and fatal crashes (87.4%) in our state happen on dry roads.
Nebraska's Interstates are home to just 6.8% of the state's crashes and 9.5% of its fatalities.
Local roads, meanwhile, account for 63.2% of crashes and 43.8% of deaths. (Other state roads account for 30% of crashes and 46.7% of deaths.)
Time of Day and Week
While you can't always control when you're on the road, we do urge drivers to think twice before taking discretionary trips during rush hour or other peak collision times. Consider the following:
The most dangerous time of day for driving in Nebraska — in terms of likelihood of collision — is between 3:00 and 6:00 p.m. (when 25.4% of all crashes occurred during 2017).
51.4% of all traffic deaths occurred between noon and 9:00 p.m.
Even though there are fewer crashes on the weekends, the likelihood of death is highest on weekends (perhaps suggesting a correlation between recreational driving and fatal crashes).
Age and Gender Car Accident Statistics in Nebraska
Stubborn stereotypes about gender and driving have persisted for years. The traffic data, however, poses a challenge to old notions on either side:
Males represented 55.1% of the drivers in all Nebraska crashes in 2017.
Males were involved in 72.7% of all fatal crashes in Nebraska during 2017.
In 2017, drivers aged 16 to 20 made up less than 8% of the registered drivers in Nebraska, but they were involved in 16% of the state's crashes.
While men may be driving in a disproportionate number of the accidents, it is women who are more likely to come away injured or killed. Females accounted for 54.6% of the people injured or killed in Nebraska crashes in 2017.
Most Common Causes of Accident
We mentioned earlier that there were a total of 57,995 drivers involved in Nebraska motor vehicle traffic crashes during 2017. Curious as to what caused those crashes? So were we. Fortunately, the state DOT had answers. The chart below breaks down those incidents by the driver's contributing circumstances.
| Driver Contributing Circumstances | Total | Fatal | Injury | PDO (Property Damage Only) |
| --- | --- | --- | --- | --- |
| Failure to yield right-of-way | 5,791 | 26 | 2,472 | 3,293 |
| Following too closely | 4,733 | 0 | 1,939 | 2,794 |
| Not paying attention | 3,846 | 14 | 1,213 | 2,619 |
| Operating in an erratic manner | 2,511 | 27 | 1,106 | 1,378 |
| Leaving lane / running off the road | 1,911 | 30 | 682 | 1,199 |
| Disregarded traffic controls (e.g. stop lights) | 1,859 | 8 | 939 | 912 |
| Other improper action | 1,545 | 16 | 570 | 959 |
| Other types of distracted driving | 696 | 5 | 266 | 425 |
| Improper turn | 566 | 0 | 150 | 416 |
| Swerving or avoiding | 553 | 5 | 211 | 337 |
| Obstructed visibility | 338 | 2 | 111 | 225 |
| Drowsy driving / asleep at the wheel | 321 | 1 | 126 | 194 |
| Defective equipment | 191 | 0 | 63 | 128 |
| Mobile phone distraction | 157 | 0 | 67 | 90 |
| Speeding | 136 | 10 | 76 | 50 |
| No improper driving | 28,152 | 110 | 10,788 | 17,254 |
| Unknown | 3,352 | 51 | 1,087 | 2,214 |
| TOTALS | 57,995 | 312 | 22,289 | 35,394 |
In evaluating these numbers, it must be noted that many accidents involve multiple forms of driver negligence. For example, a driver may fail to yield the right-of-way while also driving at an excessive speed. Additionally, many safety experts believe that traffic accident reports vastly underestimate the role of smart phones, cell phones, and other mobile devices in traffic accidents (as there is not always clear proof of driver distraction after the fact).
Omaha & Douglas County: Our Local Auto Accident Statistics
Finally, we offer a few statistics from the state's report that are specific to the place we call home: Omaha, NE. As Omaha auto accident attorneys, we know all too well just how serious the car crash problem is in the metro area.
Douglas County (home to Omaha) had the highest number of traffic fatalities in 2017: a total of 43. (Lancaster County ranked at #2 with 18 fatalities.)
In total, Douglas County saw 11,993 car crashes, with 6,128 people injured and 43 people killed.
Schedule a Free Case Review with an Omaha Auto Accident Attorney Today
If you're alarmed by the latest car accident statistics in Nebraska, you aren't alone. You might even be among the unfortunate many who've recently been injured in one of these terrible accidents. If so, we'd like to help.
At Hauptman, O'Brien, Wolf & Lathrop, P.C., our goal is always to get our clients the largest amount of financial compensation available. We are a Nebraska personal injury law firm with years of experience and a record of getting injury victims the compensation they deserve in the majority of our cases.