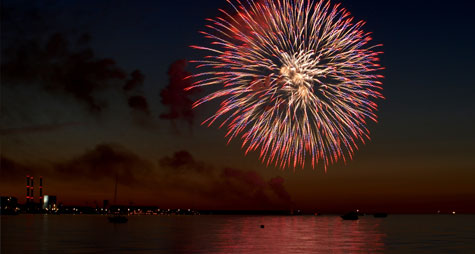 Fireworks can be fun for celebrating. They are colorful, loud, and darn festive! But they can be dangerous as well if you don't follow some simple rules:
Make sure fireworks are legal in your area and only use approved types.
Never allow young children to ignite or play with fireworks INCLUDING sparklers. They can burn at temperatures of 2,000 degrees – similar to a blow torch – and handing a blow torch to a child is never a good idea. So, keep the pyrotechnics to the adults.
Avoid fireworks wrapped in brown paper as they may be intended only for professional displays and operated only by trained professionals.
Keep a garden hose or bucket of water close by in case of accidents.
Never drink and ignite. Keep a designated firecracker operator.
Only light fireworks one at a time.
Back up to a safe distance immediately after lighting the device.
Never re-light or pick up fireworks that did not ignite fully.
Never carry fireworks in your pocket.
Douse the used fireworks before discarding to insure you do not cause a secondary fire in your garbage can.
Thousands of people are injured by fireworks every year. By following these rules and using common sense, you can have a great time and keep everyone safe!