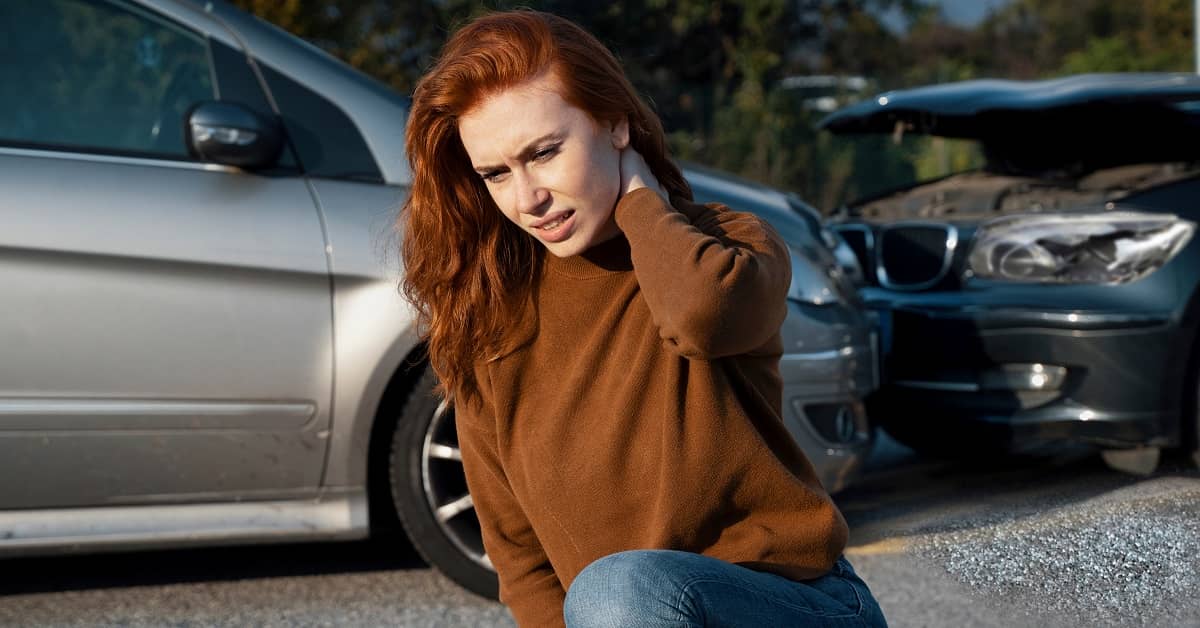 In car accident cases, some damages – that is, what you can recover in compensation – are easier to calculate than others. Economic damages tend to be the most straightforward. These damages include medical bills, lost wages, and loss of earning capacity.
The most difficult type of damages to calculate, on the other hand, are non-economic damages, sometimes known more generally as "pain and suffering." It is hard to put a dollar amount on the pain and suffering one experiences due to the negligence of another, even as the right to compensation for pain and suffering is clear and justifiable.
If you have been injured in a car accident, an experienced lawyer can pursue full compensation for your losses. Contact a car accident attorney at Hauptman, O'Brien, Wolf & Lathrop for a free consultation.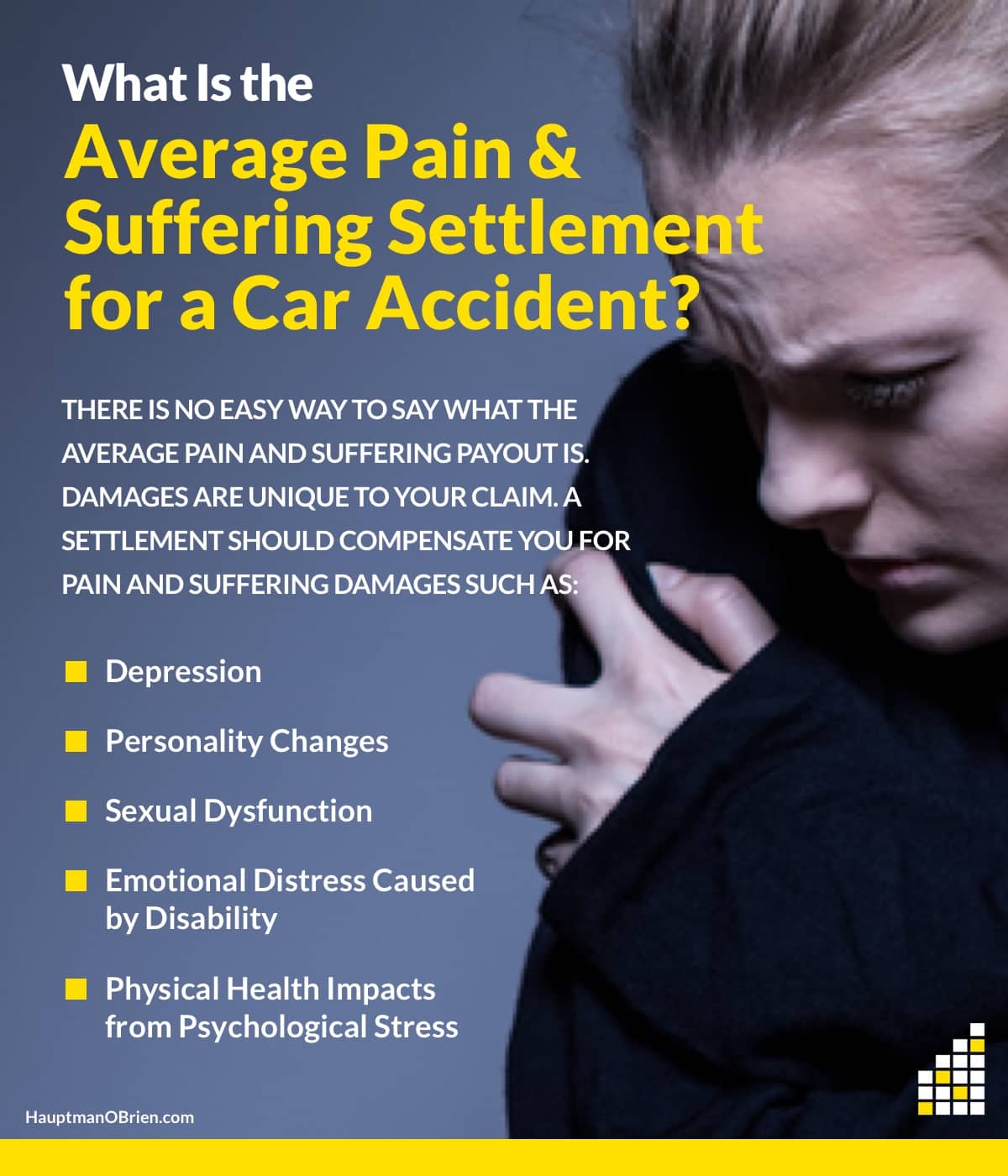 What Is Included in Pain and Suffering Damages?
The injuries in a car accident can have a significant financial impact. Both the current financial losses you experience – such as medical bills and lost wages – and the future losses – including loss of earning capacity, the cost of ongoing therapy, etc. – can prove overwhelming.
However, many of the adverse effects of serious injury are non-financial in nature. The physical and emotional toll of an accident can have a lifelong impact, particularly in cases that result in long-term physical disability or mental distress.
Some of the types of pain and suffering car accident victims may endure include:
Depression
Personality changes
Sexual dysfunction
Emotional distress caused by disability
And much more
These psychological effects can also impact your physical well-being. Research shows that psychological stress can increase your risk for conditions such as obesity and heart disease.
The damages you can recover for pain and suffering are distinct from any financial losses associated with treating the physical, emotional, and psychological consequences of an accident. Rather, non-economic damages compensate you for the loss of your enjoyment and quality of life.
Averages Can Be Deceptive
In truth, there is no easy way to answer the question of what the average pain and suffering payout is. And yet, even if there were, this number would be largely irrelevant to your unique situation.
It would be similar to asking what the average meal costs, or how much the average car repair will set you back. In either situation, an average would give you little information about how much you can expect to pay for a meal at a certain type of restaurant, or how much it would cost to fix a specific type of mechanical problem.
Damages Are Unique to Your Claim
Ultimately, it comes down to your particular circumstances. In very serious accidents, where you endure severe injuries that lead to long-term impairments or disabilities, pain and suffering damages are likely to be high. On the other hand, if your injuries are treatable and you are able to make a full recovery, the compensation you recover for pain and suffering will reflect this.
Insurance companies have specific formulas for calculating how to compensate victims for pain and suffering damages. An experienced car accident has a good understanding of how adjusters calculate payouts for pain and suffering, which is yet another reason why consulting Hauptman, O'Brien, Wolf & Lathrop can make such a difference for your case.
How a Lawyer Can Seek to Maximize Your Payout
Something car accident victims don't always realize is that their case may never go to court. The first step is always filing a claim with the other driver's insurance company.
The insurer for the at-fault driver may offer you a settlement. In most cases, this initial settlement offer does not fairly compensate you for your losses, particularly pain and suffering and other non-economic damages. Insurance companies tend to make "low-ball" offers in the hope that unsuspecting accident victims will simply accept. In truth, too many do.
However, the correct course of action is to treat this as a negotiation. An attorney will understand how an insurance company is attempting to calculate damages and negotiate for more on your behalf.
This is why it's so important to work with a lawyer who is willing to take your case to court if necessary. If an insurance company doesn't believe you or your attorney is willing to go to trial, the insurer is less likely to provide a fair settlement offer.
Of course, even when insurance companies recognize your attorney's willingness to go to court, they may still refuse to offer a fair settlement. In this case, you and your lawyer may need to go to trial to pursue the compensation you deserve.
Find Out What Your Car Accident Case Is Worth
The most practical way to get a good sense of what your car accident claim may be worth, including pain and suffering damages, is to speak with an attorney. Without knowing the nature and extent of your injuries and the circumstances of the accident, it is impossible for your lawyer to provide a reliable estimate of the damages in your case.
Please call Hauptman, O'Brien, Wolf & Lathrop at (402) 241-5020 today for a free consultation. Our car accident attorneys serve clients in Omaha, Sarpy County, and all of Nebraska and nearby Iowa.