On This Page (Quick Links):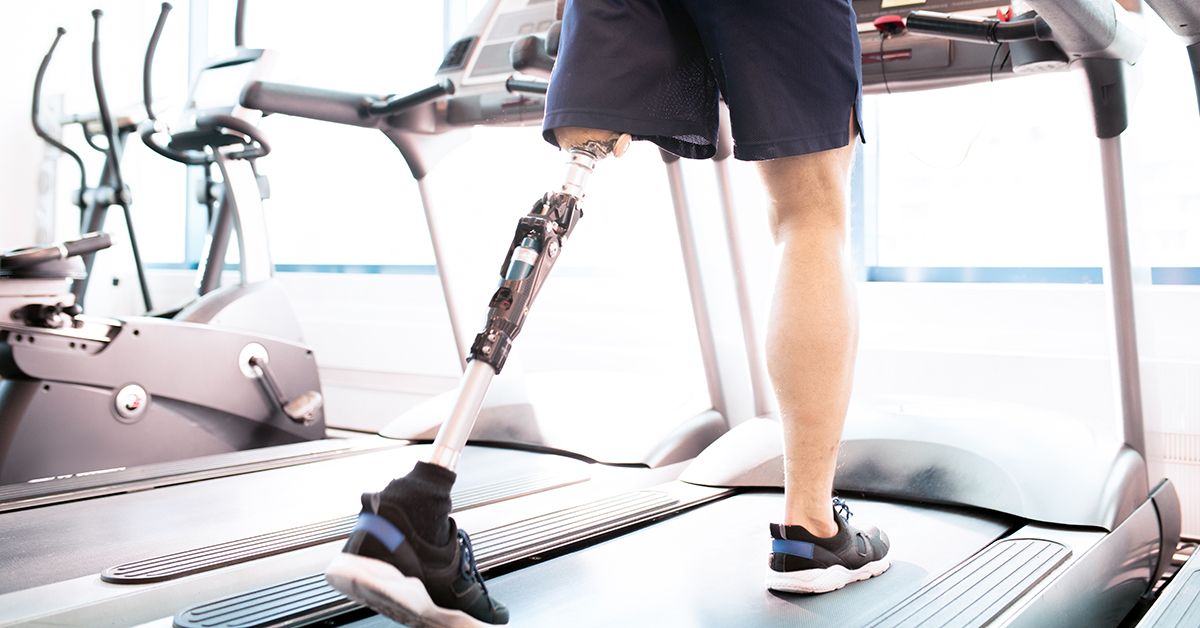 Dedicated Long-Term Disability Attorneys Here to Help You
Disability insurance can be extremely helpful to you if you are suffering from an illness or injury and have large financial liabilities as a result. An experienced Omaha disability lawyer can help.
Unfortunately, for many years, the unfair practices employed by long-term disability insurance companies have led claimants and policyholders to believe they do not have rights. But the opposite is true. Under the terms of most long-term disability insurance policies, individuals with long-term disability claims have a multitude of rights and protections.
At Hauptman, O'Brien, Wolf & Lathrop, we not only fight aggressively to protect your rights to receive benefits, we actively prosecute bad faith denials and wrongful terminations of long-term disability claims—both of which are, sadly, all too common.
Why You Need a Long-Term Disability Lawyer After a Denial
You purchased long-term disability protection, and you have paid the premiums for years. Now, if you are seriously injured or ill, it is time for your insurance company to live up to its end of the bargain. Your carrier may not pay unless you realize you have been missing out on the benefits that are rightfully due to you and take action. Get an experienced, aggressive long-term disability attorney from Hauptman, O'Brien, Wolf & Lathrop working for you.
Whether making your initial claim for disability benefits, appealing your denial of benefits, or filing a lawsuit to obtain benefits, our knowledgeable long-term disability attorneys are on your side. We offer aggressive representation while providing significant advantages in negotiating when resolving benefit disputes.
Long-term disability companies do not always handle cases with fairness. It is because of this that having an experienced long-term disability lawyer on your side is very important. Contact the personal injury lawyers at Hauptman, O'Brien, Wolf & Lathrop if you have been denied long-term disability benefits so we can help you fight for what is rightfully yours.
Our long-term disability lawyers will assist you in the following areas of your long-term disability case:
Preparing Your File
Our attorneys will make sure that your file has all relevant medical information and will work with your physicians to gather reputable opinions about your work-related limitations. Our attorneys will know the right questions to ask your doctors, rather than having to rely on the paperwork that is provided by your insurance company. This alone is one of our most valuable contributions to your case.
Hiring Experts
Depending on the circumstances of your case, we may hire a vocational expert to testify about the specifics of your profession. It is a bad idea to rely on the testimonies of independent vocational experts who are hired by your long-term disability insurance carrier.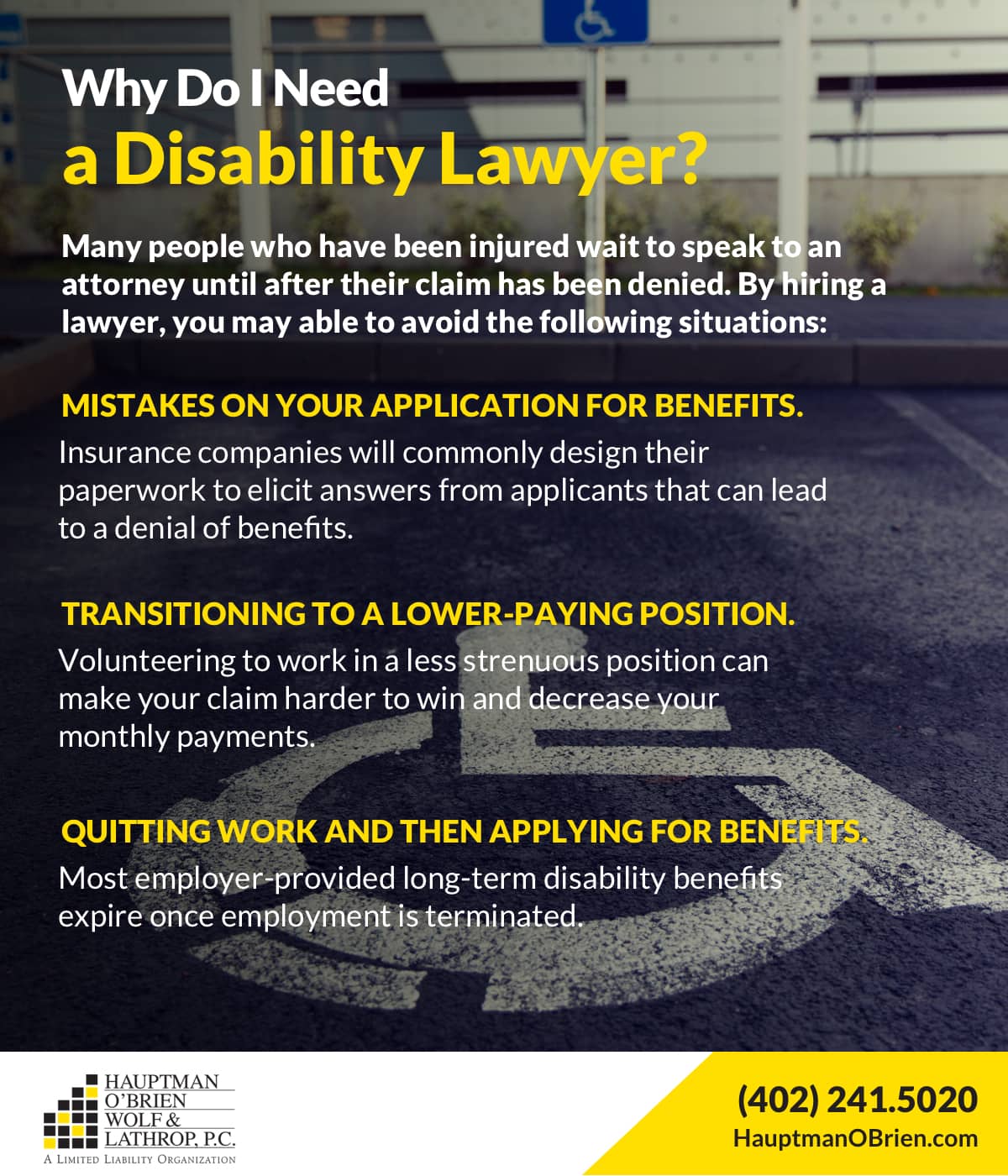 Our Long-Term Disability Lawyers Will Be Your Advocate
In addition to the work we will do to obtain persuasive evidence of your disability, we will also interact with your long-term disability insurer on your behalf. We will also file your initial application and your appeals in a timely fashion, conduct settlement negotiations and if need be, handle your lawsuit in court.
When Should I Hire a Long-Term Disability Attorney?
We believe that it is never too early to consider hiring a long-term disability lawyer. As soon as you are unable to work, contact the long-term disability lawyers at Hauptman, O'Brien, Wolf & Lathrop to discuss your case. We offer free, no-obligation initial case evaluations over the phone or in person.
Many people who have been injured wait to speak to an attorney until after their claim has been denied. We encourage you to consider hiring a lawyer to help you with the initial application. Some common mistakes we see made by unrepresented workers in long-term disability cases include:
Someone has quit work and then attempts to file for disability benefits. What many don't know is that most employer-provided long-term disability benefits expire once employment is terminated.
People who make good-faith transitions to lower-paying positions due to their impairments could potentially harm their long-term disability case. Working in a less strenuous position can make a claim harder to win and also decrease your future monthly payments.
People often make mistakes on their application for benefits. Insurance companies will commonly design their paperwork to elicit answers from applicants that can lead to a denial of benefits. Our disability attorneys will be able to make you aware of these tricks and help you avoid falling victim to them.
If you have filed for your initial long-term disability application and have been denied, we encourage you to contact us right away. We can help you with your administrative appeals and work to ensure you do not lose the benefits that you deserve.
Why You Should Hire a Long-Term Disability Lawyer Before You File a Claim
In some cases, it might make sense for you to consult with one of our experienced long-term disability lawyers before you file for benefits or get denied for long-term disability. There are a few reasons for this. At the beginning of a long-term disability claim, the insurance company may ask you to submit certain information that it will use against you later in your claim.
They may also attempt to have you sign releases for specific information (such as credit information) that will later aid in its investigation against you. Most applicants for long-term disability benefits will unknowingly comply with every request that the insurance company makes. Long-term disability insurance companies often take advantage of the fact that many of their customers don't know their rules and procedures. Having one of our long-term disability lawyers by your side the entire time working in your best interest will allow you to keep this from happening to you.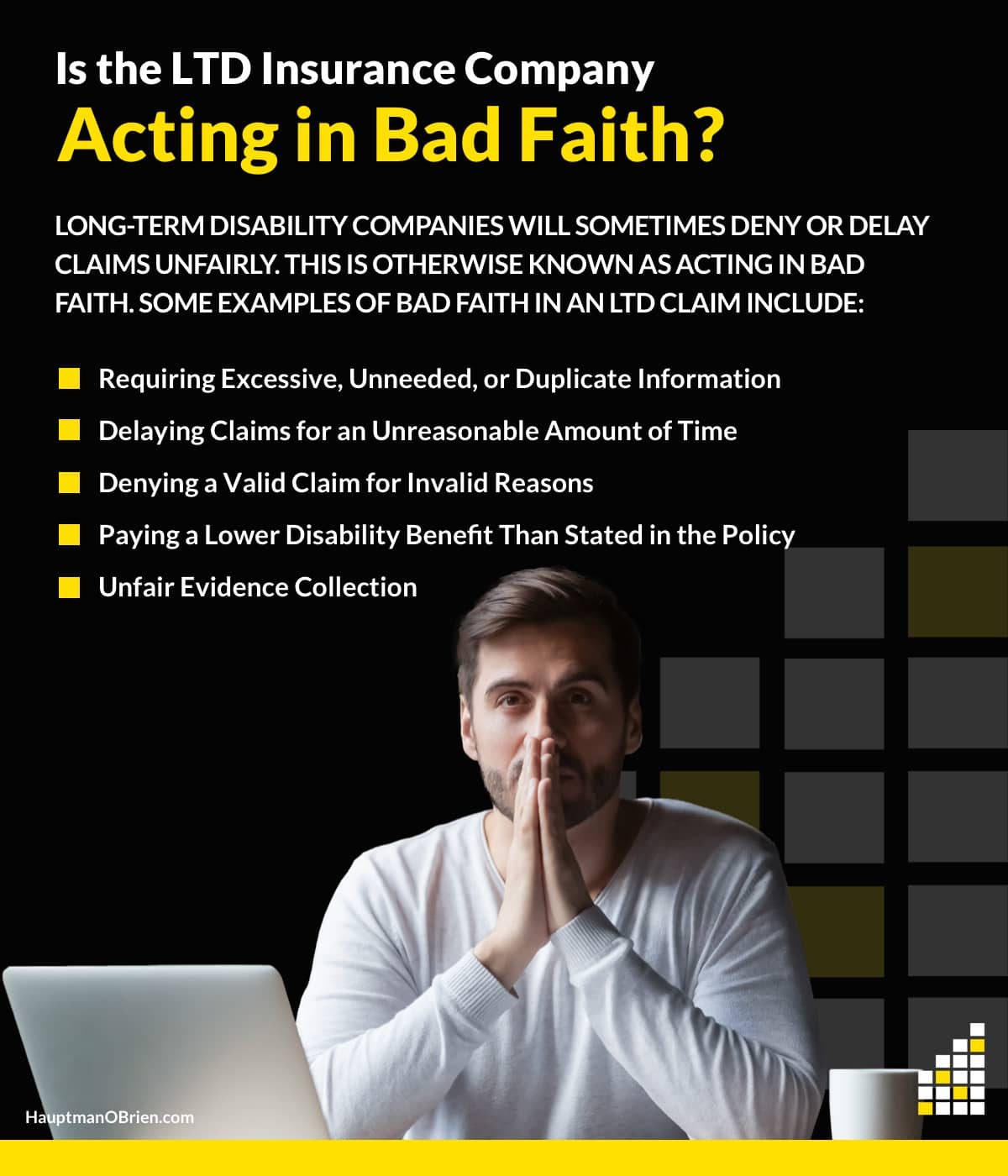 What is Bad Faith in Long-Term Disability Claims?
Long-term disability companies will sometimes deny or delay your claim unfairly. This is otherwise known as acting in bad faith. Some examples of bad faith in a long-term disability claim include:
Requiring excessive, unneeded, or duplicate information
Delaying one's claim for an unreasonable amount of time
Denying a valid claim for benefits for invalid reasons or paying lower disability benefit than as stated in the policy
Unfair Evidence Collection
Some long-term disability companies will unfairly "spy" on people applying for benefits. In some cases, investigators for insurance companies have been known to follow claimants and take videos of their activities. This visual evidence is then used against the claimant to justify the denial of disability benefits.
Experienced Long-Term Disability Lawyer in Omaha
We are proactive in long-term disability cases. Our experience in recognizing issues before they become problems has helped guide many claimants through this difficult process, at a time in their lives when they most need the benefits of the protections they purchased.
For your convenience, we offer home, hospital, and nursing home visits. Our team of injury attorneys at Hauptman, O'Brien, Wolf & Lathrop will provide you with the experience, strategy, and commitment that protect your rights and claims.
Frequently Asked Questions About Long-Term Disability
How Does Long-Term Disability Work?
A study by the Social Security Administration found that 25% of working-age people will become disabled prior to retirement. Whether due to an injury or illness, disability presents serious financial challenges. Disabled individuals may be unable to work full-time, face limitations that make it difficult or impossible to perform their job duties, or be unable to work in any capacity.
Long-term disability insurance (also called LTD insurance) provides partial income replacement if you are unable to work as a result of a disability. Unlike short-term disability coverage, which typically lasts for just a few months, long-term disability policies provide coverage anywhere from 2 years to 10 years. In some cases, benefits may even be paid until you reach the age of retirement.
Most people who have access to LTD insurance are covered through a policy held by their employer. Long-term disability is entirely separate from workers' compensation, which is a different type of insurance that applies solely to job-related injuries and illnesses.
What Would Qualify as Long-Term Disability?
To qualify for LTD benefits, you must first meet the definition of "disability." All insurers define disability differently. Generally, however, you are considered to be disabled if an illness or injury prevents you from working for an amount of time defined by the policy (which could be anywhere from 90 days to 1 year).
Eligibility for long-term disability insurance coverage could rest on one of two different definitions of disability as it concerns your ability to work:
Own occupation disability: Are you able to perform the essential functions of the job you had before the disability?
Any occupation disability: The disability may prevent you from working in your current job, but does the condition prevent you from other work?
Qualifying for "own occupation" disability is typically easier because you only have to prove that the condition inhibits you from the actions that make up your job day to day (this may include everything from lifting and bending to sitting for long periods of time).
LTD insurance policies with an "any occupation" definition can be more difficult to satisfy. You will need to prove that the disability prevents you from doing any type of work that is (a) appropriate given your education, training, etc. and (b) compensates you at a rate commensurate to your current job.
What Is the Most Common Cause of Long-Term Disability?
Research by the Integrated Benefits Institute found that diseases of the musculoskeletal system and connective tissue account for approximately 27% of new LTD claims – more than any other type of condition. Diseases of the musculoskeletal system and connective tissue can take a host of different forms, including:
Arthritis
Carpal tunnel syndrome
Rotator cuff tears
Tendonitis
Bursitis
Sciatica
Osteoporosis
Spinal stenosis
Plantar fasciitis
Fibromyalgia
Muscular dystrophy
Many other health conditions and injuries can also qualify a person for long-term disability. You may be entitled to LTD benefits if you are unable to work as a result of the following:
Cancer
Diseases affecting specific organs and bodily systems, such as:

Neurological disorders such as Alzheimer's, epilepsy, Parkinson's disease, etc.
Heart disease
Diseases of the lungs and respiratory system, such as asthma, COPD, emphysema, etc.
Kidney disease and failure
Crohn's disease, diverticulitis, and other chronic disorders of the digestive system
Diseases of the endocrine system (such as the thyroid, adrenal glands, etc.)
Chronic skin disorders

Diabetes
Stroke
Degenerative diseases such as ALS, multiple sclerosis, etc.
Autoimmune disorders
Chronic pain
Vision loss or blindness
Hearing loss or deafness
Catastrophic injuries, including:
Mental health conditions
In order to qualify for long-term disability, your condition must be thoroughly documented. Complete medical records are essential when you file a claim, as well as if your benefits change.
Our long-term disability lawyers can help if your LTD claim is denied or the insurer reduces or terminates your benefits. We review your medical records and other paperwork closely and consult with doctors involved in your treatment so we can represent you effectively.
Is Long-Term Disability Worth Getting?
The vast majority of people do not have the financial resources to go months or years without a paycheck. If you get sick or suffer an injury that renders you unable to work, long-term disability insurance acts as a kind of safety net for your earnings.
Employers that offer LTD insurance might pay some or all of the cost as part of a group policy. You might even be automatically enrolled after a certain amount of time with the company. Even if you have to pay for coverage in whole or in part, it is generally worthwhile to be insured for long-term disability.
The same applies if your employer does not provide LTD insurance, in which case you would have to purchase an individual long-term disability policy on your own. Ultimately, having LTD insurance protects you and your family if your ability to make a living is impacted by an accidental injury or an unexpected illness.
What Percentage Do You Get for Long-Term Disability?
Long-term disability insurance pays a percentage of the income you earned prior to disability. Coverage amounts vary by policy, but most LTD benefits pay anywhere from 50% to 80% of your monthly wages.
It is important to note that LTD insurance payments are subject to a monthly maximum amount. You should review the long-term disability policy to determine if your monthly income exceeds the limit and what that means for your benefits.
Another important consideration is how other benefits you may be entitled to could affect your long-term disability payments. For example, many disabled people qualify for both long-term disability and Social Security Disability Insurance (SSDI) benefits. If you receive benefits from LTD and SSDI, the LTD insurer will reduce payments based on how much you get each month from SSDI.
Similar principles apply if you qualify for workers' compensation as well as long-term disability. Any wage loss benefits you receive from workers' comp will offset your LTD payments.