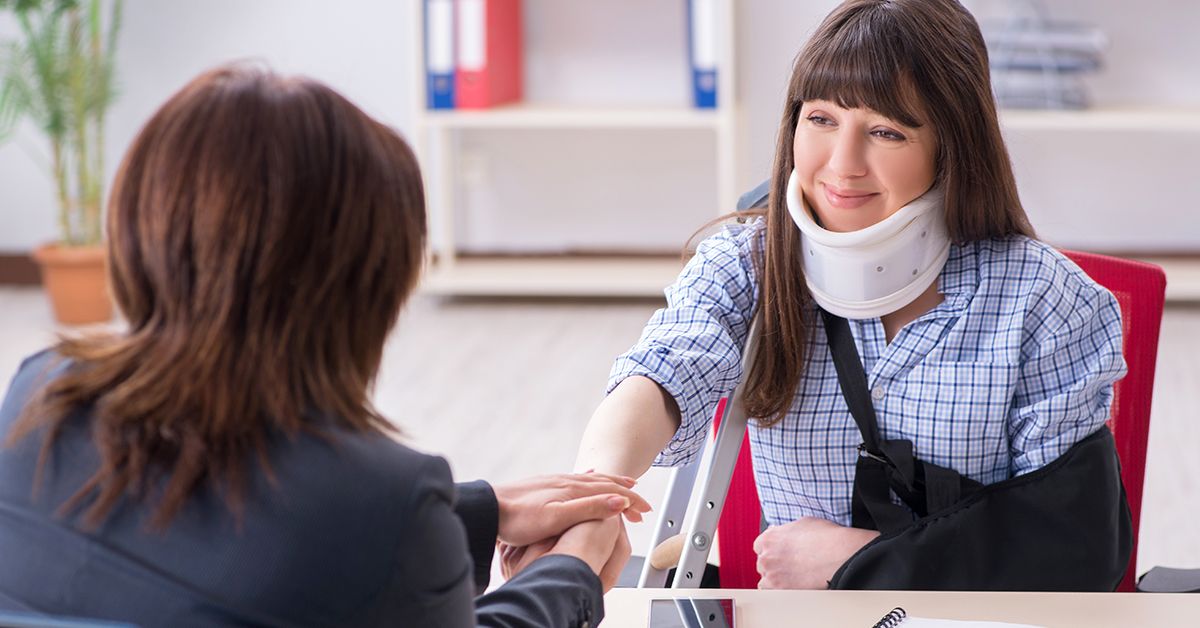 7 Reasons to Schedule a Free Personal Injury Consultation ASAP
The temptation of an insurance settlement is oh so real.
There it is, sitting in front of you — an offer for quick cash that you could put in your pocket right away(-ish).
That money would come in handy. You could use it to pay off some of your medical bills. …Make up for some of the time you've missed from work. …Get a little help around the house while you recover.
…The possibilities are endless, and all you have to do is pick up a pen and sign on the dotted line.
We're here to tell you that's not a good idea — or at least that you should call our office and talk with one of our experienced attorneys a little bit about your situation first.
You may be wondering, "Are you telling me to wait before accepting money I could have right now?" We know we better have a pretty good argument for you to justify turning down cash.
Well, as it happens, there are some extremely compelling reasons for pausing to think and to strategize before you accept an insurance settlement.
In fact, rushing into an insurance settlement offer is almost always a mistake, and those who do often end up with a lot less money than they deserved.
Below, we give you 7 really good reasons for talking to a lawyer before settling an injury claim.
1. The Insurance Company Is Working Against You; Your Lawyer Works for You.
Insurance companies would love for you to believe they have your back.
Their advertising campaigns swear that they're the most helpful, neighborly, helping-hand-lending, there-when-you-need-them corporations on the planet.
The problem with that idea is the word corporation. Insurance companies exist to make a profit, and they work for their shareholders, not for you.
Indeed, insurance companies earn profits by paying their policyholders as little money as they can possibly justify (and sometimes even less than that). They may train their adjusters to sound friendly, sympathetic, and fair, but the truth is that they are actively looking for ways to work against you.
They'll use your statements, your accident report, and any other available evidence against you. They might try to interpret the language in your policy in ways you never dreamed. And they'll make the whole claims process extremely frustrating… unless you accept their settlement offer. But those settlements are usually for a lot less money than you really deserve. The insurance company knows that. That's why they offer the settlement in the first place. They're hoping you'll be enticed by their quick cash offer and sign a release right away, letting them off the hook.
In other words, they're hoping they can buy you off.
Attorneys, on the other hand, have a sworn and binding legal duty to represent your best interests (and only your interests) from the moment you hire them. So while the insurer is working against you, your lawyer will be working for you.
2. Hiring a Personal Injury Lawyer Costs You Exactly $0 Out of Pocket
At Hauptman, O'Brien, Wolf & Lathrop, P.C., we represent personal injury victims on a contingency basis. That means you can hire us without paying anything up front or out of pocket. We don't bill you for our time.
Instead, if we get you money, our total fee will only be a percentage of your overall recovery.
If we don't get you money, you don't have to pay us a penny. Period.
We will even advance the costs of litigation on your behalf (court costs, filing fees, office expenses, witness costs when appropriate, etc.).
Bottom line: when you hire our Omaha personal injury law firm to represent your interests during the insurance claims process, you have nothing to lose.
3. Injury Victims Typically Get More Money When They Hire a Lawyer
Did you know?: a study by the Insurance Research Council (IRC) found that accident victims who hire a lawyer recover 3.5 times more money than those who do not.
At Hauptman, O'Brien, Wolf & Lathrop, P.C., our mission is to maximize our clients' compensation. We assess your claim during an initial consultation, and if we don't think we can get you more money than the insurance company is offering, we won't take your case. But you might be surprised by just how often effective legal representation results in a much larger financial recovery for injury victims like you.
4. You Can't Un-Accept an Insurance Settlement
Insurance settlement offers almost always come with a catch. To get the money, you'll have to agree never to claim more money for your accident or injury.
There are so many stories of people who accepted an insurance offer and later realized they should have gotten more money — sometimes because they've talked to a lawyer and learned about additional coverages they could have claimed, and sometimes because they've talked to a doctor and discovered their injuries were worse than they realized.
In most cases, unfortunately, an insurance settlement is forever. That's why it pays to talk to a lawyer before setting an injury claim.
5. You May Have Additional Sources of Compensation
Don't expect the insurance adjuster to tell you about all the ways you could recover more money. Remember: they don't work for you.
As Omaha personal injury attorneys, we are often able to identify multiple sources of compensation for our clients. These may include additional insurance policies, provisions, or coverages, as well as third-party sources of compensation. You should understand what these might be before you enter into a settlement agreement.
6. Pursuing a Claim On Your Own Is Extremely Frustrating (And Mistakes Are Easy to Make)
The entire insurance claims process is complex. Attorneys wouldn't spend so much time studying it if it weren't. There's a lot to know, and mistakes are easy to make for those who don't have extensive experience in negotiating claims and disputes.
You can rest assured that the insurance representatives know what they're doing (at least in terms of their strategies for paying you as little as possible). Insurers have countless attorneys at their disposal too.
Shouldn't you at least talk to a lawyer yourself before you take the insurance company's offer at face value? Hiring an attorney means handing the stress (and time consumption) of your claim over to an experienced professional.
7. You Can Talk to Our Personal Injury Lawyers Today (for Free) with No Obligation to Hire Us
Don't settle for less than you deserve. At the very least, call and talk to a lawyer about your situation before you make any decisions.
Hauptman, O'Brien, Wolf & Lathrop, P.C. is a Nebraska personal injury law firm with many years of experience and a long track record of getting injured Nebraskans the compensation they deserve.
We offer free consultations to injury victims in Nebraska. To get started, simply call our office at (402) 241-5020 or contact us online today.
We are proud to offer legal representation to auto accident and other injury victims throughout the states of Nebraska, Colorado, Iowa, Kansas, Missouri, South Dakota, and beyond. Remember: we do not charge a fee for our services unless and until you win. Call now.