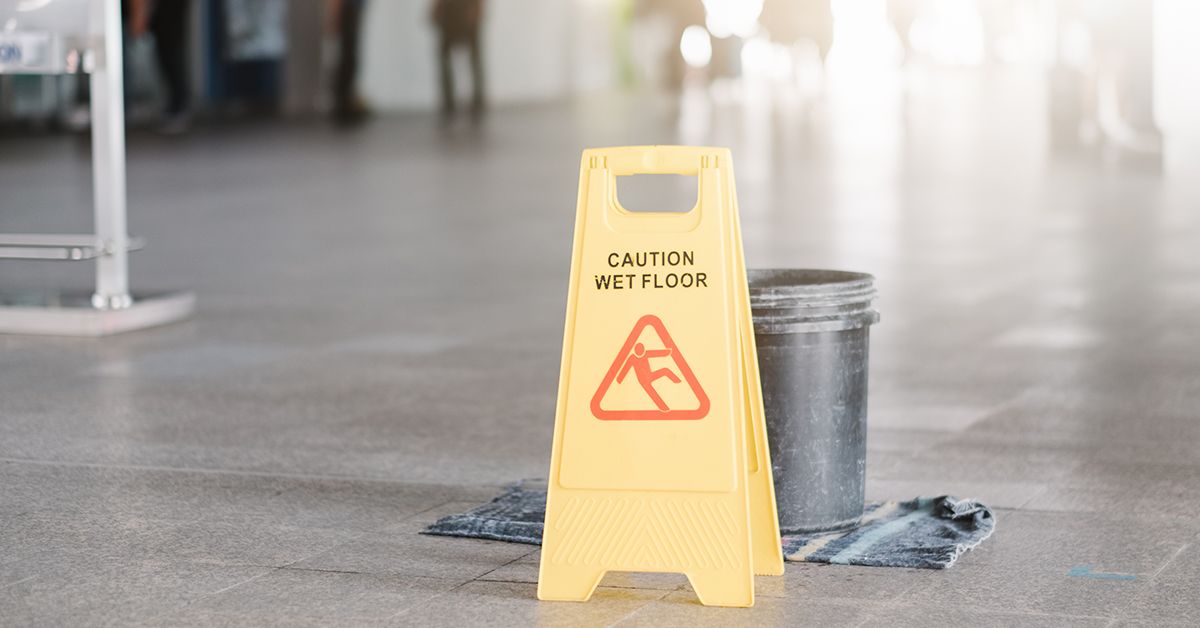 If you slip and fall while on someone else's property and suffer an injury as a result, you might have a claim for financial compensation under Nebraska personal injury law.
Who is responsible for covering your damages? What kind of compensation can you recover?
The answers to these questions depend on where the fall happens, how it happens, and how serious the injuries are.
Who Is at Fault for a Slip and Fall in Nebraska?
Property owners have a general duty to maintain reasonably safe premises. Among other things, they should regularly inspect the property to look for safety hazards.
If a hazard is present, the owner has a duty to take care of it in a timely manner — and to warn visitors of the danger in the meantime.
This duty generally applies not only to commercial property owners but also to private and residential property owners.
When the owner breaches this duty, they are considered to be legally negligent, and they are liable for the damages caused by their negligence.
The principal question in a Nebraska slip and fall case, then, is this: was the slip and fall injury caused by the property owner's negligence?
Here are some common examples of a property owner's negligence leading to a  dangerous slip and fall:
A spill on the floor of a grocery store that is left un-mopped and without a warning sign
Cords, ropes, wires, or random objects left in a walkway by facilities staff, creating a tripping hazard
Leaky roofs that are left unrepaired, causing puddles to accumulate in walkways or aisles
Sidewalks or flooring left in disrepair (e.g. broken, cracked, loose, uneven)
Stairs or railing maintained in a loose, broken, or unrepaired condition
These are only a few common examples. Slip and fall accidents can have many causes and may take many forms.
If you have slipped or tripped while on someone else's property, you should talk to an experienced Omaha premises liability lawyer as soon as possible to determine who may be liable for your injuries.
Common Slip and Fall Injuries
Slips are almost always embarrassing. In the best circumstances, the only injury is to the ego. But in many cases, people who slip and fall do get hurt — sometimes quite seriously.
Slip and fall injuries may include:
Broken hip, pelvis, or other ligaments
Cuts and bruises
Sprains, strains, and torn tendons or ligaments
Dislocated shoulder
Back injuries
Spinal cord injuries
Nerve damage
Knee damage
Traumatic brain injury (TBI), including concussion
Vision loss
Slip and Fall Accident Compensation: What Damages Can You Recover?
Under Nebraska personal injury law, a slip and fall victim may be able to recover compensation for:
Medical bills
Physical therapy & rehabilitation
Lost income due to time away from work
Pain and suffering
Emotional distress
Other losses related to the fall
The amount of slip and fall accident compensation available in any specific case will depend on the facts and circumstances surrounding the injury. An Omaha premises liability lawyer can help you better understand the particular damages that might be compensable in your situation.
What If the Government Is at Fault for Your Slip and Fall?
If you slip, trip, or fall on government-owned property, you may still be able to recover for your damages, but your claim may be subject to special procedural requirements, including a shorter time limit for filing your claim. Talk with an attorney to make sure you fully understand the relevant procedures.
What If You're Partly at Fault for Your Own Slip and Fall in Nebraska?
Let's paint a picture: you're walking through a shopping mall while furiously texting on your smartphone. Naturally, you assume the walkways are clear and safe to walk through. But truth be told, you aren't paying much attention.
Unbeknownst to you, another shopper spilled an entire venti-sized latte on the floor half an hour ago, and there's a giant puddle of melting ice ahead of you. The mall's managers have had time to find the spill and clean it up, but they failed to do so.
You slip on the ice while texting, fall, and hit your head on a kiosk counter on your way down. You suffer a severe concussion, serious soft tissue injuries, and a broken hip. The damages are profound.
Who is liable for paying your slip and fall accident compensation? On the one hand, you weren't being very careful because you were preoccupied with your phone. On the other hand, the mall has a responsibility to keep the walkways safe for its customers.
In situations like these, Nebraska follows a rule called modified comparative negligence. This means that a court will have to assign each party a percentage of fault. (If your case doesn't go to court, the two sides will have to negotiate a fair apportionment of fault in order to reach a settlement agreement.)
In the situation above, for example, we might say you were 20% at fault and the mall was 80% at fault. If your total damages were valued at $100,000, you'd be able to recover 80% of that amount ($80,0000).
As long as your percentage of fault doesn't reach 50% or beyond, you can still recover slip and fall accident compensation. (However, if you are deemed to have been at least 50% at fault, you will not be able to recover any compensation whatsoever.)
Elderly Adults, Children, and People with Disabilities Are Especially at Risk
There is a rule of law in Nebraska that says, "a defendant takes the plaintiff as they are." In other words, the courts in our state recognize that some accident victims are more vulnerable to serious injury than others, but the defendant is liable even so.
Some of the most seriously injured slip and fall victims are young children, senior citizens, and adults with disabilities.
If a property owner's negligence causes one of these people injury, or exacerbates an existing injury, the owner will be liable for the damages they caused — even if a different person might not have been as badly injured under the same circumstances.
In fact, Nebraska courts have even held that, in the event it becomes factually impossible to distinguish injuries caused by the defendant from injuries that were preexisting, the defendant must be held liable for all of the damages.
How an Experienced Omaha Premises Liability Lawyer Can Help
In most slip and fall cases, it is ultimately an insurance company that is liable for covering the victim's damages.
If the fall happens on public or commercial property, it is likely that the property owner's liability insurance policy will apply.
If the fall happens in a private residence, the homeowner's insurance policy will usually cover the injuries.
Unfortunately, insurance companies don't make it easy to pursue a claim for slip and fall accident compensation. An experienced Omaha premises liability lawyer can help you mount a strategic and compelling case, working to negotiate a full and fair settlement from the insurance carrier.
Schedule a Free Case Review with an Omaha Premises Liability Lawyer Today
At Hauptman, O'Brien, Wolf & Lathrop, P.C., our goal is always to get our clients the largest amount of financial compensation available. We are a Nebraska personal injury law firm with years of experience and a record of getting injury victims the compensation they deserve in the majority of our cases.
To schedule a free case review with an experienced Omaha premises liability attorney in our office, please contact Hauptman, O'Brien, Wolf & Lathrop, P.C. as soon as possible. We do not charge a fee for our services unless and until you win.