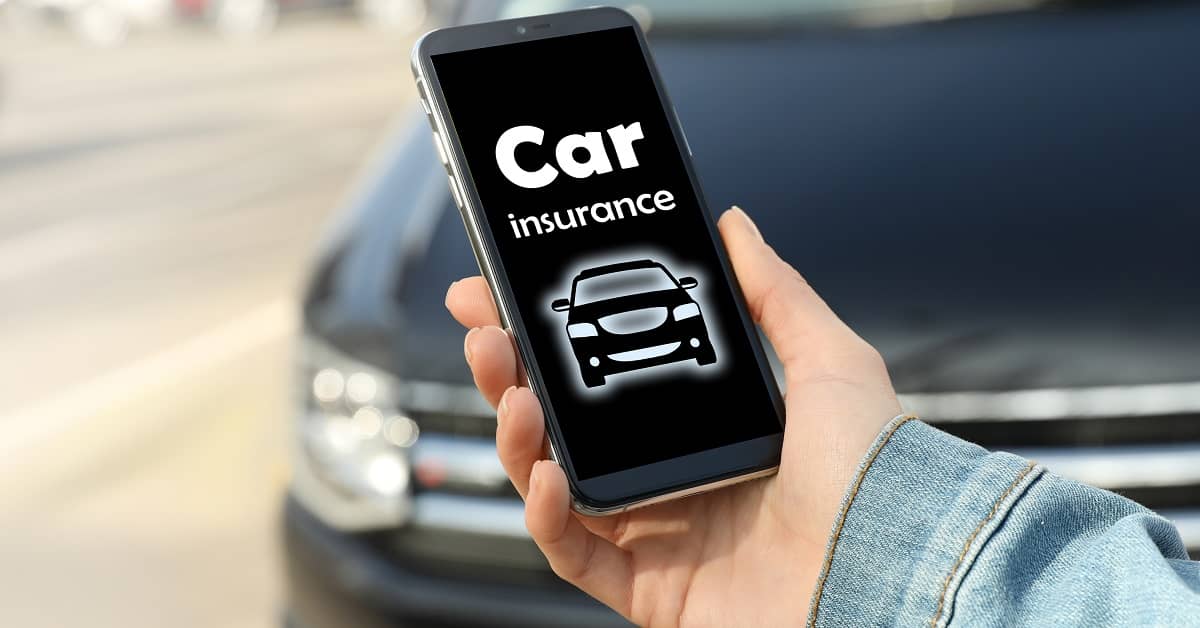 Like all states, Nebraska requires motorists to carry certain types and minimum amounts of car insurance coverage. One of the insurance requirements in Nebraska is uninsured and underinsured motorist coverage, or UM/UIM. Your UM/UIM policy is designed to compensate you for injuries you sustain in an accident with an uninsured driver or a driver who doesn't carry sufficient insurance.
You may assume that your UM/UIM coverage will be enough if you are hurt in a collision with an uninsured or underinsured motorist. However, in reality, car accident claims involving drivers with these insurance issues are more complicated than you might think.
For a free consultation to discuss your car accident claim, please call (402) 241-5020 today. Hauptman, O'Brien, Wolf & Lathrop serves clients in Omaha, Sarpy County, and throughout Nebraska, as well as Iowa.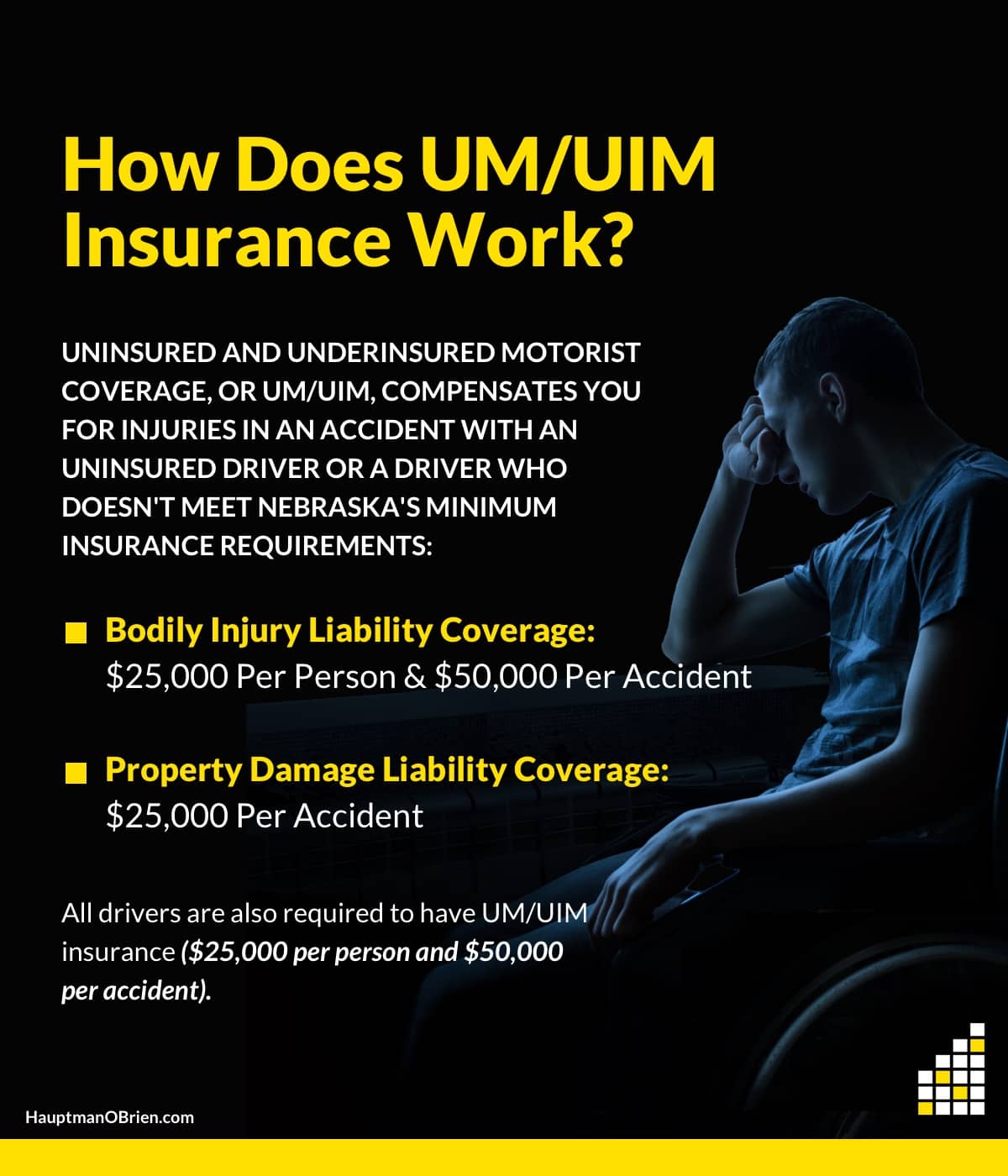 Nebraska Auto Insurance Minimums
The current minimum requirements for car insurance coverage in Nebraska are:
Bodily Injury Liability Coverage: $25,000 per person and $50,000 per accident
Property Damage Liability Coverage: $25,000 per accident
Uninsured and Underinsured Motorist Bodily Injury Coverage (UM/UIM coverage): $25,000 per person and $50,000 per accident
The requirements listed above are minimum requirements, but most insurance carriers offer higher limits of $100,000 per person and $300,000 per accident. Unfortunately, it's difficult to predict how much coverage is needed by any one particular driver – accidents happen without warning, and each accident claim is unique.
Nebraska law states that drivers must carry automobile liability insurance or meet the "financial responsibility" of insurance through alternative means (i.e., surety bond or cash deposit). Except in rare cases, uninsured/underinsured motorist coverage must be included in a driver's insurance policy. However, because not all drivers follow the rules, UM/UIM coverage helps protect people from financial devastation should someone be seriously injured in a car accident.
How Many Drivers Are Uninsured in Nebraska?
According to the Insurance Research Council, 6.8 percent of Nebraska drivers are uninsured. Considering that more than 1.4 million drivers are licensed in Nebraska, that means that approximately 97,357 drivers in our state do not have the auto insurance coverage required by law.
If you are in a car accident, always ask for the other driver's insurance information. If the driver is unable to provide you with proof of insurance, get all of the contact information and vehicle information you can in order to pursue a claim.
Sources:
Insurance Research Council, News Release: One in Eight Drivers Uninsured
Nebraska Department of Transportation – Highway Safety Office, Nebraska Licensed Drivers by County 2008-2017
Nebraska's Modified Comparative Fault Rules
Fault obviously plays a significant role in injury-causing accidents that involve an uninsured or underinsured driver. Nebraska is an "at-fault" state, or tort state, which allows individuals who sustain injuries and other damages to seek compensation from the at-fault party.
Here's how it works:
Crash victims first exhaust compensation from the at-fault driver's insurance provider. If the at-fault driver doesn't have insurance or if damages exceed the coverage limits, then a victim will file a claim on his or her own UM/UIM coverage.
Nebraska's modified comparative fault rules are distinct in that an individual may not collect any compensation if he or she is found to be more at fault than all other parties involved in the crash. Compensation is reduced according to the proportion of fault attributed to the victim, usually as a percentage.
In some cases, depending on how much UM/UIM coverage a person has, damages may exceed the compensation that is available through UM/UIM policies. In this case, a victim may decide to pursue compensation via a personal injury lawsuit.
Do I Need a Lawyer for a UM/UIM Accident Claim?
When you have a UM/UIM policy, you might think receiving fair compensation for an accident with an uninsured/underinsured driver should be fairly straightforward. After all, you dutifully pay your premiums, and you are filing a claim with your insurance company for covered losses.
However, it is in the insurance company's best interest to try to pay you as little as possible. The insurer may even deny your claim.
Some of the tactics your insurance carrier may employ in an effort to underpay or deny your claim include:
The insurance company may require you to prove that the other driver was at fault before your claim is approved.
The insurance adjuster may tell you that a low-ball settlement offer is "the best" the company can do, and pressure you into accepting the settlement.
The adjuster may ask you to sign a release authorizing the insurer to access your medical records.
An accident attorney can advise you how to protect your rights in interactions with the insurance company – both your insurer and, if applicable, the insurance company for the at-fault driver. Generally, it is best to contact an attorney before you file. If someone from one or more of the insurance companies involved in your case reaches out to you, you can direct the adjuster to your lawyer with any questions about your UM/UIM claim.
How Our Accident Lawyers Can Help
Attorneys at the law firm of Hauptman, O'Brien, Wolf & Lathrop have more than 230 years of combined experience handling a wide range of motor vehicle accident claims, including those where the at-fault driver has no insurance or insufficient insurance to cover our clients' losses. We understand the obstacles faced by victims of accidents caused by uninsured or underinsured drivers, and we pursue the full compensation you deserve from the at-fault driver's insurance carrier, your insurance company, or both.
Please call (402) 241-5020 today for a free case evaluation. Our UM/UIM accident lawyers serve clients in Omaha, Sarpy County, and all of Nebraska, as well as clients in Iowa.