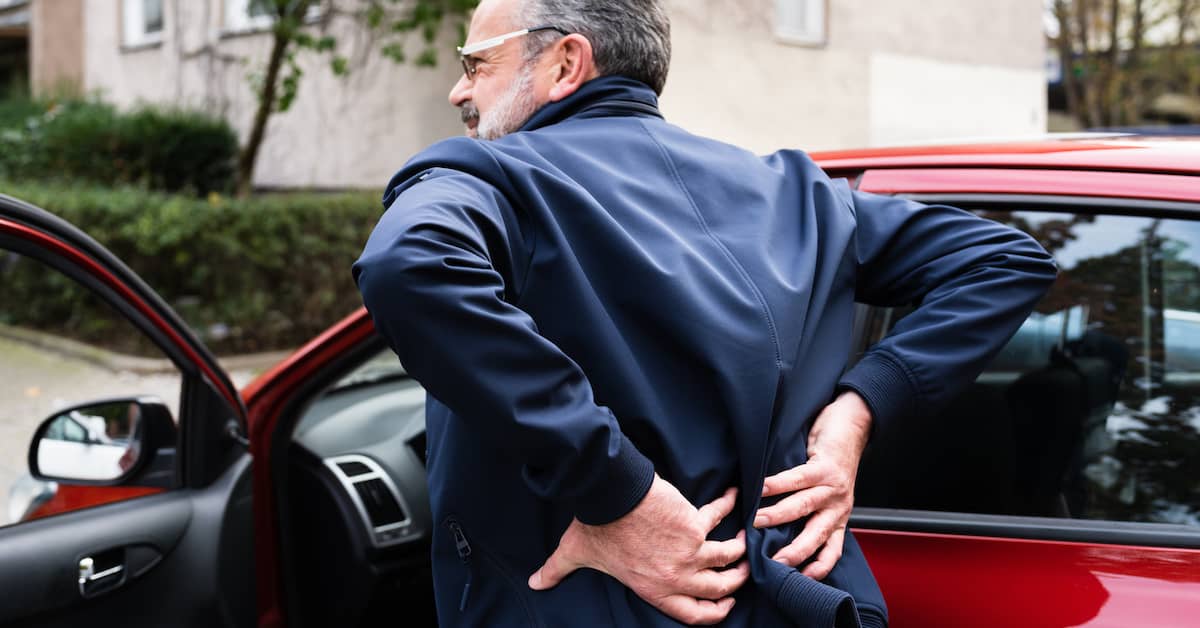 You have rights if you suffer a herniated disc due to a car accident. If the negligence of a driver caused the crash, you can pursue compensation for damages related to a back or neck injury.
Car accidents commonly lead to herniated discs. A herniated disc is extremely painful and it can significantly limit your physical capacity.
Hauptman, O'Brien, Wolf & Lathrop can help if you were diagnosed with a herniated disc due to a car accident. Please call (402) 241-5020 today for a FREE case review.
Understanding How Car Accidents Can Cause Herniated Discs
A herniated disc is a type of spinal injury that can result from trauma or progressive wear and tear. The discs in the spinal column consist of two main components: a jelly-like center and a hard outer shell.
With a herniation, the disc either slips out of place (hence the common term "slipped disc") or the disc's hard outer shell ruptures, causing the jelly-like center to escape. In either scenario, the damage to the disc impacts the surrounding nerves. This can lead to a host of debilitating symptoms, including:
Numbness
Persistent pain
Pain that worsens or becomes "sharp" with movement
Tingling ("pins and needles" sensation)
Weakness
Can Whiplash Cause a Herniated Disc in the Neck?
Whiplash is a common car accident injury. The whipping motion that occurs in car accidents can indeed result in a herniated disc in the neck.
The upper portion of the spine, known as the cervical region, extends through the neck to the base of the skull. When a car accident victim experiences whiplash, this can cause damage to the spine resulting in disc herniation. As one spinal health resource explains:
"Whiplash is among the most devastating of cervical spine injuries. The rapid acceleration-deceleration movement is powerful enough to tear muscles and ligaments, tear and bruise soft tissue, and herniate cervical discs."
Many of the symptoms of whiplash mimic those of herniated discs. Long-term whiplash symptoms may actually be the result of a herniation or other disc injury in the neck.
If you were in a car accident and you are concerned about ongoing issues with whiplash, you should talk to a doctor about your symptoms as soon as possible. X-rays, CT scans, and MRIs can aid in the diagnosis of a herniated disc and allow your doctor to recommend appropriate treatment options.
Can Collisions Cause Herniated Discs in the Middle or Lower Back?
While whiplash can cause a herniated disc in the neck, herniated discs are most common in the middle and lower back. Herniated discs in the thoracic (middle) and lumbar (lower) regions can cause pain and other symptoms throughout the body. While therapy may be an effective treatment modality in most cases, sometimes surgery will be necessary to repair a herniated thoracic or lumbar disc.
How Serious Does a Car Accident Have to Be to Cause a Herniated Disc?
Herniated discs can be serious. However, a car accident does not have to be serious to cause herniation. In fact, many drivers and passengers suffer herniated discs in relatively "minor" collisions.
Anybody can suffer a herniated disc due to a car accident, even if the crash occurred at low speed. However, the risk of herniation is increased if the victim has a degenerative disc condition or other pre-existing back or neck injury.
Insurance companies may try to argue that the herniated disc occurred due to factors besides the accident. However, if the car accident caused or exacerbated a disc injury, you can still claim compensation.
Seeking Treatment for a Herniated Disc from a Car Accident
The most important step you can take after suffering any injury in a car accident (including a herniated disc) is to see a doctor promptly. You should describe your symptoms carefully and allow the doctor to perform imaging and any other necessary tests.
Once the injury is diagnosed, follow your doctor's treatment advice. You may be prescribed medications and/or physical therapy to relieve pain and recover range of motion.
Do not ignore pain and other symptoms in your neck, back, or another part of your body after a car accident. A herniated disc should be evaluated and treated as soon as possible.
Seeking Financial Compensation for a Herniated Disc
Medical care for a herniated disc can be expensive. You may be forced to miss work, as well as contend with significant physical and mental pain.
If another driver was responsible for the accident, you may be entitled to compensation for these and other losses. Talk to an attorney about your case as soon as possible to discuss your rights.
Herniated Disc Due to a Car Accident? Our Lawyers Can Help
A neck or back injury should always be taken seriously after a car accident. Herniated discs may involve substantial costs and loss of income, as well as numerous day-to-day difficulties.
The car accident attorneys at Hauptman, O'Brien, Wolf & Lathrop can help you recover the compensation you deserve for a herniated disc. We consult your doctors, review medical records, and enlist expert witnesses to build a strong car accident claim on your behalf.
Contact Hauptman, O'Brien, Wolf & Lathrop today for a FREE consultation. Our lawyers serve clients injured in car accidents in Omaha, Sarpy County, and all of Nebraska and Iowa.