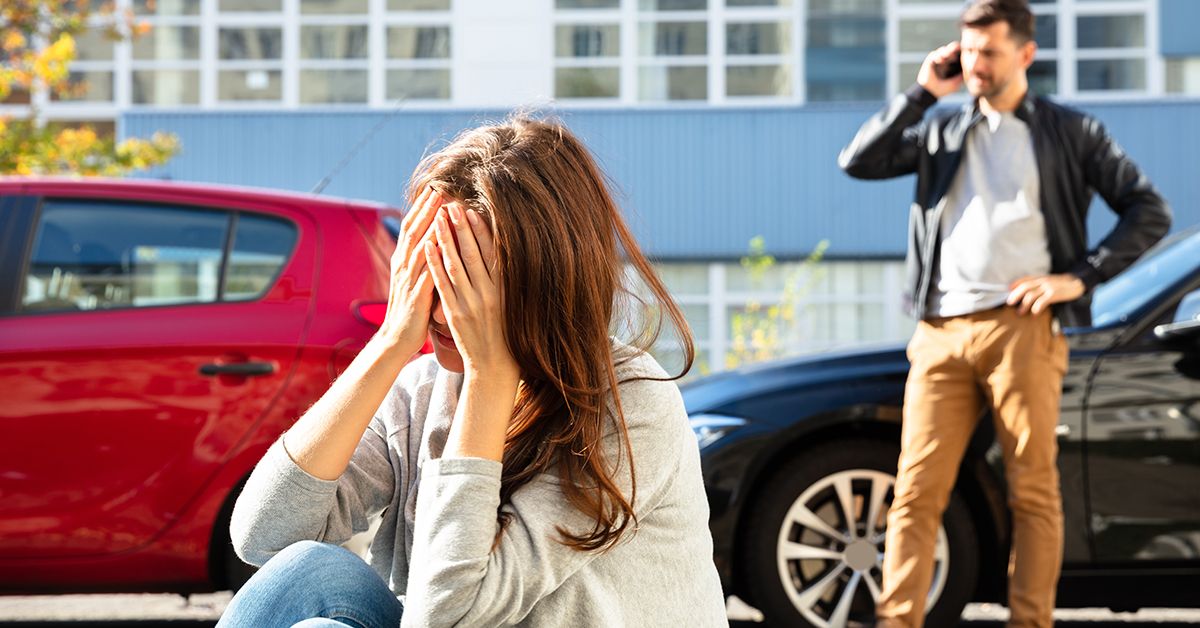 "I Was Just in a Car Crash and Fear That I'm at Fault. Now What?" Our Omaha Auto Accident Lawyers Walk You Through It.
Auto accidents are scary for a number of reasons, not the least of which is the idea that you could be at fault for one.
"What happens if I'm at fault in a car accident?" you might ask. We're going to walk through the answer to that question together in this article.
There's a lot to know about the question of fault in a car crash, and it's a much more challenging issue than you may realize.
Don't Assume You Are at Fault.
When someone asks, "What happens if I'm at fault in a car accident?" they are usually asking about legal fault, meaning responsibility for the accident under state traffic law.
Those laws can be complex, however. The question of fault isn't always clear-cut. The law may apply to the facts of your accident differently than you expect.
Accordingly, you should never assume that you are at fault for a car accident. Even if you feel pretty certain that you're at fault, and even if you believe you did something wrong, you should consult with an experienced attorney before reaching any conclusions.
Consider the following:
Police reports matter, but they aren't necessarily conclusive evidence of fault. A police officer may have assigned you fault at the scene of the crash, but an attorney may be able to challenge that determination after the fact.
Even if you are indeed at fault in a car accident, it's possible that the other drivers (and/or third parties) are at fault too.
Assuming you are at fault can cause you to make costly mistakes, such as saying the wrong thing to an investigator or failing to claim insurance compensation.
Be careful of what you say. Never admit fault for an accident — not to the other drivers, not to witnesses, not to law enforcement, not to insurance representatives, not on social media, and not to family or friends. (You should cooperate with law enforcement, and you should never lie, as doing so can lead to serious legal consequences. However, it may be in your best interest to say as little as necessary. Call an attorney as soon as possible.)
What Happens If I Am at Fault in a Car Accident?
If you are found to be more than 49% at fault in a car accident in Nebraska, you may be liable for the damages you caused, which can include (but are not necessarily limited to):
Property damage to the other vehicles
Bodily injury to other drivers, passengers, pedestrians, or any other injured parties
The injured parties' economic damages, including medical bills and lost wages due to time away from work
The injured parties' emotional pain and suffering
Any other expenses or losses the victims have reasonably incurred as a result of the accident
If you had car insurance at the time of the crash, you should contact your insurance carrier right away. You may have coverage for some or all of the claims made against you. Your insurance carrier may be able to handle those claims on your behalf.
If you did not have adequate car insurance at the time of the crash, you may have a number of options available to help you meet your obligations under the law. You should contact an experienced Omaha car accident lawyer as soon as possible to talk about your rights, options, and obligations under the law. A lawyer may also be able to help you protect your interests when dealing with the other parties' insurance companies. Different lawyers offer different payment options to at-fault drivers, while some auto accident lawyers choose to focus exclusively on representing injured parties.
Regardless of whether you believe you were at fault for the accident, if you were injured in the crash, we encourage you to contact an experienced Omaha auto accident lawyer.
What Happens If I Am Partially at Fault in a Car Accident?
Nebraska follows a rule called comparative fault. It means that you can still recover damages for your injuries after an auto accident, even if you were partially at fault yourself.
How does this rule work? Each party will be assigned a percentage of fault (either by mutual agreement or through a court proceeding). If you are less than 50% at fault, then your total damages will be reduced by your assigned percentage of fault. But if your share of the fault is 50% or greater, you won't be able to recover any compensation from the other parties.
Here's a hypothetical: Beth and Caroline are in an auto accident in Omaha. Beth was texting while driving; Caroline ran a red light. Both are at fault. Beth suffers $100,000 in total damages. Caroline is uninjured.
Let's suppose that Beth is found to be 40% at fault. Under Nebraska's comparative fault rule (also known as "the pure comparative negligence law"), she will still be able to recover damages from Caroline, but those damages will be reduced by 40%. So, Beth will be awarded $60,000 out of the $100,000 she suffered.
But what if Beth is found to be 50% at fault? In that case, Nebraska law won't allow her to recover a single penny from Caroline. (If Caroline is also 50% at fault, she won't be able to recover anything either.)
It is not uncommon for more than one person to have partial liability in a Nebraska auto accident. Never make assumptions about liability. Talk to an experienced Omaha auto accident lawyer instead.
Contact the Sarpy County & Omaha Auto Accident Lawyers at Hauptman, O'Brien, Wolf & Lathrop
If you were recently involved in a collision and find yourself asking, "What happens if I am at fault in a car accident?" please feel free to give us a call.
Hauptman, O'Brien, Wolf & Lathrop, P.C. is a Nebraska personal injury law firm with years of experience and a long record of success. We are committed to giving our clients the time, attention, passion, and communication they deserve.
A free consultation is available in person or over the phone. If you can't come to us, we may be able to come to you.
We handle auto accident claims on a contingency fee basis, which means if you hire us, we will not charge you a fee unless and until we recover compensation for you.
To talk with a Sarpy County & Omaha auto accident lawyer about your legal options, contact Hauptman, O'Brien, Wolf & Lathrop, P.C. today.