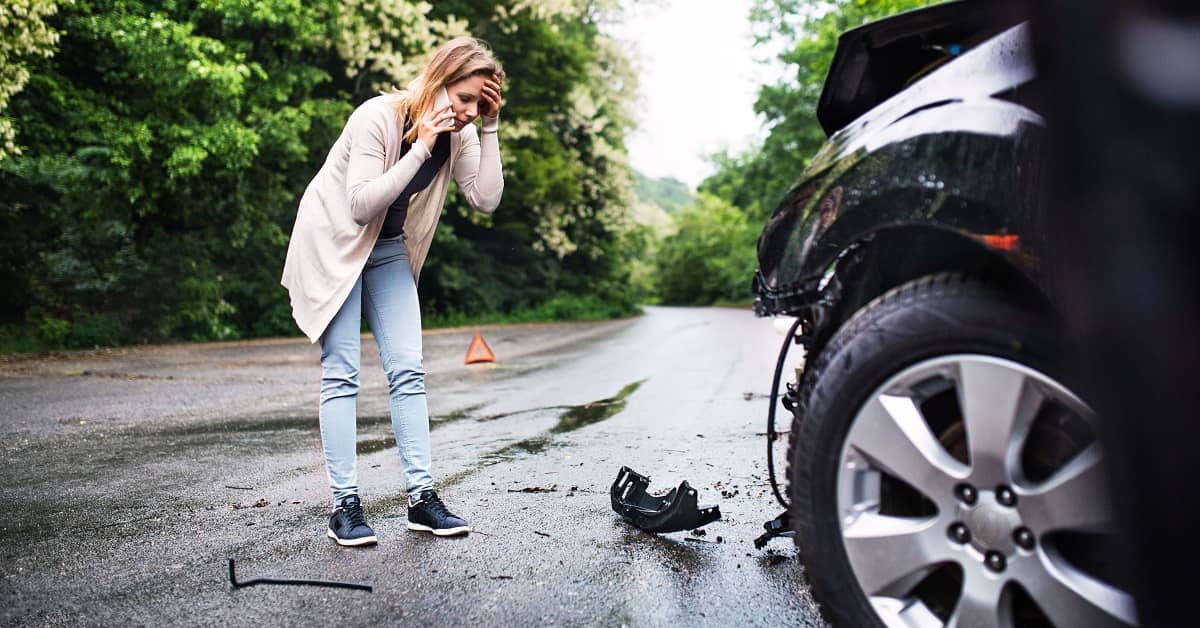 Most of us know the drill. When you are involved in an accident, you call the police, get the other driver's information, contact the insurance company, and so on.
But what about single-car accidents? If another driver wasn't involved, do you still need to call the police? Also, what if the accident was caused by something other than driver error? Is there any chance that you are not responsible for a single-car accident?
If you have been in a single-car accident and believe it was caused by someone else's negligence, a car accident lawyer can pursue the compensation you deserve for your injuries and losses. Contact Hauptman, O'Brien, Wolf & Lathrop today for a free consultation.
When Is an Accident Report Required?
In Nebraska, you are only required to report a car accident if it results in injury, death, or damages over $1,000. If you call 911 and the police come to the scene, an officer should prepare this report for you.
If an officer does not come to the scene or you choose not to call 911, state law requires that you submit an accident report within 10 days of the accident. A vehicle crash report can be completed online at the Nebraska Department of Transportation website. You also have the option to print out a paper form, fill it out, and mail it.
The law does not stipulate that there must be another driver or vehicle involved for this report to be filed. So, anyone involved in a single-car accident that results in injury, death, or over $1,000 in damages is still required to submit a vehicle crash report to the Nebraska Department of Transportation.
Am I Automatically At Fault for a Single-Car Accident?
Most people would assume that single-car accidents are always the fault of the driver. After all, no one else was directly involved.
However, there are a few scenarios where someone involved in a single-car accident may not be liable for the accident or their damages. If this is the case, you may have multiple options for filing a claim.
'Near-Miss' Accidents
Sometimes a single-car accident happens because a driver is trying to avoid colliding with another vehicle. For example: A drunk driver swerves into your lane. To avoid a crash with the other vehicle, you are forced off the road and into a tree.
In this example, the drunk driver's negligence caused the accident. Although there was no direct collision, you may be entitled to compensation for the "near miss" that led to your injuries and subsequent damages.
Vehicle Defects
Mechanical failure is a major cause of single-vehicle accidents. Some failures occur due to defective parts.
An examination of your vehicle may reveal one or more defects that led to the crash. If this is the case, you may be able to bring a product liability claim against the manufacturer and other parties.
Hazardous Road Conditions
From loose gravel to broken pavement to road debris, many different hazards can make a road unsafe to drive. It is the responsibility of state and municipal government agencies to perform maintenance and remove dangerous objects in the road.
You may be able to bring a claim against a government agency for a single-car accident caused by hazardous conditions on the road, inadequate signage, and other issues.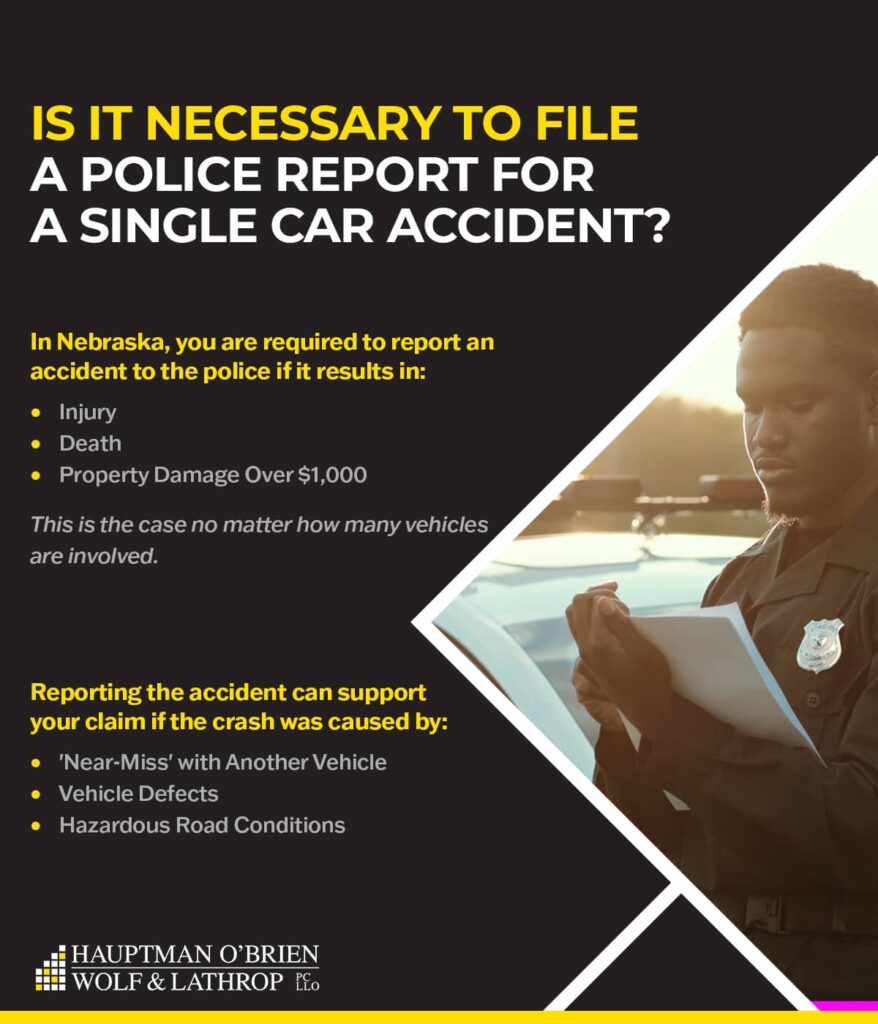 What to Do After a Single-Car Accident
While there are certainly cases where someone involved in a single-car accident may not be at fault, it can be difficult to prove. It is important to document the single-car accident thoroughly in a few different ways:
1. Note the Location of the Accident
The first step is documenting where the accident took place. Find a mile marker, write it down, and take pictures if you are able. If there are few markers on the road, select a prominent landmark and document it in writing and in photos.
You might be rattled after the accident and assume that you will remember where it happened. However, any second-guessing can be detrimental to your case.
2. Assess Conditions
Next, write some notes about the conditions of the road, paying close attention to any hazards that may have contributed to the accident. Also make note of the weather and lighting conditions, both of which may be important details when building your case.
3. Take Photos
Beyond taking photos of the location and any potential hazards, you should also take photos of your vehicle, any damage done to objects (signs, guardrails, etc.), skid marks, and anything else that might show the effects of the accident. These photos could serve as important evidence when establishing the facts of your case.
4. Speak to Witnesses
Did anyone else see the accident take place? If so, you should ask them some questions and request their contact information so you or your attorney can follow up with them later. Witness testimony may be especially useful in situations where another driver contributed to the accident – such as the drunk driving example above – since the other driver may have fled the scene.
5. Consult an Attorney
Finally, if you believe your single-car accident was caused by the fault of another – another driver, a parts manufacturer, or any other entity – you should discuss your case with an experienced car accident attorney. A lawyer will help you understand the law, your options, and what needs to happen next.
Contact a Car Accident Lawyer Today
Single-vehicle accident claims are complicated. Without thorough documentation of the circumstances of the crash, your injuries, and your damages, the insurance company will dispute liability for the accident and make it difficult for you to recover the compensation you deserve.
At Hauptman, O'Brien, Wolf & Lathrop, we understand how frustrating and uncertain you can feel after a single-car accident. You can rely on our team to provide the legal guidance and support you need to hold those at fault accountable.
Please call Hauptman, O'Brien, Wolf & Lathrop at (402) 241-5020 today for a FREE case review. Our car accident lawyers serve clients in Omaha, Sarpy County, and all of Nebraska and Iowa.