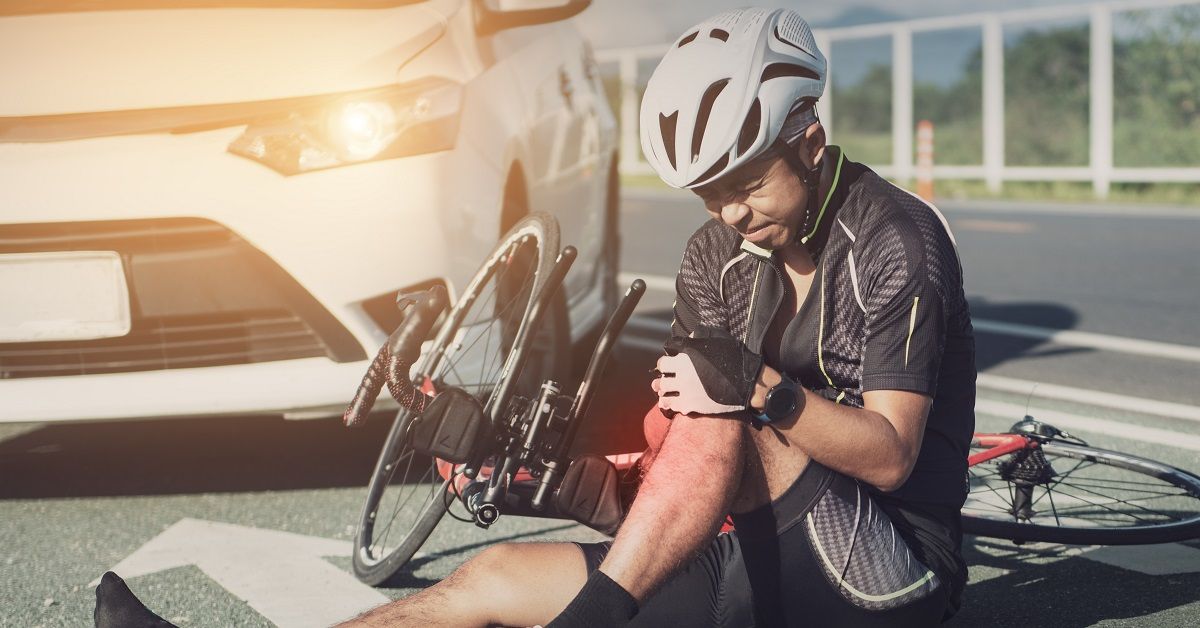 If you have been in a bicycle accident, there are a few steps you should take immediately – if you are able. Doing so not only helps your medical situation, but it can also improve your legal situation.
If the driver of the vehicle that hit you was at fault, you may be entitled to substantial compensation for your medical injuries, property damage, and more. However, your claim may be disputed by the driver's insurance company, so it is important to start building your case as soon as possible.
For additional assistance building your case, please call Hauptman, O'Brien, Wolf & Lathrop at (402) 241-5020 today for a free case review. Our bicycle accident lawyers serve clients in Omaha, Sarpy County, and nearby areas of Nebraska and Iowa.
1. Assess Your Injuries
After a bicycle accident, your first instinct might be to "shake it off." The speed at which the collision took place likely took you by complete surprise, and the adrenaline pumping through your system may have gotten you back on your feet in no time.
Unfortunately, this biological mechanism can mask the seriousness of your injuries. This is why you need to thoroughly assess your injuries to evaluate their seriousness.
Can you walk alright? Do you see any blood? Do you have any cuts or road rash? Also, if you hit your head and are experiencing symptoms like blurry vision or confusion, this might be a sign of a traumatic brain injury (TBI).
Even if your injuries look and feel minor, you may have suffered internal injuries. These injuries may not be as obvious as external injuries, like broken bones or cuts.
This is why, regardless of how you feel, you should always call 911 after a bike accident.
2. Call 911
When you call 911, you will not only be summoning help but creating a record of the accident. Emergency personnel will assess your injuries and provide treatment at the scene, and a police officer will respond if any injuries occurred in the accident.
The police officer will collect the other driver's information and interview all parties involved to create a report. It's important, when the police arrive, to remain objective and stick to the facts. Never apologize, admit fault, or say anything to suggest that you are not seriously hurt.
3. Exchange Information
In order to file a claim against the at-fault driver, you will need to gather the following information:
The driver's full name
Contact information (address and phone number)
Insurance company and policy number
Driver's license number
License plate number
If multiple parties are involved in the accident, be sure to get the same information from each of them as well.
4. Collect Evidence
While your attorney may be able to collect evidence after the fact, your best chance to capture what happened is right after the accident takes place. You may be unable to complete this step if you need to be transported to the hospital, but if you are treated and released at the scene, it is worth staying on site to gather crucial information.
Thoroughly document the scene of the accident with your phone by taking photos and videos of the scene, the driver's vehicle, and your injuries. If there are witnesses, speak to them about what they saw, as well as where they were standing when the crash took place.
For each witness, make sure you get their contact information. Witnesses may be crucial in helping you prove the driver's negligence, but it can be difficult to track them down after the fact if you don't get their information at the scene.
5. Receive Medical Treatment
As mentioned above, it can be tempting to try to "shake it off" after an accident. Combine this with the prospect of medical bills, and it leads to many injury victims not receiving the medical attention they need after an accident.
There are two big problems with not seeking medical care. First, you might not be aware of your injuries and how serious they are. Second, if your injuries turn out to be worse than you thought and you attempt to seek compensation from the other driver to pay for those injuries, your case might be less convincing if you didn't get the medical help you needed directly after the accident.
6. Contact a Bicycle Accident Lawyer
Serious injuries are not uncommon in bicycle accidents. You may face a long and difficult recovery, as well as significant financial expense. If you have been injured in a bike accident, it is in your best interest to contact an attorney as soon as possible.
A lawyer will review the details of your case and discuss your options for recovery. Once you hire legal counsel, your attorney will gather evidence, assess the damages you have suffered, and enlist experts as needed to build the strongest claim on your behalf.
Find Out How Our Bike Accident Lawyers Can Help
If you have been injured in a bike accident, Hauptman, O'Brien, Wolf & Lathrop is here to help. Our lawyers have a combined 233 years of experience helping accident victims receive the compensation they need and deserve after collisions that were not their fault.
To get started, please call (402) 241-5020 or contact us online for a free case evaluation. Hauptman, O'Brien, Wolf & Lathrop serves clients in Omaha, Sarpy County, and nearby areas of Nebraska and Iowa.