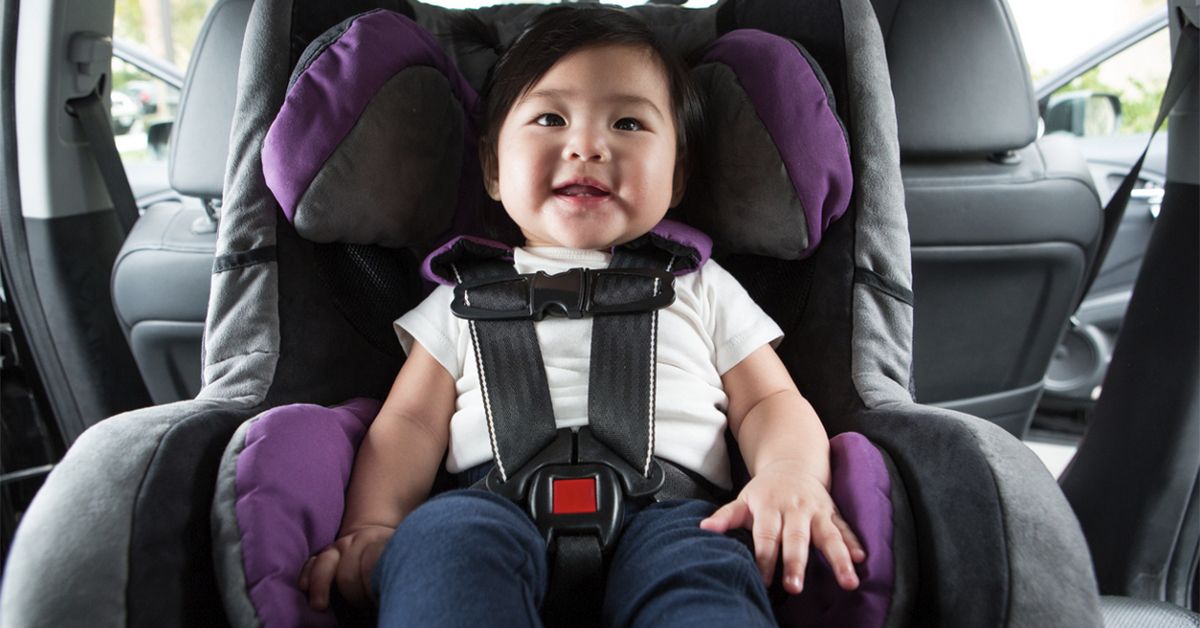 Decades ago, car seats didn't exist. Babies and small children either rode on their parent's lap or were buckled into the seat like an adult. Lots of those kids turned out fine, but the ones who were in car accidents didn't fare well.
Cars are much faster than they used to be and there are more cars on the road now than ever before, which has lead to huge improvements in vehicle safety measures. Car seat safety has also come a long way since the first child restraints were invented in 1968. According to the National Highway Traffic Safety Administration (NHTSA), placing your child in a properly fitted car seat leads to a 67% reduction in the risk of serious injuries.
Unfortunately, roughly 73% of car seats are not installed correctly. Many people simply don't know how to properly install their child's car seat. Now is the perfect time to learn how to make sure your baby's car seat is keeping them as safe as possible.
Why Car Seat Safety is So Important
Babies and small children are fragile. Their brains and bodies are still developing, which means that any damage can be particularly detrimental. They're also more prone to flying out of car seat restraints that aren't tight enough.
Then there's the fact that kids will be kids. You know to stay buckled while in a moving vehicle, but kids do not. Many kids think it's a great game to see if they can escape from their restraints, making it crucial that you secure them correctly.
Your kids depend on you to protect them. Every parent should know the facts about incorrectly installed car seats:
Car accidents are the leading cause of death in children.
Between 1975 and 2013, 10,421 children under the age of 4 were saved by child safety seats and seatbelts.
Car seats reduce the risk of death for infants by 71% and toddlers by 54%.
When compared with seatbelts, booster seats reduce the risk of serious injuries for kids aged 4-8 by 45%.
Of the children (12 and under) who died in accidents in 2013, 38% were not buckled.
Car and booster seat use is related to adult seatbelt use. Nearly 40% of kids riding with unbelted drivers are unrestrained themselves.
Failing to properly restrain your child can result in brain injuries, spinal cord injuries, catastrophic injuries, and death.
Types of Car Seats
Each state has its own laws regarding child restraints. Nebraska law states that child restraints are required for all children 5 and under. Failure to adhere to this law results in a fine of $25 and points on the driver's license.
The appropriate type of car seat depends on a child's age, size, and weight. Additionally, car seat manufacturers often provide guidelines on which seats are the appropriate size. In general, age groups and corresponding car seat types can be broken down as follows:
Infants and Toddlers: Rear-facing only or rear-facing convertible seats should be used for all infants and toddlers until they are at least 2, or until they exceed the height and weight restrictions designated by the manufacturer.
Toddlers and Preschoolers: Once they have outgrown a rear-facing seat, toddlers and preschoolers should be placed in convertible or forwarding-facing car seats with harnesses until their height and weight exceed manufacturer specifications.
School-aged Children: After they are too big for a car seat, school-aged kids should use a belt-positioning booster seat until vehicle seat belts fit properly. This typically occurs once the child is taller than 4 feet 9 inches.
Now that we've covered which age groups require which kinds of seats, let's take a closer look at the different types of car seats:
Rear-Facing Only: These seats are designed to be an infant's first car seat. They are small and portable and can be used for babies up to eight or nine months.
Convertible: This is a great second car seat for children, as it can change from a rear-facing seat to a forward-facing seat with a harness and tether.
All-in-One: An all-in-one car seat can be rear or forward facing, and can turn into a booster seat. Both convertible seats and all-in-one seats are the perfect choice for keeping a child rear-facing as long as possible and make switching to forward-facing convenient and easy.
Combination: Combination seats are forward-facing seats with a harness and tether that can be converted into a booster.
Booster with High Back: High-back boosters provide head and neck support and raise the child to a level where your vehicle's seatbelts will fit properly.
Backless Booster: Designed for cars with headrests and high-backed seats, a backless booster is the same as a high-back booster, without the additional head and neck support.
Common Car Seat Mistakes
Car seats are misused more than you think. Some of the most common mistakes parents make when using car seats are: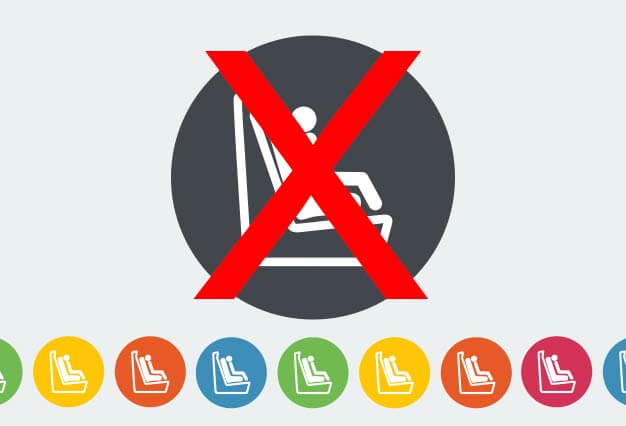 Using a seat that is too big or too small for the child. You can find the right car seat to fit your child by clicking here.
Placing the seat in the wrong position or location in the vehicle. E.g. using a rear-facing seat as a forward facing seat or putting a seat that should be in the back in the front seat.
Failing to install the car seat base flush against the seat and fastened tightly.
Failing to properly attach the car seat carrier to its base.
Failing to ensure that buckles are not loose or wiggling around.
Buying a car seat without researching its history.
Reclining the seat at an angle that is too steep and doesn't provide proper head support.
Moving a child from rear-facing to forward-facing too soon.
Overdressing the child so that the harness straps cannot hold them securely.
Car Seat Safety Tips
Before installing your child's car seat, be sure to read the manufacturers guidelines and instructions. Instructions vary from brand to brand so it's important to read them closely. The following tips can help you make sure your child's seat is installed correctly and keep them safe: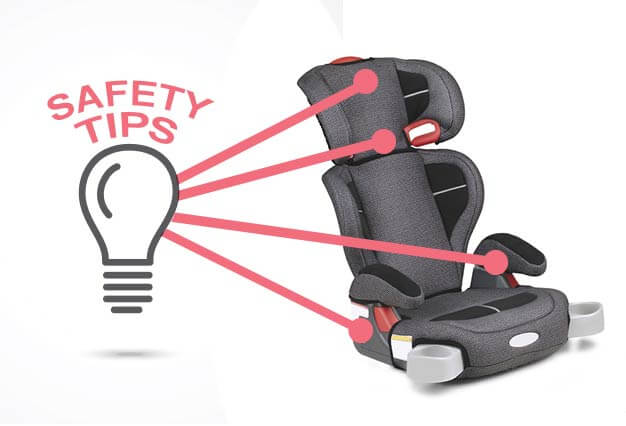 Research your options. Just because a seat is expensive, doesn't mean it's the best.
Make sure the car seat you choose fits tightly against your vehicle's seats. If it can wiggle back and forth more than an inch, it is too loose.
Place the child so their back and bottom are flat against the car seat, with nothing between them and the car seat but light clothing.
Ensure straps are snug and that the harness clip is level with the child's armpits.
Untwist harness straps before buckling.
Consider asking a mechanic to deactivate rear airbags. The force from their explosion can hurt your kids.
Never place anything between your child, the seat, and the harness straps. Remove bulky clothing and place a blanket overtop of them if needed.
Only give your baby soft toys to play with in the car. Hard toys can become lethal projectiles in an accident.
We hope you've found this information useful when it comes to installing your child's car seat. Unfortunately, a properly installed car seat can't stop accidents from happening. If your child was injured in a car accident or because of a faulty car seat product, the Omaha personal injury attorneys at Hauptman, O'Brien, Wolf & Lathrop, P.C. can help. Call us at 402-218-1379 to schedule a free consultation and learn whether you're entitled to financial compensation for the damages you and your child suffered.